What Does a Mandatory Evacuation Mean?
As Hurricane Laura approaches Louisiana and Texas, thousands of people have been issued with either mandatory or voluntary evacuation orders.
Hurricane Laura is a major hurricane with maximum sustained winds of 115 mph. The hurricane is currently around 280 miles south-southeast of Lake Charles, Louisiana, and 290 miles southeast of Galveston, Texas, moving northwest at 15 mph.
Potentially catastrophic storm surge, extreme winds and flash flooding are expected along the northwest Gulf Coast on Wednesday night. The National Weather Service says "steps to protect life and property should be rushed to completion in the next few hours." These steps include mandatory evacuation orders.
What Does a Mandatory Evacuation Mean?
If your area is issued with a mandatory evacuation order, it means you should leave your home and head somewhere safe as soon as possible.
You will not be forcibly removed from your home and police will likely not arrest anyone who refuses to leave under a mandatory evacuation order.
If you ignore a mandatory evacuation order, you should be prepared to be self-sufficient for the first 72 hours after a storm, as the supply of utilities like electricity and water could be damaged.
You would have to take full responsibility for yourself and your family's safety if you choose to ignore a mandatory evacuation order, as police may not be able to respond to any emergency calls in mandatory evacuation areas during the storm.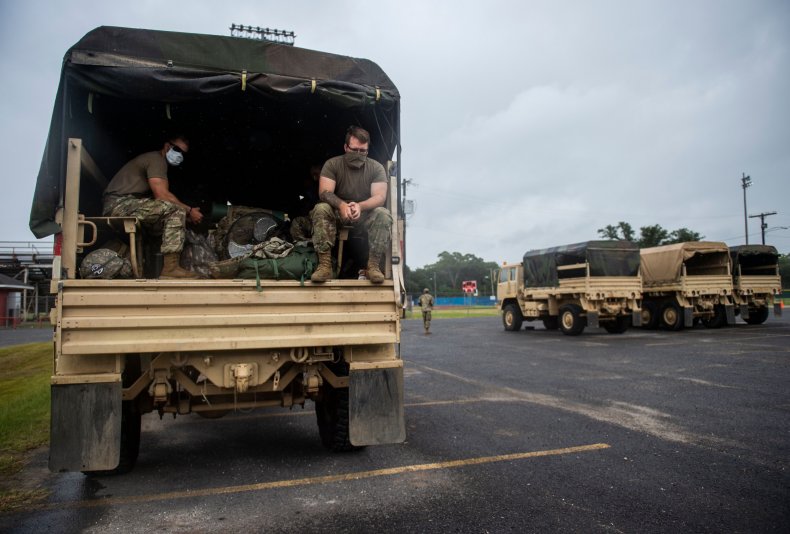 Mandatory Evacuation vs. Voluntary Evacuation
While a mandatory evacuation order means residents should leave their homes immediately, a voluntary evacuation means you can choose to stay at home but heading somewhere safer is highly recommended.
While officials can not force you to leave your home, there are enforceable rules surrounding mandatory evacuation orders. For example, there is currently a curfew in place for the residents of the City of Galveston while Hurricane Laura is a threat.
The curfew prevents people from being on public streets and is in effect from Wednesday at 8 p.m. CDT until Thursday at 6 a.m., and then again from Thursday at 8 p.m. until Friday at 6 a.m.
Officials said that the curfew was to protect residents and their property from looting, and anyone found breaking the curfew will be subject to a $1,000 fine.
Texas Gov. Greg Abbott said in a press release issued Tuesday: "Hurricane Laura is rapidly intensifying and poses a major threat to communities in Southeast Texas and along the coast. Texans in the path of this storm should waste no time preparing for the impact of Hurricane Laura and take immediate action to keep themselves and their loved ones safe.
"I urge our Southeast and Coastal communities to heed the guidance of local officials, follow evacuation orders, and remain vigilant as we brace for the impact of Hurricane Laura. The State of Texas will continue to monitor this storm and provide the resources needed to keep Texans safe."