What Does the MLB's Coronavirus Outbreak Mean for the 2020 Season?
On Monday, Major League Baseball held a meeting after a group of Miami Marlins players reportedly tested positive for COVID-19, leaving many fans wondering about the near future of professional baseball.
During an interview with MLB Network, MLB commissioner Rob Manfred mentioned he held a conference meeting, which was a scheduled weekly call, with about 30 owners. During the call, there was no talk about canceling or pausing the season. Manfred, speaking about the positive coronavirus tests, told the MLB Network that he did not place the situation in the "nightmare" category. He said protocols were in place in order to "continue to play through those positives."
Manfred discussed making potential changes to those protocols with the Major League Baseball Players Association (MLBPA).
"It's an evolving situation and we continue to reevaluate where we are in the protocols and what we can do to keep the players as safe as possible," he said. "I remain optimistic that the protocols are strong enough that it will allow us to continue to play — even through an outbreak like this — and complete our season."
Newsweek subscription offers >
Is there a scenario where the MLB would consider calling off the remainder of the 60-game season?
"I think that a team losing a number of players that rendered it completely non-competitive would be an issue that we would have to address and have to think about making a change," he said. "Same thing with respect to league-wide; you get to a certain point league-wide where it does become a health threat and we certainly would shut down at that point."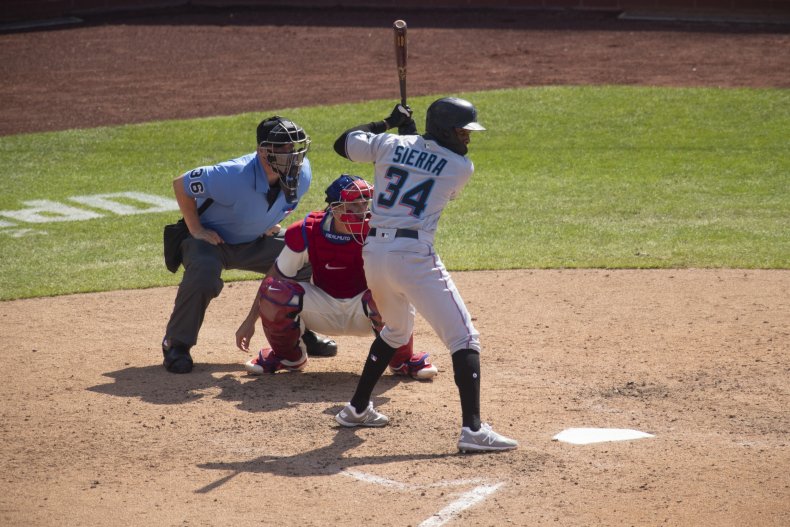 The Marlins postponed their home opener against the Baltimore Orioles on Monday. Over the weekend, the Marlins had played two out of three games against the Philadelphia Phillies. The Phillies also rescheduled their Monday game against the New York Yankees.
Newsweek subscription offers >
Marlins CEO Derek Jeter released a statement about postponing the Marlins' home opener, saying, "The health of our players and staff has been and will continue to be our primary focus as we navigate through these unchartered waters."
"Postponing tonight's home opener was the correct decision to ensure we take a collective pause and try to properly grasp the totality of this situation," Jeter's statement continued. "We have conducted another round of testing for our players and staff, and our team will all remain in Philadelphia pending the results of those tests, which we expect later today."
"The members of the Marlins' traveling party are self-quarantining in place while awaiting the outcome of those results," the league said in its statement. "Major League Baseball has been coordinating with the Major League Baseball Players Association; the Marlins; the Orioles; the Marlins' weekend opponent, the Phillies; and Club medical staffs, and will continue to provide updates as appropriate."
What Does the MLB's Coronavirus Outbreak Mean for the 2020 Season? | Culture