What Does the National Enquirer Know About Trump Clan? Former Tabloid Editor Says Paper Has 'Criminal' Facts
A former high-ranking executive at The National Enquirer claimed the tabloid he once worked for had a stash of stories that could incriminate President Donald Trump.
Jerry George told MSNBC that his former boss, David Pecker, chairman and CEO of American Media Inc. (AMI), which owns The National Enquirer, had "sold his editorial soul for access to Trumpworld," which allowed the publication to get closer to the president's 2016 campaign.
Read more: National Enquirer publisher David Pecker admits to Karen McDougal hush payment
George told The Beat's Ari Melber that Pecker had gathered "bargaining chips" in the form of embarrassing stories to use as future leverage on Trump.
When asked by Melber if he knew that Pecker had incriminating stories about Trump that were yet to come out, George said: "Yes, certainly."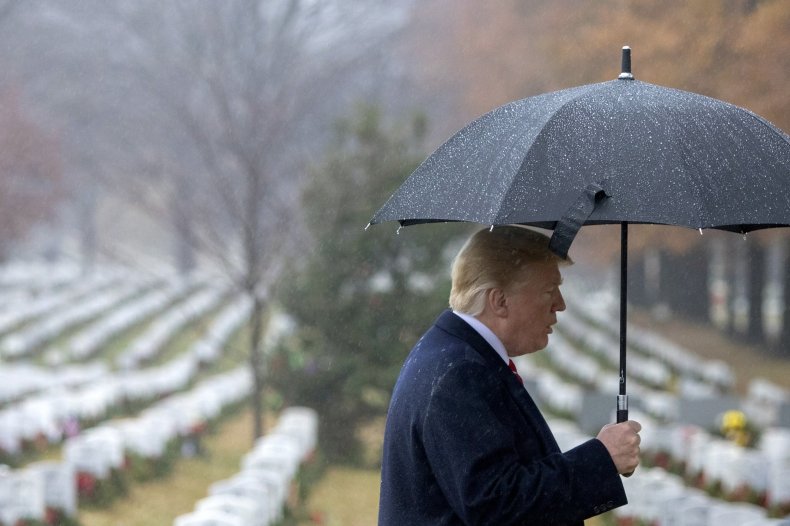 When asked if he knew what they were, George said some involved the Trump-Kushner family, while others were about sibling rivalry and discord between Trump and his wife, Melania.
Melber asked George: "Would you characterize them as 'merely embarrassing'...or do any of them rise to the level of being potentially criminal?"
George replied: "Well, actually both. They are certainly embarrassing and then when you get involved with the actions of his children, including his daughter and son-in-law, we are getting closer to criminal activity."
George claimed that the Enquirer's parent company, AMI, had cooperated with Trump to break campaign finance laws and referred to a "curious" edition of the magazine with Saudi Crown Prince Mohammad bin Salman on the cover.
He suggested there was a financial incentive provided for that coverage, which he described as smelling "fishy," although he did not provide any evidence to back up the claim.
An AMI spokesperson said in a statement to Newsweek: "Mr. George's baseless and false claims are a feeble attempt to see his own name in the news. It's unfortunate that he continues to be provided a platform with which to spread his defamatory statements."
As well as backing Trump during the election campaign, The National Enquirer also ran a number of stories bashing his key opponents.
One cover story in September 2015 claimed that Hillary Clinton had six months to live, and another in August 2016 said that she had gained 103 pounds and was eating herself to death.
It also implied the father of Republican primary candidate Ted Cruz was linked to the JFK assassination.
In an interview with CNN last week, George said that the magazine he worked for had turned Trump's opponents into "cartoon characters."
Claims of a cozy relationship between Trump and the magazine emerged in August when sources told The Associated Press that documents describing compromising details about the president were kept in a safe.
These were kept alongside other celebrities' "catch-and-kill" deals in which rights to people's stories were bought with no intention of publishing to keep them out of the news, which could be used to ask for future favors.
AMI admitted last week that it had paid former Playboy model Karen McDougal $150,000 for her story of an alleged affair with Trump and then declined to publish the article.
It followed the sentencing of Trump's ex-lawyer Michael Cohen, for charges that included arranging hush-money payments to McDougal and former adult film star Stormy Daniels, real name Stephanie Clifford.
This story has been updated to include a statement to Newsweek by AMI.