What Does 'Payola' Mean? Nicki Minaj Says Cardi B 'Built Her Career Off Sympathy'
"Barbie Tingz" rapper Nicki Minaj claimed the only reasons Cardi B became famous was because of sympathy and payola—but not everyone on Twitter knew what "payola" meant. The term quickly became a top-trending Twitter topic on Monday, with more than 23,000 mentions after Minaj bashed Cardi on Beat 1's Queen Radio show, which can be heard through Apple Music.
Dictionary.com quickly stepped into the drama to provide a helpful definition of the word. "Payola: A secret or private payment in return for the promotion of a product, service, etc., through the abuse of one's position, influence, or facilities," they tweeted.
For those who might not be familiar, Cardi B threw her shoe at Minaj during a Fashion Week party in New York Friday. The following day, Cardi B claimed she lashed out at the Queens rapper because she talked about her infant daughter, Kulture. Minaj, however, denied the accusation.
"I would never discuss anyone's child. It's so sad for someone to pin that on me," Minaj, 35, said. "She has built her career off sympathy and payola."
The "Anaconda" star said Friday's incident was "mortifying and humiliating" especially since it happened in front of "upper echelon people who have their lives together."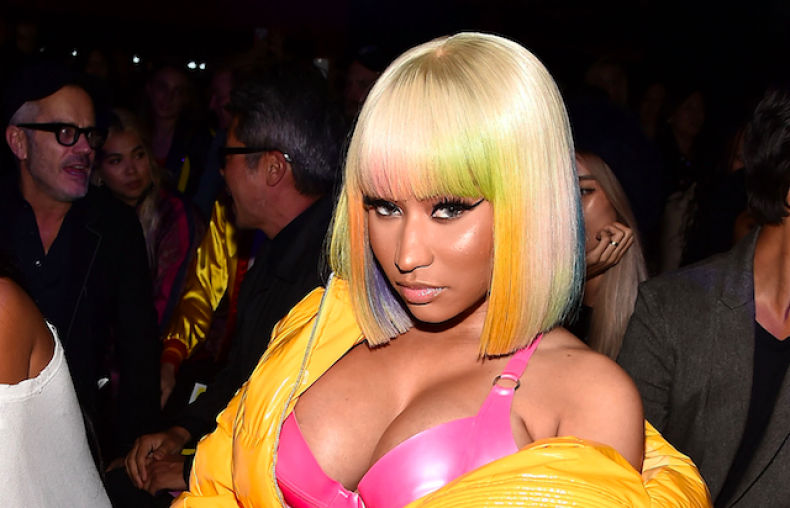 "You came into my f***in culture," Minaj said about Cardi B, 25. "I never had to bang a DJ to play my songs. You call black women roaches. Real bitches never attack a woman. You're angry and you're sad. This is not funny. Get this woman some f***in help. This woman's at the highest point in her career and she's throwing shoes?"
"It's all lies," Minaj said about allegedly talking about baby Kulture, adding, "I would never ridicule anyone's child. [It's] so sad for someone to pin that on somebody. … I would never talk about anyone's child or parenting. … These lies are ridiculous."
Cardi B, on the other hand, alleged that their feud has been brewing for some time. "I let you talk big s*** about me! I addressed you once in person, I addressed you a second time in person, and every time you copped the plea," the rapper said. "But when you mention my child, you choose to like comments about me as a mother, make comments about my abilities to take care of my daughter is when all bets are [...] off!"