What Does Poland's New Government Mean for Europe?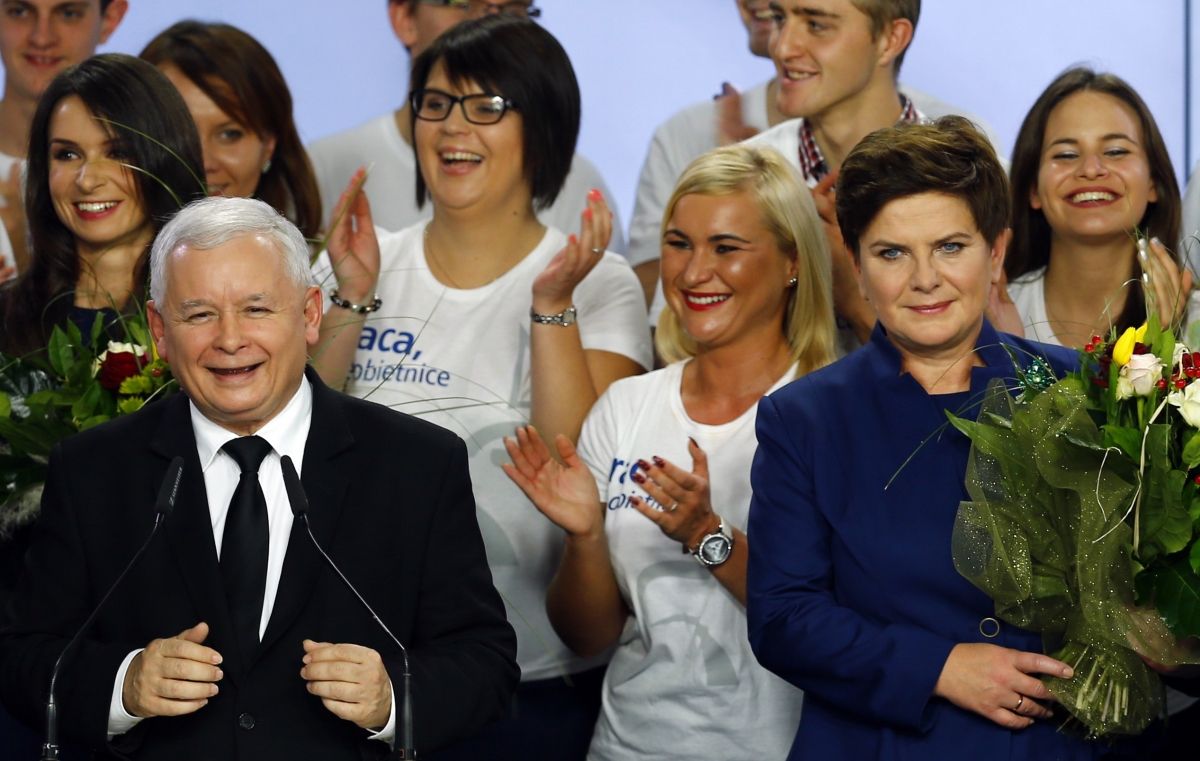 Poland expects a historic result as its conservative Law and Justice party (PiS) is due to become the first political force to form a majority government after Sunday's parliamentary election if exit polls are to be believed. The PiS triumph and incumbent Civic Platform's decision to concede defeat means the result also ends two terms of center-left government.
Here is what experts believe that a Law and Justice party-led government is likely to mean for Poland's neighbors and international partners:
Opposing Refugees
The Polish government has supported its neighbors in the so called Visegrad Four (V4) group, an economic union that consists of the Czech Republic, Slovakia, Hungary and Poland. The Law and Justice party is likely to favor presenting a regional front in opposition to taking in more refugees.
"The new government is likely to change the country's stance on refugees," says Otilia Dhand leading analyst on east and central Europe from Teneo Intelligence. "The PiS will likely join forces with other V4 governments in opposing quotas on redistribution of asylum seekers."
Staying Inside the Union
While members of the Law and Justice party are often described eurosceptics, they are not likely to advocate leaving the EU. If anything they will halt any plans of Poland joining the Eurozone and renegotiate terms they see as unfavorable from inside the union.
Charles Crawford, former UK ambassador to Poland says that while the Law and Justice partywas less open to EU membership prior to the referendum in 2004, now it is unlikely it will push to leave. "As far as a Polish equivalent of a Brexit, this is not what PiS will advocate," he says referring to the possibility of Britain voting to leave the EU in 2017's referendum. "It won't be popular with Poles."
"On the EU level, the PiS will likely be a less constructive partner than the PO, but still within the EU framework as such," Dhand adds, explaining that energy and the common currency will be the kind of issues PiS is likely to clash with Brussels on.
"Poland's near-term accession to Eurozone was out of question under the PO cabinet already and will remain so under the PiS, which may be more vocal on the topic," she says. "The PiS will defend the Polish coal industry in the face of European Commission's efforts to cut carbon emissions."
Pushing for a Larger NATO Presence
While Poland has remained critical of Russia's increased military activity around the world and in Ukraine, a NATO missile defence facility in Poland is yet to be opened despite ongoing talks about the project since 2010. Russia has seriously protested this initiative, warning that Poland would become a "target" for Russian retaliation should a conflict between east and west take on a military character. PiS is likely to push harder for NATO deployments and increase criticism of Russia, experts say.
"On the whole PiS will want to see more of NATO in Poland," Crawford says. "They will want missiles and more facilities. The question is will the U.S. and other NATO allies agree to do this."
Dhand agrees, saying that PiS is likely to ramp up the criticism on the Russian government. "The PiS-led Poland will likely take very tough stance against Russia which may lead to further deterioration of their relations. PiS founder Jaroslaw Kaczynski's twin brother, the late president Lech Kaczynski, died in a plane crash in Smolensk in 2010, which the PiS claims was not an accident."
"The PiS-led Poland will remain a NATO stalwart," she adds.