'What Does Putin Have On The President?' Pelosi Asks Following Stone Indictment
The indictment of longtime Trump confidant Roger Stone raises questions around what Russian leader Vladimir Putin might "have" on President Donald Trump, Speaker Nancy Pelosi (D-Calif.) suggested on Friday.
Stone was arrested early Friday morning on charges including making false statements to Congress, obstructing a congressional investigation and witness tampering in connection with special counsel Robert Mueller's ongoing Russia investigation.
In a statement responding to the arrest, Pelosi said: "The indictment of Roger Stone makes clear that there was a deliberate, coordinated attempt by top Trump campaign officials to influence the 2016 election and subvert the will of the American people."
"It is staggering that the President has chosen to surround himself with people who violated the integrity of our democracy and lied to the FBI and Congress about it," she said.
Pelosi then questioned what power Putin might have over Trump, saying: "In the face of the 37 indictments, the President's continued actions to undermine the Special Counsel investigation raises the questions: what does Putin have on the President, politically, personally or financially?"
While Pelosi did not expand on that comment, it is not the first time that she has raised questions around Trump's ties to Russia and Putin. Since the investigation into Russian meddling in the 2016 election and possible collusion between the Trump campaign team and Moscow began, the Democrat has suggested that Putin must have "something" on Trump.
In her statement on Friday, the speaker vowed that those caught lying to Congress will be held "accountable."
"Lying to Congress and witness tampering constitute grave crimes. All who commit these illegal acts should be held accountable to the fullest extent of the law," she said. "We cannot allow any effort to intimidate witnesses or prevent them from appearing before Congress."
Pelosi added that "the Special Counsel investigation is working, and the House will continue to exercise our constitutional oversight responsibility and ensure that the Special Counsel investigation can continue free from interference from the White House."
The Democrat's statement on Stone's indictment came just hours after Trump agreed to a bipartisan deal to fully reopen the government, bringing the record-breaking partial shutdown to an end on its 35th day.
The deal did not secure funding for the president's long-promised border wall between the U.S. and Mexico, however, which the U.S. leader had triggered the shutdown over in the first place, leaving hundreds of thousands of federal workers unpaid since December 22.
Trump had previously vowed to reject any budget that did not include the $5.7 billion he has demanded in funding for the construction of his border wall. However, Democrats, who now control the House of Representatives, refused to let that happen.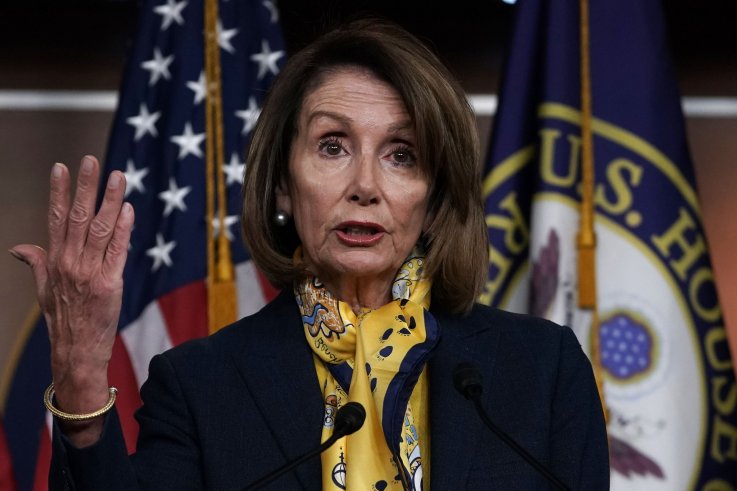 'What Does Putin Have On The President?' Pelosi Asks Following Stone Indictment | U.S.