What Does ROC Stand For? Russia's Olympic Ban Explained
Russia is still banned from competing in the Olympics but their athletes will still get a chance to win a gold medal, albeit under a neutral banner belonging to the Russian Olympic Committee (ROC).
Two months before the 2018 Winter Games in South Korea, the International Olympic Committee announced they were banning Russia from competing. The ban was the result of Russia's "systemic manipulation" of anti-doping rules, in which the Russian government and authorities were found to have been involved in covering up athletes' doping during the 2014 winter games.
More than 20 Russian athletes were given lifetime bans on competing in the Olympics and more than 10 medals were stripped from the country. But, athletes who could prove they were "clean" still have a chance to compete under the "Russian Olympic Committee" banner.
Per IOC rules, Russian athletes are prohibited from showing any representation of their country, including its flag and national anthem, in any form during the games. All public displays are required to use the acronym "ROC" and not even the full name "Russian Olympic Committee."
Instead of the Russian national anthem playing if an athlete wins a medal, a song from Pyotr Ilyich Tchaikovsky will be played. Instead of the Russian flag, the ROC flag, which showcases the Olympic rings and red, white and blue waves, will fly.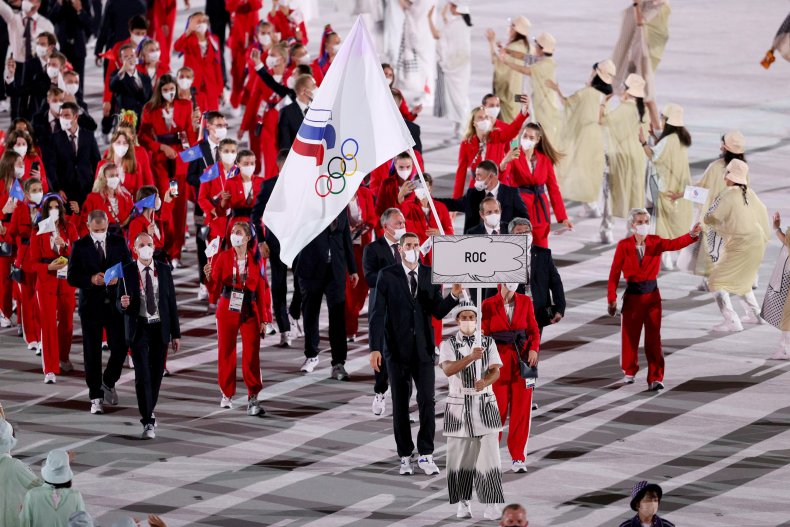 Russia denied the accusations that have been leveled against it, and the IOC later reduced the suspension from the games to two years. During the PyeongChang Olympics, athletes competed under the banner of the "Olympic Athletes from Russia" or OAR. During last summer's Olympics in Tokyo, Russian athletes competed as the ROC.
Ahead of the official announcement of the ban, Russian President Vladimir Putin said it would be a "humiliation for the country" to have athletes compete without national symbols. However, he later confirmed that Russia would not bar athletes from competing in the Olympics in their personal capacity.
While the IOC's two-year ban should mean that Russia could rejoin the games this year, a different two-year ban implemented by the World Anti-Doping Agency in 2018 is keeping Russia out of all major international sports competitions until December 2022.
"Russia was afforded every opportunity to get its house in order and re-join the global anti-doping community for the good of its athletes and of the integrity of sport, but it chose instead to continue in its stance of deception and denial," Sir Craig Reedie, WADA's then-president, said in 2019.
Russia isn't the only country to be temporarily banned from the Olympics. Afghanistan was previously banned because of the Taliban's treatment of women and Kuwait was banned because of a law that was not compatible with the principles that govern the Olympics.