President Donald Trump continues to push for schools to be reopened as COVID-19 cases rapidly spread throughout the country, but the science concerning the safety of doing so remains uncertain.
White House Press Secretary Kayleigh McEnany said that science is on the "side" of the president's position during a Thursday press briefing. However, there does not seem to be agreement between many public health experts and Trump on many key details for reopening schools safely.
Some medical experts have recently advocated for schools to reopen. Last month, the American Academy of Pediatrics (AAP) recommended that schools reopen, citing the detrimental impacts of children not being physically present in classrooms, which they said is "fundamental to child and adolescent development and well-being."
However, the recommendation noted that it is "critically important" to revise and adapt plans. Last week, they clarified their position to stress that they do not believe officials should reopen schools despite outbreaks and against the advice of local health experts, while also blasting Trump's threat to withhold funding for schools that do not open as a "misguided approach."
"Schools in areas with high levels of COVID-19 community spread should not be compelled to reopen against the judgment of local experts," the AAP wrote in a statement. "A one-size-fits-all approach is not appropriate for return to school decisions."
A report released Wednesday by the National Academies of Sciences, Engineering and Medicine (NASEM) recommended reopening schools with strict restrictions in place, including teachers and staff wearing surgical masks at all times. Face masks are also recommended for students, including young children, a group that may be less willing or able to follow the rules.
While the administration continues to call for all schools to reopen regardless of COVID-19, medical experts largely agree that school reopening plans, include timelines for reopening, should be flexible.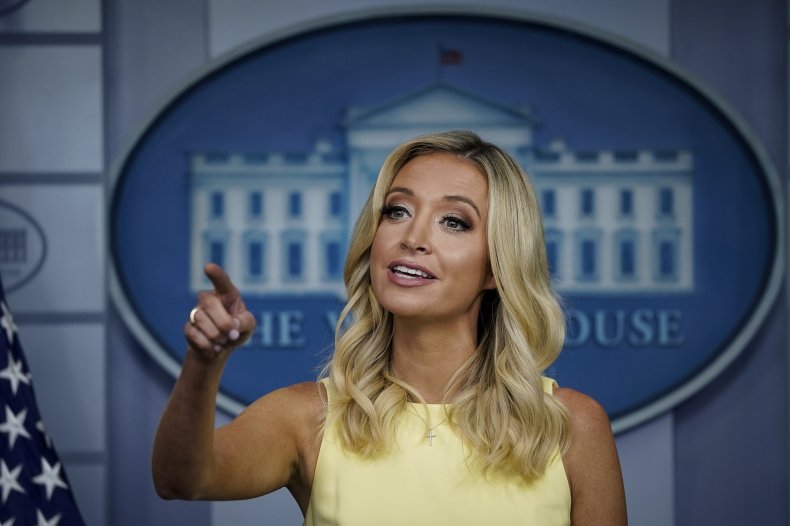 "I think we're hearing a lot of people saying that in-person education full-time is really the goal here, but how do we do that safely and how do we ensure we're able to protect students?" said Andrea Garcia, JD, MPH, the director of science, medicine and public health at the American Medical Association (AMA) in a video on Tuesday. "It may not be a universal answer for all communities across the country."
"If you're in a hot spot and you're opening schools full-time, and you're not able to socially distance, then that can certainly exacerbate the problem," she added.
Trump has ignored advice from his own public health experts, recently denouncing Centers for Disease Control and Prevention guidelines on reopening schools, which he deemed to be too "tough." McEnany insisted that reopening all schools is "perfectly safe" but that science should ultimately "not stand in the way" despite potential risks to public health.
"The president has said unmistakably that he wants schools to open... when he says open, he means open in full, kids being able to attend each and every day at their school," McEnany said at Thursday's briefing. "The science should not stand in the way of this."
Children do appear to be less likely than adults to contract the virus, and those who become infected are significantly less likely to become seriously ill or die. Although researchers aren't certain of the reason, research published by the journal JAMA in May suggested it could be due to an enzyme the virus uses to bind to cells being less prevalent in children.
Contracting the virus is not risk-free for children, however, and if a massive outbreak were to occur among school children throughout the country it could still result in a significant number of hospitalizations and deaths.
Other concerns for quickly reopening schools to in-person learning include the possibility that children could become vectors for the virus and spread it to people in more vulnerable groups, potentially including parents, grandparents or school staff.
Since children are less likely to contract the virus, they are probably also less likely to spread the virus. However, the NASEM report recommending schools reopen noted that "there is insufficient evidence to determine how easily children and youth contract the virus and how contagious they are once they do."
A recent study from German researchers suggested that children who do contract the virus may be less likely to infect others, although the evidence is far from conclusive.
There is little doubt that children returning to schools has the potential to increase spread of the virus to some degree, especially if outbreaks in communities continue to get worse, but the extent of the impact on public health remains to be seen.