The body language of U.S. President Donald Trump and his Russian counterpart Vladimir Putin when they met in Helsinki suggests a distinctive frostiness between them, one expert has said.
Round one of the power play apparently went to Putin, who kept Trump waiting for 50 minutes ahead of their meeting in the Finnish capital on Monday afternoon.
Trump is renowned for the grip of his handshake and his reluctance to let go of world leaders he meets. But comments on a photo taken by Reuters noted a different approach as it showed how Trump appeared to be touching the cuff of Putin's shirt when he shook his hand.
Body language expert Judi James said that the men arrived in the room "swaggering with puffed chests" in a typical alpha male display.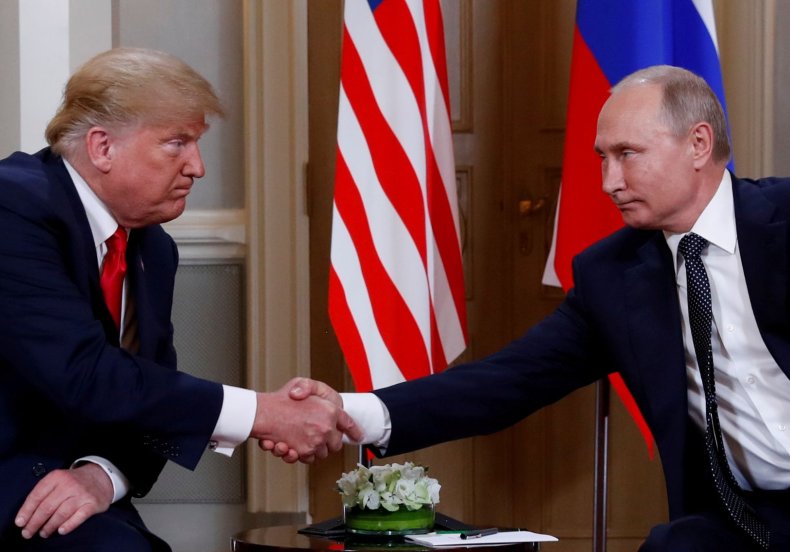 "In the room for the photo-call though, they looked more like a sullen, divorcing couple at crisis counseling. Putin was especially sphinx-like, returning little of the sparse eye contact he received from Trump," she told The Express.
Sky journalist Mark Stone spotted how amid the awkward body language, Trump even winked at Putin.
After the leaders met at the G20 summit on July 17, The Guardian reported that body language experts considered Putin had come out on top and looked like the more powerful leader.
Body language expert Mary Civiello told the BBC last year that during that meeting, Trump looked more comfortable in Putin's presence.
But in Helsinki on Monday, the body language expert Lillian Glass said that the leaders looked like they were an "equal match."
"Putin is very relaxed around Trump and feels comfortable. He is slouching because he knows he is meeting a formidable counterpart, as both are equally strong leaders and men."
However she told Bustle.com that Putin avoided direct eye contact with Trump and looked down at their handshake.
"Putin may have squeezed Trump extra hard, as you can see by the blanching of Trump's skin near his pointer finger," she added.
Meanwhile, Judi James told The Express that the two men "looked annoyed" and less comfortable than their last meeting.
"This time the two men sat rigid in their seats with absolutely no eye contact or communication when the lights were turned off.
"This could be a ploy. It could be about pre-meeting posturing and the men could emerge showing friendship signals suggesting they'd each fought hard before allowing themselves to bond," James said.