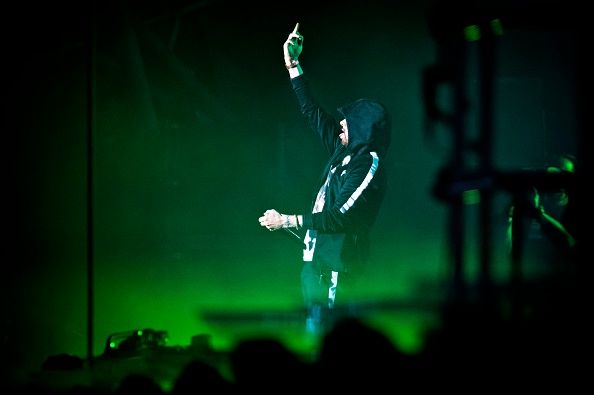 When Eminem released Revival in 2017, his first album in four years, it received polarized reactions from critics and overwhelmingly negative reception by fans. Revival was reviewed by publications such as The Guardian, The New York Times, Pitchfork and The Independent. Each review had one critical point in common: the album lacked focus.
With Kamikaze, which dropped at midnight on Thursday, Marshall Mathers responds to critics, fans, other artists and anyone who's ever disliked anything he's done. "Tried not to over think this one. Enjoy," he wrote on Twitter Friday. This was accompanied by a middle finger emoji.
The word "kamikaze" as a noun refers to a pilot of an aircraft making a deliberate suicidal crash. The album cover, which is almost an exact replica of the 1986 Beastie Boys album Licensed to Ill, features an illustration of a pilot crashing a fighter plane. As the plane crashes, the pilot gives the middle finger. Message received.
As an adjective, "kamikaze" means reckless or potentially self-destructive. The 13 track album features two fictional skits. The first is called "Paul - Skit," a voicemail from Paul Rosenberg, Mathers' manager. In the voicemail, he says, "Are you really gonna just reply to everybody who you don't like what they have to say about you or the stuff you're working on? I don't know if that's a really great idea. It's like, what's next? Kamikaze 2, the album where you reply to everyone who didn't like the album that you made replying to everybody that didn't like the previous album? It's a slippery slope."
The second skit is called "Em Calls Paul - Skit," a voicemail Mathers leaves for Rosenberg while he's on his way to a critic's house. "I was reading some comments last night about what people are saying about Revival," he says. "I think I figured out his address and I'm on my way to his house right now."
Mathers begins the tenth track on the album, "Fall," by saying, "Everybody's been telling me what they think about me for the last few months. Maybe it's time I tell them what I think about them." In Kamikaze, Mathers is more than focused. He will take shots at whoever he needs to, drop whatever names he can and insult other artists even if it means ruining his reputation—committing social and professional suicide—as long as he can get his word in and secure his spot as one of rap's greatest.
Here's the full track listing:
The Ringer
Greatest
Lucky You (feat. Joyner Lucas)
Paul – Skit
Normal
Em Calls Paul – Skit
Stepping Stone
Not Alike (feat. Royce Da 5'9′)
Fall
Kamikaze
Nice Guy (feat. Jessie Reyez)
Good Guy (feat. Jessie Reyez)
Venom – Music from the Motion Picture