What Donald Trump Has Said About a 2024 Presidential Run
Former President Donald Trump has been teasing a 2024 presidential run since leaving office, and while he hasn't made an official announcement, he keeps inching people toward the belief that he will try to oust President Joe Biden from office.
Trump maintains that he won the 2020 election despite failing to provide evidence of widespread voter fraud that could have changed the outcome. While some still incorrectly believe that he'll be reinstated, the only way Trump would return to the Oval Office would be to win in a future presidential election, and signs point to him being able to garner Republican support.
On Friday, Trump told The Water Cooler's David Brody that the reason he wouldn't run would be because of a "bad call from a doctor or something." Many interpreted that as Trump planning to run in 2024 as long as his health allows him to.
"That happens with people," Trump said. "Things happen through God. They happen, but I feel so good, and I hate what's happening to our country."
It's far from the first time Trump has offered insight into his potential bid for the White House. At the Conservative Political Action Conference (CPAC) in February, Trump told attendees that he may "even decide to beat them for a third time," referencing a future presidential run. It was met with applause and straw polls from the CPAC events consistently put him as the leading contender for the GOP nomination.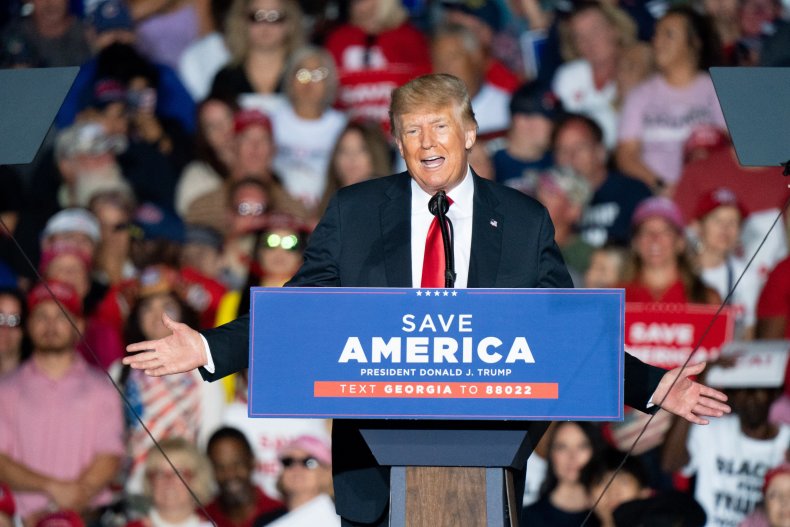 Months later, in April, Trump told Fox News' Sean Hannity that he was "beyond seriously" considering running for president but wanted to stay quiet on the topic "from a legal standpoint." Continuing to fuel speculation he'd seek the GOP nomination, he told Candace Owens on her Daily Wire talk show, Candace, in May that he was "absolutely enthused" and was looking forward to "doing an announcement at the right time."
"As you know, it's very early. But I think people are going to be very, very happy when I make a certain announcement," Trump said. "You know for campaign finance reasons, you really can't do it too early because it becomes a whole different thing."
Barring the "campaign finance reasons," Trump told Owens he would give her an answer that she'd be "very happy with" and encouraged her to "stay tuned."
Keeping interests piqued in his potential candidacy, Trump told Newsmax viewers in July he would be making an announcement in the "not too distant future." Again, he said people would be "very happy" and that his campaign wanted "a little time to go by" and possibly base his decision on how Republicans fare in the 2022 midterms.
Trump's throwing his weight behind Republicans in the hopes to win back Congress at the midterm elections. The former president's goal is to oust Republicans who opposed him during his second impeachment and a significant Republican victory would give him validation that he was the better choice than President Joe Biden and additional criticism to lob at the president.
Historically, the president's party loses seats in the midterm elections and with a slim majority in the House and the Senate, Democrats could lose control of Congress. Trump's niece, Mary Trump, believes her uncle is waiting to decide about a presidential run until he sees how the midterms play out.
"If Donald feels he can run and not lose because the system is rigged even further in his favor then he will," Mary told Newsweek editor-at-large Naveed Jamali on his podcast, The Daily Break. "And if he wins depends largely upon how Republicans do in 2022 which is why Democrats need to be energized and vote in such large numbers that they can't be overcome."
Many people close to the former president believe he'll run for office again and longtime adviser Jason Miller put odds between 99 and 100 percent. In September, Representative Jim Jordan, a staunch ally, said Trump is "about ready to announce after all of this craziness in Afghanistan." Trump's spokesperson denied to Newsweek that he ever told Jordan he's running and said a 2024 announcement is not imminent.
About a week later, Trump told Fox News that he didn't think "we're going to have a choice" about whether to run for president in 2024. He lambasted Biden's withdrawal from Afghanistan, calling it "disgraceful" and reiterated that Biden's running of the country, which Trump vehemently disagrees with, is "getting to a point where we really have no choice."
Days earlier, he told a reporter at a memorial commemorating 20 years since the September 11, 2001, attacks that he thought they would be " very happy" with his decision. He once again cited campaign finance laws as why he's not making an official announcement but said he knows what he wants to do.
The former president still commands a loyal group of supporters and has seen people turn out in hordes to his 2021 rallies. Some hopeful supporters have even started purchasing "Trump 2024" flags in anticipation of a potential return to the campaign trail.