What Donald Trump Has Said About a New Stimulus Bill Since the Last Round of Stalled Negotiations
In a week, President Donald Trump went from halting stimulus negotiations until November 3 to pushing for legislators to "go big or go home!!!"
On October 6, Trump announced on Twitter that he instructed his representatives—Treasury Secretary Steve Mnuchin and White House Chief of Staff Mark Meadows—to stop negotiating a package until after the election. In the six tweets since the announcement, Trump advocated for a standalone bill for stimulus checks, advised Democrats and Republicans to focus on a significant package and criticized House Speaker Nancy Pelosi for not caring about Americans.
Less than three hours after he put the kibosh on negotiations, Trump posted on Twitter that he was ready to sign a bill for another round of $1,200 stimulus checks that would go to our "great people IMMEDIATELY."
The halt on negotiations lasted less than three full days and on October 9, Trump signed off on a $1.8 trillion package, up from the $1.6 trillion deal that was on the table. That same night, Trump opened the door to an even larger package, telling radio host Rush Limbaugh that he would like to see a "bigger" package. He also tweeted on October 13 that when it comes to stimulus, it's time to "go big or go home."
Democrats are pushing for a $2.2 trillion dollar package and in a Wednesday interview with Fox Business' Lou Dobbs, Mnuchin didn't outright say it was an impossible number to reach. However, the "language" of a package matters, including not allowing state aid to be used for pension funds, and it must be a "fair" deal for American workers and American businesses.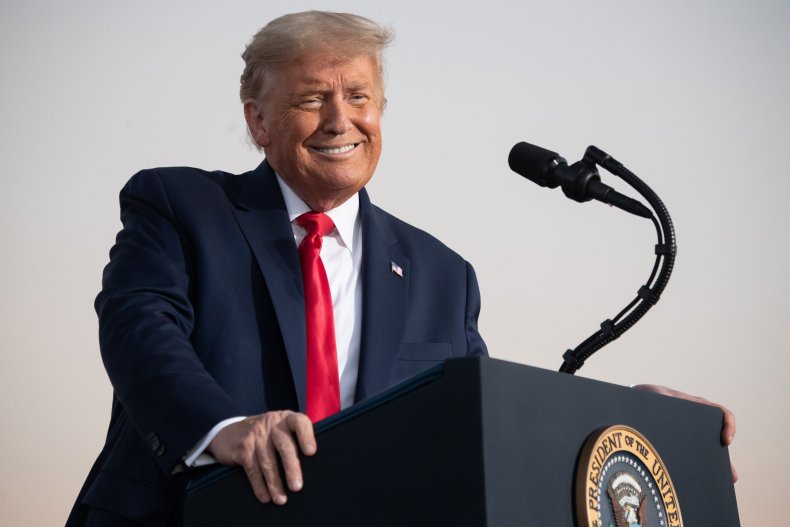 Pelosi, who rejected the $1.8 trillion offer, also expressed in interviews that it's not just the price tag, but how money is being allocated. She criticized the administration for its restrictions on how states could use funds and for not doing enough in the bill to stop the spread of the new coronavirus, as that's a key factor in providing long-term relief.
As Americans anxiously await another round of relief, the Senate is tackling another immediate issue—filling Justice Ruth Bader Ginsburg's seat on the Supreme Court. Hearings for Trump's nominee, Judge Amy Coney Barrett, began on Monday and will conclude on Thursday after four days of questioning from the 22 members of the Senate Judiciary Committee members.
Trump criticized Democrats for using their allotted time to "make self-serving statements" and advised them that if he were them, he would "pull back, approve and go for stimulus for the people."
It's not just Democrats that should focus on stimulus relief, but Trump tweeted shortly after that Republicans should be spending their time on completing a "wonderful stimulus package for the American people."
Mnuchin and Pelosi spoke for about an hour on Wednesday in a talk that yielded progress on some issues and left work to be done on others, according to Mnuchin. That same day, progressive Democrats urged Pelosi to pass another package and a poll conducted by Morning Consult on October 6 and 7 found 35 percent of voters blame Republicans for the impasse, compared to 23 percent that faulted Republicans.
In his most recent comment about the stimulus negotiations, Trump posted on Twitter that Pelosi "couldn't care less" about Americans. He suggested she approve "needed stimulus now" and that he's "ready to sign."