What Donald Trump Said About His Tax Returns in the First Presidential Debate Against Biden
President Donald Trump dismissed the recent New York Times report that he has paid little to no federal income tax over much of the past two decades during his first presidential debate with Democratic nominee Joe Biden on Tuesday.
"I've paid millions of dollars, millions of dollars in income tax," Trump said after being asked about the report by moderator Chris Wallace, before Biden interjected "show us your tax returns."
"I paid $38 million one year, I paid $27 million one year," Trump continued.
Trump then said that he had paid "millions of dollars" in federal income taxes during 2016 and 2017 and "you'll get to see it," while telling Wallace that he doesn't "want to pay tax" and had gone "through the laws" like "every other private person, unless they're stupid."
Biden blasted Trump for claiming to be "smart" by taking advantage of tax laws to avoid paying, before calling him the "worst president America's ever had." Earlier in the debate, the former vice president denounced Trump for paying a "total of $750" while working class Americans pay significantly more.
On Sunday, the Times reported that Trump paid no federal income tax in 10 out of 15 years before he was elected. For both 2016 and 2017, the year he was elected and his first year in office, he paid only $750, according to the report.
Other revelations included claims that the president is carrying $421 million in debt, that Ivanka Trump was paid over $700,000 in questionable "consulting" fees and that Trump wrote off $70,000 in "hairstyling" expenses.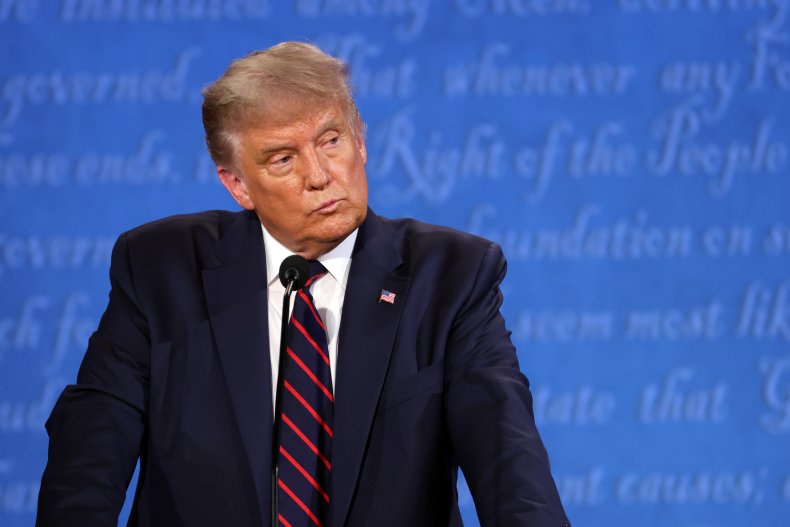 Trump immediately trashed the report in a press conference after it was released, calling it "totally fake news" and insisting the paper had "made up" the information. Trump Organization lawyer Alan Garten issued a statement that the report was "riddled with gross inaccuracies" and "most, if not all, of the facts appear to be inaccurate."
The release of the tax returns has been a contentious issue since Trump first ran for president, with the then-candidate bucking tradition by refusing to release the documents.
Trump has claimed that he cannot release the information because he is under audit, although no legal barriers would prevent him from doing so. Critics and political opponents have suggested that he is attempting to hide unfavorable information.
Continued calls to release the information have been repeatedly denied during his time in office, with the president's legal team fighting several court battles to prevent the returns from being released to both the public and Democrats in Congress.
While refusing to release the information, Trump has often insisted that Americans "don't care" about his taxes. However, polling has consistently suggested that a clear majority of Americans believe he should release the information.
Newsweek reached out to the Trump and Biden campaigns for comment.