What is Donald Trump's Approval Rating Among Latino Voters? Surveys Show Varying Support Levels for Hispanic Respondents
On Tuesday, President Donald Trump again touted a poll that showed his support among Latino voters had jumped upward.
"Marist/NPR/PBS Poll shows President Trump's approval rating among Latinos going to 50%, an increase in one year of 19%. Thank you, working hard!" he tweeted about himself.
He had also posted over the weekend: "Wow, just heard that my poll numbers with Hispanics has [sic] gone up 19%, to 50%. That is because they know the Border issue better than anyone, and they want Security, which can only be gotten with a Wall."
Indeed, a poll from NPR/PBS NewsHour/Marist conducted January 8 through January 10 did find Trump's approval among Latino respondents was 50 percent. Meanwhile, 46 percent of Latino respondents disapproved of the president's job performance.
Digging down a bit further, it appears Latino respondents expressing stronger sentiments tended to disapprove of Trump. Just 29 percent of those surveyed strongly approved of the president's performance, though 41 percent strongly disapproved. Further, a majority of Latino respondents—58 percent—said they definitely plan to vote against Trump in 2020, while 27 percent said they definitely plan to vote for him.
It's also worth noting that the lion's share of the results from the NPR/PBS NewsHour/Marist poll wasn't exactly stellar for Trump. His overall approval rating stood at just 39 percent, and support from base voters—Republicans and white men—appeared to be waning. Support among Republicans had fallen seven percentage points since December, while approval among non-college-educated white men had fallen six percentage points over the same time period.
"In the middle of the government shutdown, Americans think the buck stops with the president, and his approval rating is taking a hit," said Lee Miringoff, director of the Marist College Institute for Public Opinion, in a statement. "Keep an eye on whether the decline in the president's base is a temporary setback or more long-lasting."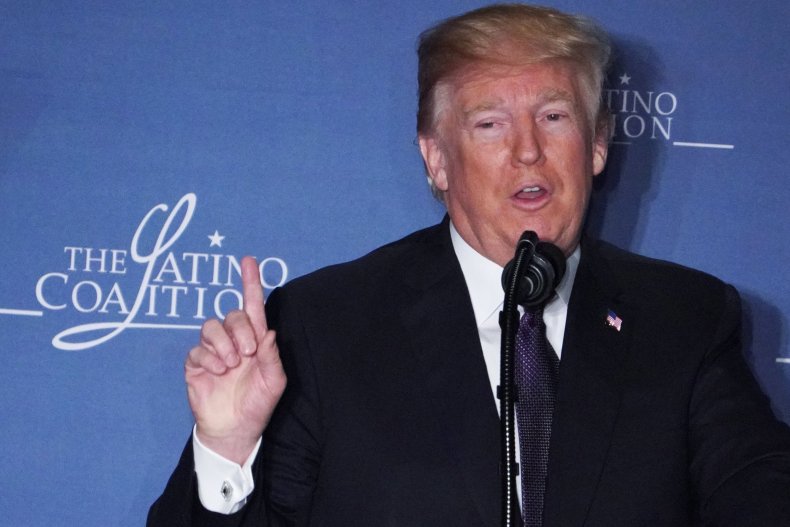 While Trump might not have included the full context of the NPR/PBS NewsHour/Marist poll, a 50 percent approval rating among Latino respondents is certainly notable—other recent surveys have been less bullish on Trump's support within the demographic.
A YouGov survey conducted from January 20 through January 21, for instance, pegged Trump's approval among Hispanic respondents at just 25 percent. A survey from Harris Interactive conducted from January 18 through January 21, meanwhile, pegged it at 30 percent.