Huawei Chief Financial Officer Meng Wanzhou may face extradition to the U.S. to stand trial on fraud charges after a Canadian court judgment on Wednesday.
Meng was arrested in Vancouver, British Columbia in 2018 at the request of the U.S. Department of Justice. She was accused of helping telecommunications company Huawei do business in Iran, despite U.S. sanctions against the Middle Eastern country. Since Meng's indictment in 2019, she has been under house arrest in Canada. Wednesday's ruling by Associate Chief Justice Heather Holmes found that Meng's case met a legal requirement known as double criminality, allowing the case for extradition to continue.
Double criminality means that a crime committed in one country would also constitute a crime in a different country. Associate Chief Justice Holmes ruled that fraud allegations against Meng posited by the U.S. would also have been illegal in Canada. Had Holmes found that the double criminality doctrine was not applicable, Meng would have been allowed to return to China.
Meng's legal team asserted that "the alleged conduct could not have amounted to fraud in Canada because it relates entirely to the effects of U.S. economic sanctions against Iran," according to the ruling. Canada did not have any sanctions against Iran at the time of Meng's arrest.
"Ms. Meng's approach to the double criminality analysis would seriously limit Canada's ability to fulfill its international obligations in the extradition context for fraud and other economic crimes," Holmes wrote in her ruling.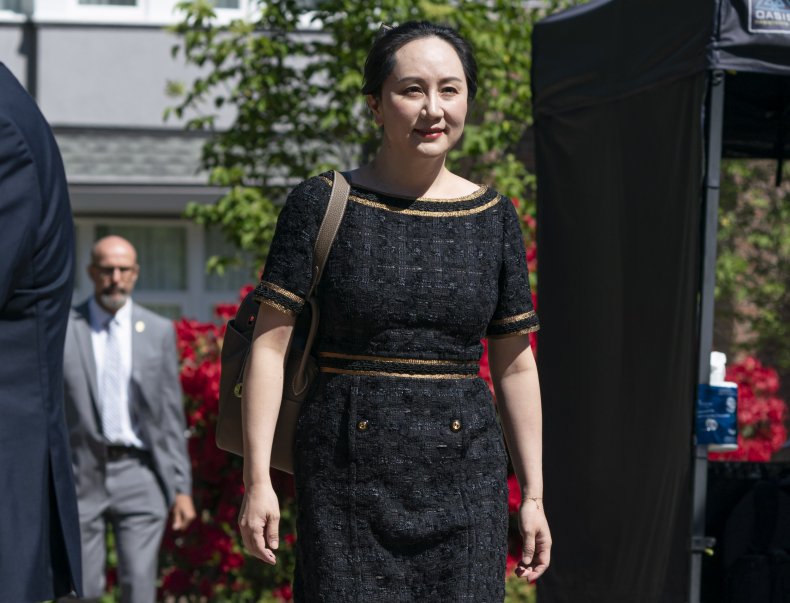 In a Wednesday statement, Huawei said it was "disappointed" in the Supreme Court's ruling. "We expect that Canada's judicial system will ultimately prove Ms. Meng's innocence," the statement continued.
Meng's case is expected to continue in June at a hearing to determine if Meng's rights were violated during her arrest.
Newsweek reached out to the Embassy of the People's Republic of China in Canada and the Canadian Embassy in Beijing for comment. This story will be updated with any response.
Charges from the DOJ allege that Huawei and Meng "willfully conducted millions of dollars in transactions that were in direct violation of the Iranian Transactions and Sanctions Regulations."
Huawei allegedly claimed it had severed financial ties to a company called Skycom which was involved in conducting surveillance on Iranian citizens. Meng is accused of lying to Huawei's financial partners, telling them the company had sold Skycom to a third party. Allegations by the DOJ state that Huawei actually owned the company that bought Skycom, allowing Huawei to continue doing business in Iran while avoiding U.S. sanctions.
Meng's arrest was followed by the detention of two Canadians in China. Former Canadian diplomat Michael Kovrig and businessman Michael Spavor were detained by Chinese officials on suspicion of spying. In a press conference on Thursday, Trudeau said the two individuals had been "arbitrarily detained by China in retaliation for a judicial system that is independent in the way it functions."