What Dr. Anthony Fauci Has Said About COVID Vaccine Passports
Dr. Anthony Fauci said during a recent podcast appearance that he does not believe the federal government will require Americans to carry COVID-19 vaccine passports, though he said it is possible some individual businesses will institute such a mandate.
Fauci, the director of the National Institute of Allergy and Infectious Diseases (NIAID) and chief medical adviser to President Joe Biden, addressed the idea of COVID-19 vaccine passports during an interview with the Politico Dispatch podcast that was released Monday.
The concept of requiring Americans to carry proof of vaccination in the wake of the coronavirus pandemic has been under debate since the first two vaccines received emergency use approval in the U.S. from the Food and Drug Administration in December.
Fauci said during the interview that while he could see the federal government playing a role in ensuring businesses are executing vaccine passport requirements in a fair way, he doesn't think the federal government will have a main role in implementing a passport system.
"I doubt that the federal government will be the main mover of a vaccine passport concept," Fauci said. "They may be involved in making sure things are done fairly and equitably, but I doubt if the federal government is going to be the leading element of that."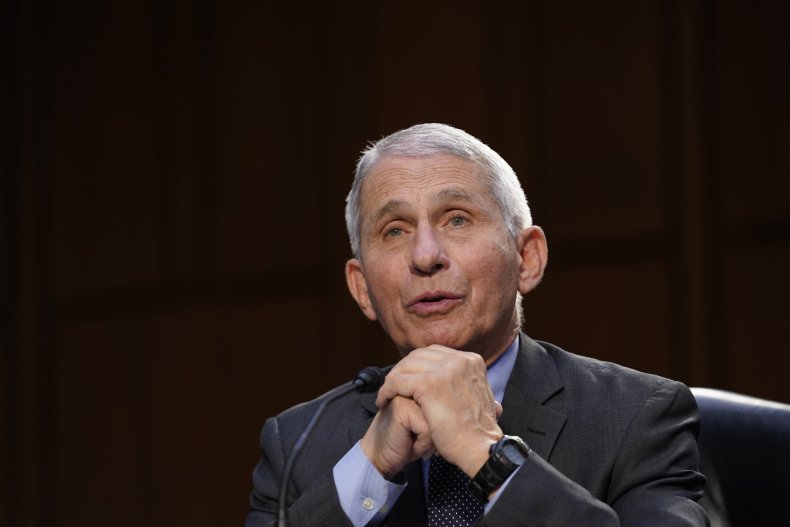 The idea of a COVID-19 vaccine passport goes beyond requirements for travel. Some people have suggested Americans could be required to show proof of vaccination before entering an entertainment venue, working out at a gym or attending a class on campus.
Fauci said during the podcast interview that he thinks it's likely some businesses will require customers to show proof of vaccination before entering a space occupied by other customers or employees.
"There may be theaters that say, 'You don't get in unless you have proof of vaccination.' There may be colleges or other educational institutions that do that. I'm not saying they should or that they would—I'm saying you could see how an independent entity might say, 'Well, we can't be dealing with you unless you're vaccinated,'" Fauci said. "But it's not going to be mandated from the federal government."
Before Biden took office, Fauci indicated that the incoming administration might consider COVID-19 vaccine passports. During an interview with Newsweek that published earlier this year, Fauci said it would be unusual for the federal government to require its citizens get a specific vaccination but said he "would not be surprised" if some businesses or organizations did so. He used the NIAID as an example of an organization that requires him to get the flu vaccine annually in order to treat patients.
As for a COVID-19 vaccine passport, Fauci said: "Anything is on the table. Anything is possible, of course."
In December, Fauci expressed interest in the idea of requiring vaccine passports for travel but raised doubts about American support for vaccine passports in other settings.
During an early December interview with Frommer's, Fauci said the idea of requiring international travelers to show proof of vaccination was "at least interesting enough to consider," but he told WCBS-FM later that month that he was "not so sure" requiring vaccine passports to get into sporting events and other public spaces would be "workable."
"It may not actually be readily accepted in society," he told the station at the time.
The U.S. is not the only country to consider requiring proof of vaccination for travel or attending public events. In Israel, citizens can qualify for a Green Pass if they are fully vaccinated against COVID-19, and the European Union is considering vaccine passports ahead of the summer tourism season.
Newsweek reached out to the Centers for Disease Control and Prevention for comment and will update this article with any response.
Newsweek, in partnership with NewsGuard, is dedicated to providing accurate and verifiable vaccine and health information. With NewsGuard's HealthGuard browser extension, users can verify if a website is a trustworthy source of health information. Visit the Newsweek VaxFacts website to learn more and to download the HealthGuard browser extension.