What Is 'Dry Drowning'? 4-year-old Girl Hospitalized After Playing With Pool Noodle
A mother in Florida has warned fellow parents about the dangers of so-called "dry drowning," following an incident in which her 4-year-old daughter was hospitalized after swallowing pool water.
Elianna Grace was blowing water out of a pool noodle toy at her grandparents' house in Sarasota, Florida, on a Saturday afternoon in April when she "dry drowned."
"By 100 percent freak accident, Elianna put her mouth to blow out at the same time someone blew in the other end, causing the water to shoot directly down her throat," her mother, Lacey Grace, wrote in a Facebook post.
The 4-year-old vomited immediately afterwards, but was "totally fine" 30 minutes later, according to her mother.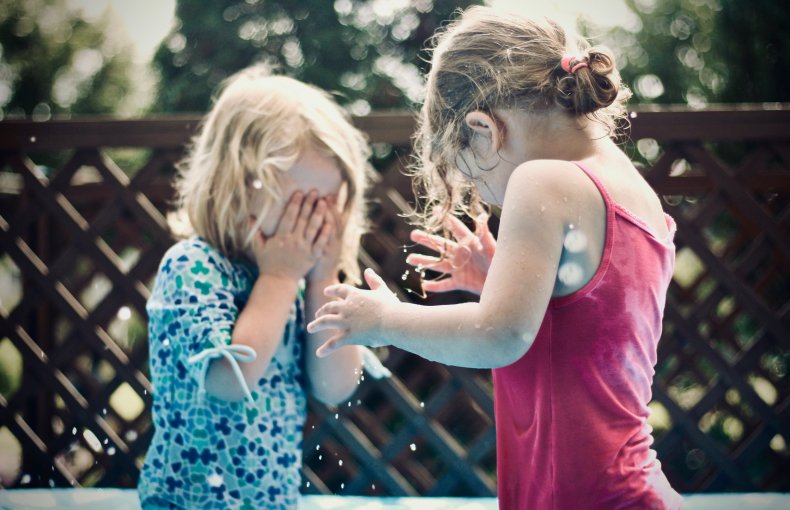 By Monday, Elianna had developed a fever, and slept for most of Tuesday. The following day her school contacted her parents to alert them the fever had returned.
"I kept replaying that pool scene in my head and remembered reading a story last year about a dad in Texas whose son passed away because he went untreated after inhaling a bunch of pool water," wrote Grace, referring to the case of four-year-old Francisco Delgado Jr., who died a week after a family trip, CBS News reported. "I wasn't going to let that be Elianna," said Grace.
Elianna's family took her to urgent care, hoping she had a common virus.
"We were there about 10 minutes when the doctor said to get her to the nearest ER as soon as possible. Her heart rate was crazy high, her oxygen was low and her skin was turning purple, which suggested chemical infection," she said.
Hospital tests revealed the pool chemicals had caused inflammation and an infection in her body. Rushed to a larger hospital so specialist children's doctors could monitor her, Elianna was diagnosed with chemical pneumonitis, aspiration pneumonia and perihilar edema. Doctors hooked her up to oxygen to help her breathe.
"At least two doctors now have told us 'thank God you got her here when you did.' All the major things going wrong are things you would NEVER notice by looking at her," wrote Grace. "We don't know how long the road will be but I thank my lucky stars that I read that article of the little boy."
So-called "dry drowning" or "secondary drowning" are not medical terms, but are used to describe incidents where water enters the body through the mouth, but the resulting symptoms occur even if the person is not submerged.
The terms are sometimes used interchangeably. However, according to WebMD, "dry drowning" generally describes when water does not reach the lungs but causes the vocal cords to spasm, making it difficult to breathe immediately afterward the incident.
Secondary drowning, meanwhile, is often associated with complications that occur after water gets into the lungs and irritates the lining. The buildup of fluid—called an edema—can make it difficult to breathe. When the condition is acute, symptoms can include a sudden shortness of breath, wheezing, sweating and coughing up pink frothy spit. The skin can turn gray, and dizziness can be a sign of a lowered blood pressure.
Symptoms of these forms of drowning can include coughing, chest pain, difficulty breathing, tiredness and changes in behavior, which could indicate oxygen is not reaching the brain.
Dr. Mark Reiter, former president of the American Academy of Emergency Medicine, told WebMD that parents should keep watch of their children 24 hours after they experience difficulties in the water. Problems are generally treatable if medical care is sought right away.