What Elena Kagan Wrote for Her College Newspaper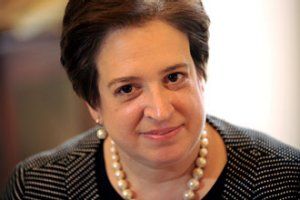 Last night the Senate Judiciary Committee began posting hundreds of pages of material submitted by Supreme Court nominee Elena Kagan to its Web site, starting with the 70 stories she wrote for her college paper, The Daily Princetonian. Reading all 70 of her clips in quick succession as a prelude to the inventory of her career, it's remarkable how clearly her passions and beliefs show through. What emerges is a portrait of an earnest liberal, concerned especially with issues of gender, equality, and identity politics.
All the greatest hits of late '70s, early '80s boomer liberalism are here: reports about students defending themselves against marijuana charges; reports about union grievances; reports about groups striving for greater diversity in Princeton's elite eating clubs; reports about efforts to convince the university to withdraw its investments in apartheid South Africa; reports about the loss of two sexual therapists from the medical center staff; reports about energy overruns and protecting nuclear facility workers from radioactivity; and most of all, more than a dozen reports about women's rights, from a lament about how eating club members doused an activist with beer to an flattering profile of Princeton's unofficial "dean of women."
As Kagan herself wrote in "Fear and Loathing in Brooklyn," a personal essay calling for "a more leftist left" in the wake of the 1980 elections that swept Ronald Reagan into office, "I have absorbed ... liberal principles early... [and] I have retained them fairly intact to this day." If you ever thought Kagan was a lifelong conservative, you can officially retire that delusion now.
And with that, we give you our handy guide to Kagan's reporter years. You can read the full collection of her college clips as a PDF here.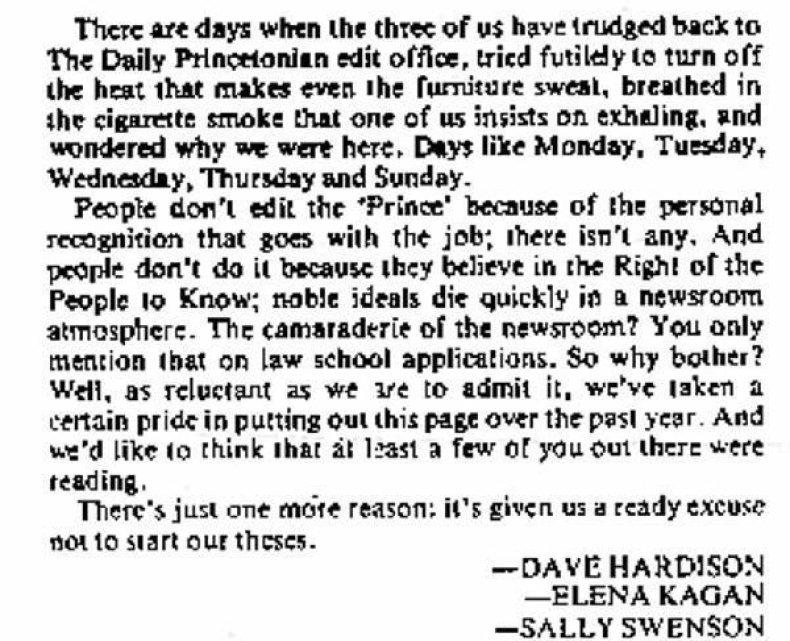 This is a farewell editor's note signed by Kagan and other departing Princetonian editors. A few gems: "noble ideals die quickly in a newsroom."
"The camaraderie of a newsroom? You mention that on law school applications."
"So, why bother? Well, as reluctant as we are to admit it, we've taken a certain pride in putting out this page over the past year. And we'd like to think that at least a few of you out there were reading. There's just one more reason: it's given us a ready excuse not to start our theses."
Careerist procrastinators with a hint of affected cynicism? Sounds like your average Ivy Leaguers ...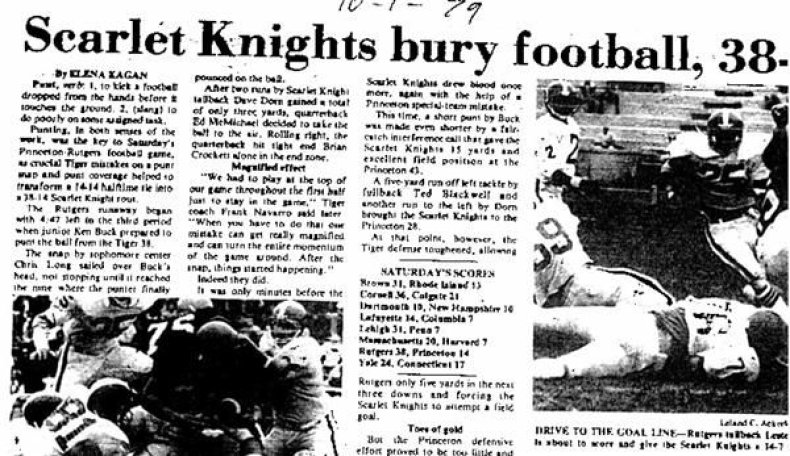 Kagan wrote several sports stories throughout her career at The Princetonian, covering the football, hockey, basketball, tennis, and baseball teams. (Sorry, oppo researchers: no softball.) Here, she employs a rather snarky lede (she accuses the Tigers of "punting, in both senses of the word") as she taunts the Princeton team for their loss to Rutgers.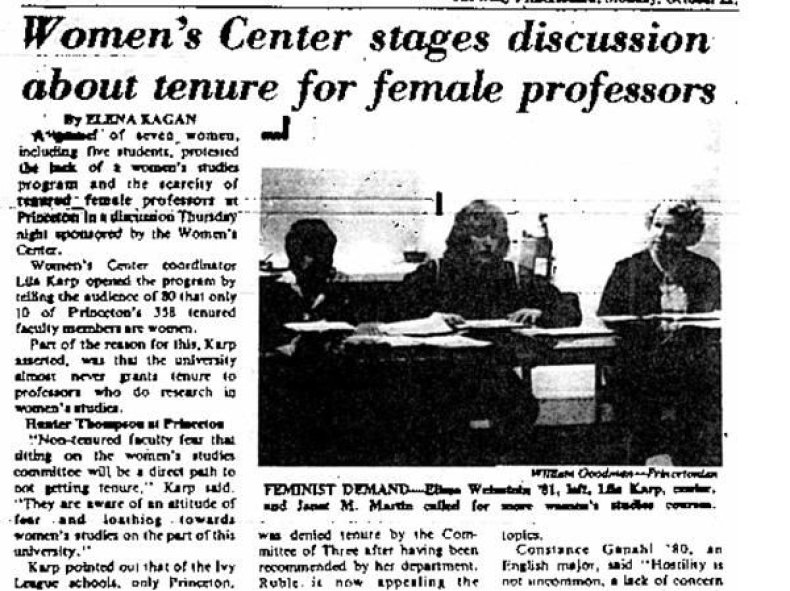 Here, Kagan writes about the Women's Center protesting "the lack of a women's studies program and the scarcity of tenured female professors at Princeton." Women's issues appear to be Kagan's favorite subject as a reporter.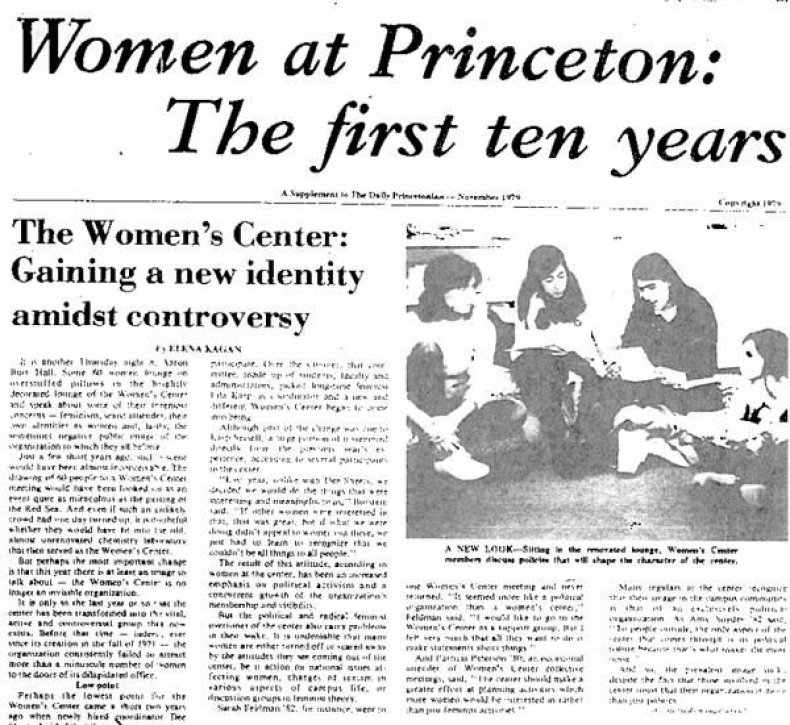 In the Princetonian's special supplement, "Women at Princeton: The First Ten Years," Kagan writes the leading story about the relatively short history of the Women's Center. She writes about the organization's "low point"—when a coordinator "remove[ed] any political or feminist overtones the center possessed—and celebrates the fact that the Women's Center is "no longer an invisible organization."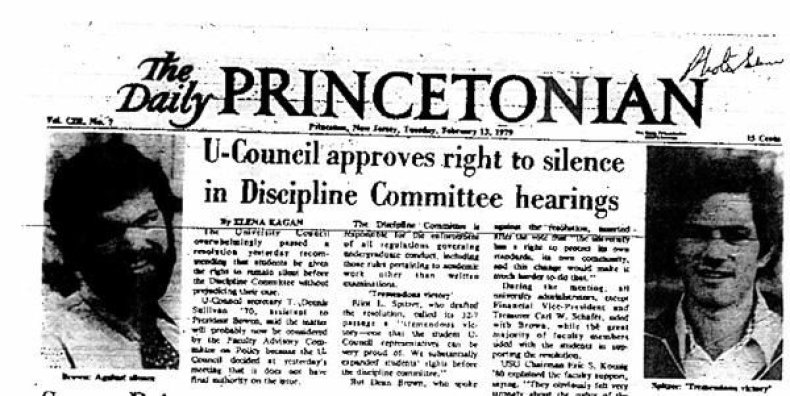 Kagan briefly sheds her usually objective reportorial tone as lets her approval show a bit in this report on the University Council approving a student's right to silence in disciplinary hearings.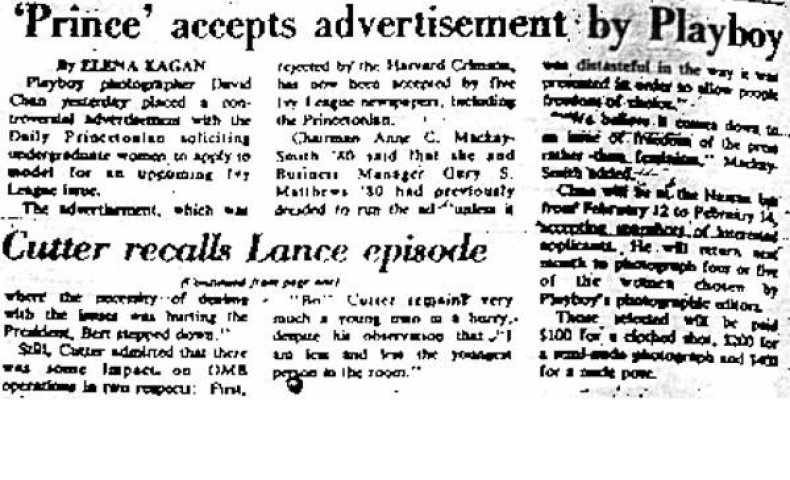 Kagan explains The Princetonian's decision to run an advertisement by Playboy that was calling for students to pose for an Ivy League edition of the mag.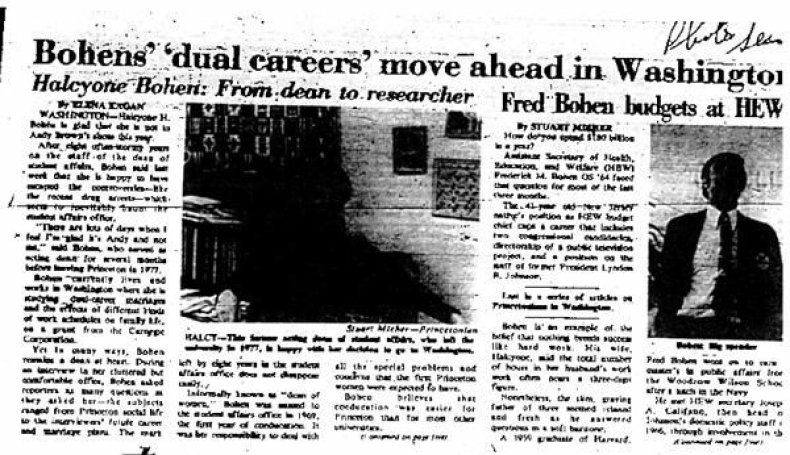 A prescient article on a faculty member who left Princeton for a job in Washington, D.C. In her piece, Kagan observes that the subject "remains a dean at heart" and "asked reporters as many questions as they asked her." Sound familiar?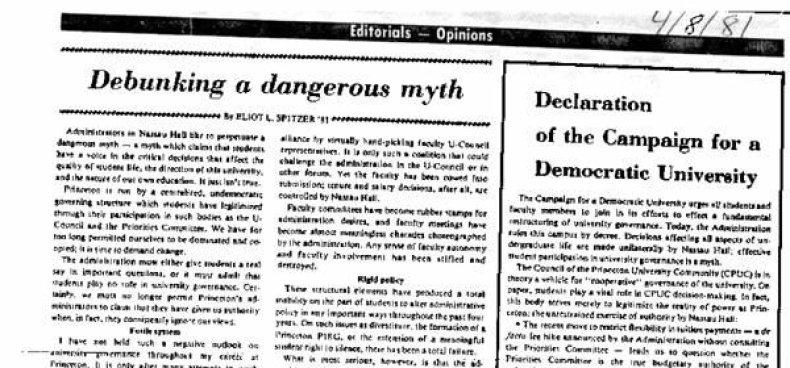 Along with eight other students (including Eliot Spitzer, former chairman of the USG caucus—Princeton's then-student government), Kagan penned the Declaration of the Campaign for a Democratic University. In it, the group calls for "a fundamental restructuring of university governance." They condemn Princeton's administration for making decisions "behind closed doors" and encourage students to rise up and OVERTHROW THE ADMINISTRATION! No, actually they just wanted more deliberation with student committees. Next to the declaration, there's a lengthy rant by Spitzer chronicling his frustrations as a student government representative trying to work with the university.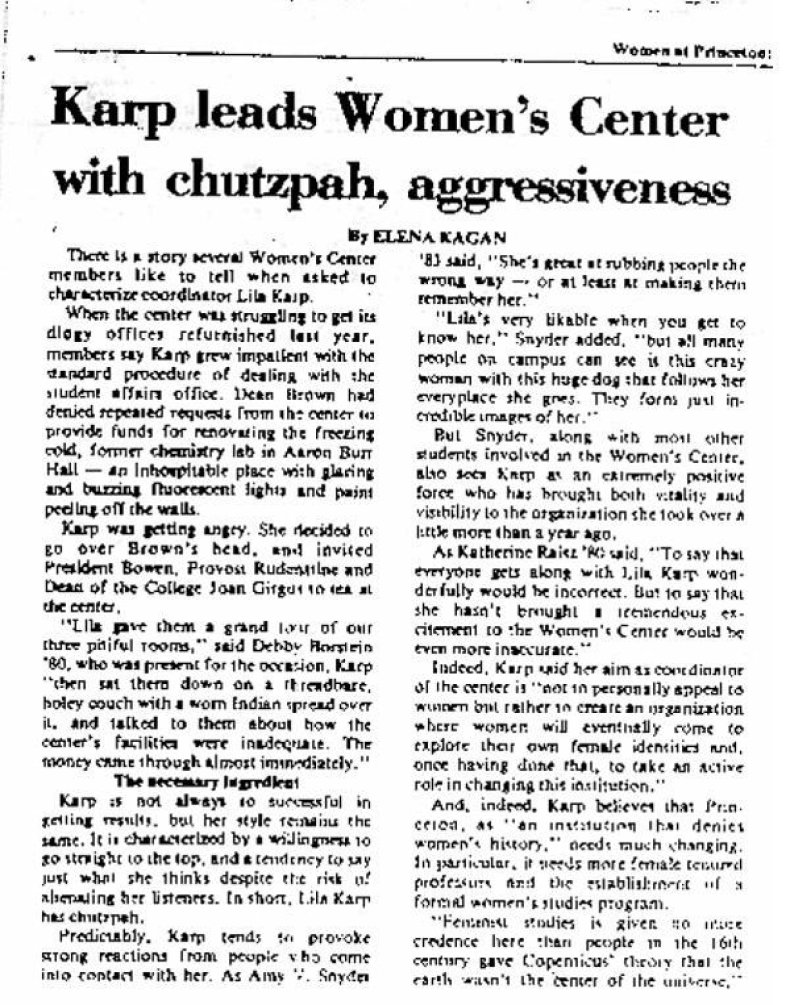 Here, Kagan pens a very admiring profile of Women's Center coordinator Lila Karp, a leader with the "chutzpah" and "aggressiveness" "to say just what she thinks despite the risk of alienating her listeners." Kagan goes on to quote Karp praising the center as a "place where women can explore their own female identities" and dismissing the "myth" of the "exceptional woman" who thinks that by "getting into Princeton [she] no longer has to confront her own second-class citizenship." She also quotes critics calling Karp "abrasive" and alleging that the Women's Center is full of "man haters." The piece is accompanied by a sidebar—not written by Kagan—about four lesbian students who "came to Princeton still unsure of their sexual preferences" and found a refuge in the Women's Center.