On November 11, self-described "good human being" and environmentalist Rob Greenfield completed a challenge unfathomable to everyone from caffeine-addicted city dwellers to time-starved suburban families who rely on local superstores to feed their broods. He had gone an entire year without buying a single item of food.
To complete his self-imposed challenge, the 33-year-old from Wisconsin built a tiny-house-movement-inspired, 100-square-foot home made of re-purposed materials in a woman's garden in Orlando, Florida. He had met her at a herbal conference, Greenfield told Newsweek, and she was intrigued by his mission to raise awareness of sustainable ways living. For the year, Greenfield worked the land of his new neighborhood's front yards (with their permission).
Greenfield—who over the past decade has dumpster-dived and worn trash for a month to draw attention to the waste the average Westerner creates—spent up to 80 hours a week foraging and growing hundreds of items to feed himself. The activist hopes his efforts will draw attention to startling facts—for example, how between 30 to 40 percent of food is wasted in the U.S., according to the U.S. Department of Agriculture. Or how food travels 1,500 miles on average before it hits our plates.
Newsweek spoke to Greenfield about his experiences, and what he learned from a year abstaining from grocery stores and restaurants.
What led you to challenge yourself to grow and forage your own food for a year?
I've been exploring food for nearly a decade and since the beginning I've had the burning question. Could I exist without grocery stores and restaurants? No packaged or processed foods? Nothing shipping from far away? Could I step away from Big Ag [big agriculture] and all the destruction it causes to the world?
This is what I wanted to know and what I set out to find by attempting to grow and forage 100 percent of my food for a year. At the same time I want to wake people up to the reality of our current food system and inspire and empower them to make positive changes. I use extreme projects to catch people's attention and take them along my journey with me.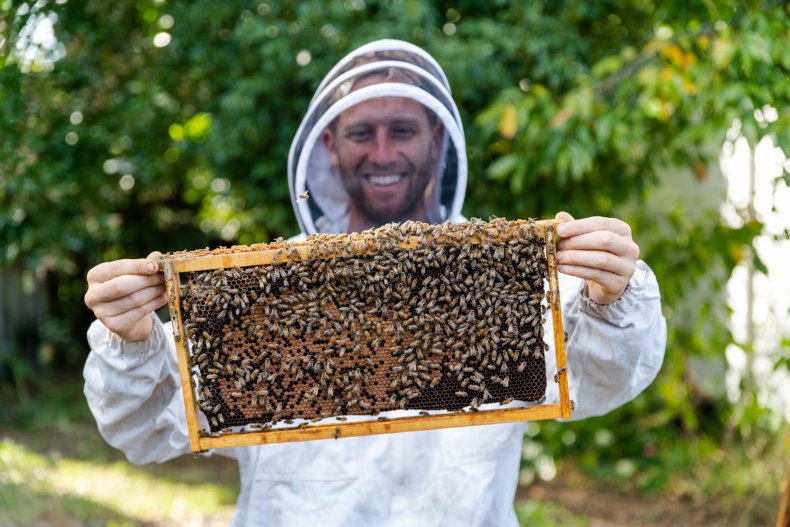 What were the rules for the challenge and what did setting them involve?
For the entire year I had to grow and forage 100 percent of my food. That means no grocery stores, no restaurants, no bartering for food, no gifts, no nibbles from a friend's pantry or even a sip of beer at a bar. Not even shopping at the farmers' markets or eating out of my friends' gardens or picking food at a farm. I either had to grow it in my gardens or forage it from nature, including my medicine and vitamins.
What were some of your key sources of foraged food?
I foraged around 200 different foods. My caffeine came from the native yaupon holly tree. I harvested my own sea salt from the ocean. I foraged from fruit trees both in the deep woods and in the city from parks or where I found bounties falling onto the sidewalks.
I caught fish from the ocean, harvested mushrooms in the woods, and picked nutritious weeds that most people walk by unknowingly or even constantly battle with in their yards and gardens.
Where did you get most of your food?
I grew 100 different foods in my six small gardens, which were spread out throughout the neighborhood, all of which started as lawns of grass, that I turned into abundant food gardens.
Perhaps half of my food came from my gardens. I foraged in woods, prairies, lakes, rivers, the ocean, public parks and abandoned lots, to name a few places.
Where is the most unusual place you foraged for food?
I didn't find any of my foraging to be unusual. The earth is my home and I feel quite at home here.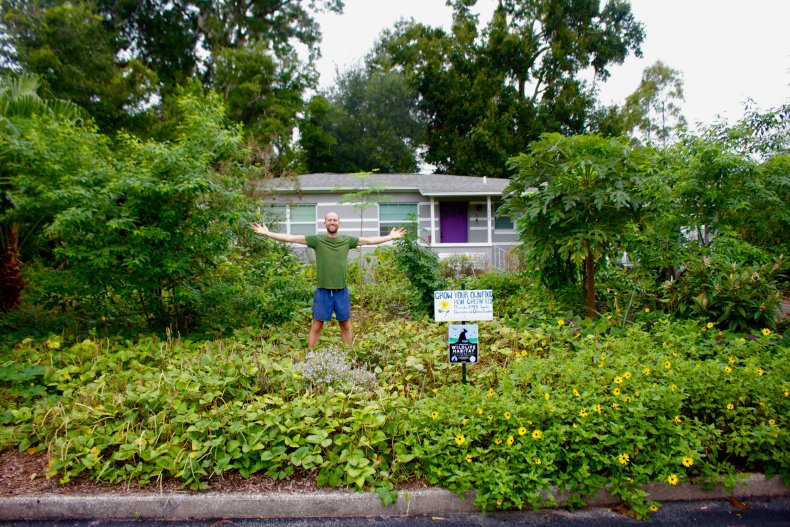 What was the hardest part of the challenge?
I often worked 40 to 80 hours per week to plant, harvest and maintain the gardens, forage foods, cook, preserve and clean dishes. It's safe to say it was a very demanding full-time endeavor.
I often couldn't take a true break from it, because if I did, then I would either not have all the food I needed, or something would fall apart. There are a lot of moving pieces to just simply existing, but that is something that we have lost connection to through the globalization and industrialization of our lives.
Was there a moment where you almost broke, and what motivated you to keep going?
Around the seven-month mark of the year I started to feel weak. I was not getting enough fat and protein because I wasn't able to catch enough fish. I was worried about my health and the idea of not finishing crossed my mind more than once.
But I thought about it and I know that humans have gone through situations that make my project look like a beach vacation, so I knew I could keep going. I managed to gain the muscle and body fat I lost back once I started to catch fish. I finished the year healthier and happier than when I started and I maintained my weight almost to the exact pound.
You say nature was your pharmacy. Were there exceptions so you could stop the challenge in case you needed serious medical help?
I wasn't going to die over the project. But it would have had to have taken something very big to step away.
How much do you think you spent and saved over the course of the year?
Although I didn't buy any food directly, I was still spending money. I purchased items to help me with food processing and cooking such as a food dehydrator, blender, Crock Pot, etc. I also purchased seeds, plants and compost. During this time I built my tiny house that cost under $1,500. Overall, I spent minimal money. I was living on around $500 per month for the year.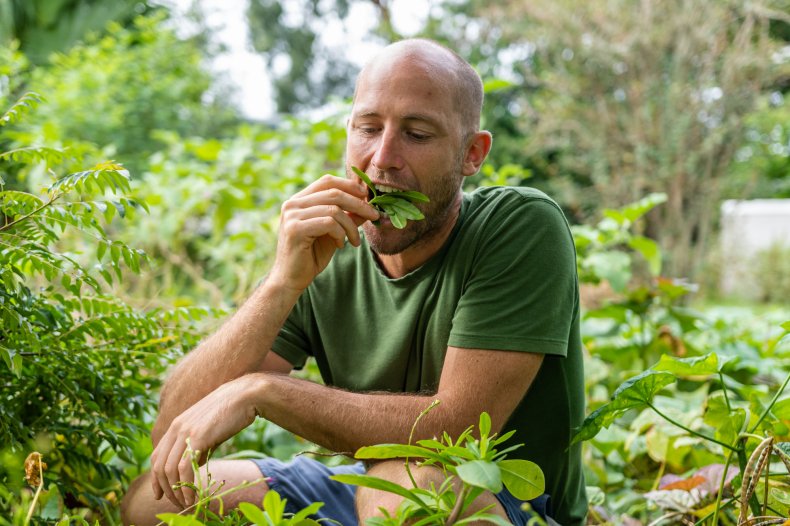 How would you describe your lifestyle when you're not completing a challenge? Do you try to reduce your carbon footprint and waste? If so, how? Are you vegan, for instance?
I've designed my life to cause minimal destruction while improving the quality of life around me. I strive to understand all of my actions and how they impact people, other species and our earth as a whole. I just think it's common sense not to destroy our home and I really value life. I want to help others to live a good life, that doesn't come at the cost of others.
I am not vegan. I think for some people veganism can be a great way to live in harmony, but overall I don't endorse the globalized food system that most vegan diets depend on. I am more of a proponent for local, regenerative food systems that include animals. I'm a big proponent of eating a very plant-based diet, but I don't believe 100 percent is necessary, nor what the entire world needs.
What is your advice for the average person looking to live more sustainably, who perhaps doesn't have the resources or time to achieve what you did?
First, I think they must question our food. Where does it come from? How does it get to them? How did it impact the earth, other species and the people that grew it?
If they don't like the answers they find I want to empower them to change the answers. That doesn't mean going to the extreme of growing and foraging all of their own food. I recommend growing just a little bit of your own food to learn the power of the seed, sun and soil. I recommend sourcing food from local farmers and gardens. I recommend buying whole foods rather than packaged, processed foods and buying from sources that have ethical practices. Another big thing we can do is simply not waste our food and compost whatever can't be eaten.
What are some foods people can safely and legally forage in the U.S. that they might not be aware of?
Food is growing all around us, whether in deep nature or growing in the cracks between the sidewalks, even in the busiest cities around the world. Almost everywhere there are "weeds" that grow that are both delicious and nutritious.
Fruit trees grow all over and often there is an incredible bounty falling to the sidewalk and going to waste. Mushrooms are also abundant and for that I recommend finding a local teacher who can take you out.
How can people stay safe when foraging?
The number one rule of foraging is to only eat something if you are 100 percent certain of what it is. If you follow that simple rule, then there is nothing to worry about.
I recommend searching out local foragers and going with them to learn about the edible plants of your area. If you can't find that then try finding local resources such as books.
What are the biggest lessons you learned?
It takes a community. It might seem like this was an individual project, but it was far from that. Everything that I was able to achieve was through the knowledge of thousands of people before me. I think the solution to most of our problems lies in community. We must come together in local communities and as a global humanity to overcome the times we are in and create a more sustainable and just world.