What Is Eric Schneiderman Accused Of?
New York Attorney General Eric Schneiderman stepped down from his role on Monday after being accused of violence and abuse by four women.
Schneiderman, who lent his voice to the #MeToo movement and described embattled media mogul Harvey Weinstein as "despicable," has denied the claims made by the women—two of whom went on record with the accusations, speaking to The New Yorker in an article published on Monday.
Michelle Manning Barish and Tanya Selvaratnam are among the four women who have accused the former New York attorney general of sexual violence; both saying they sought medical attention following the incidents, The Hill reported.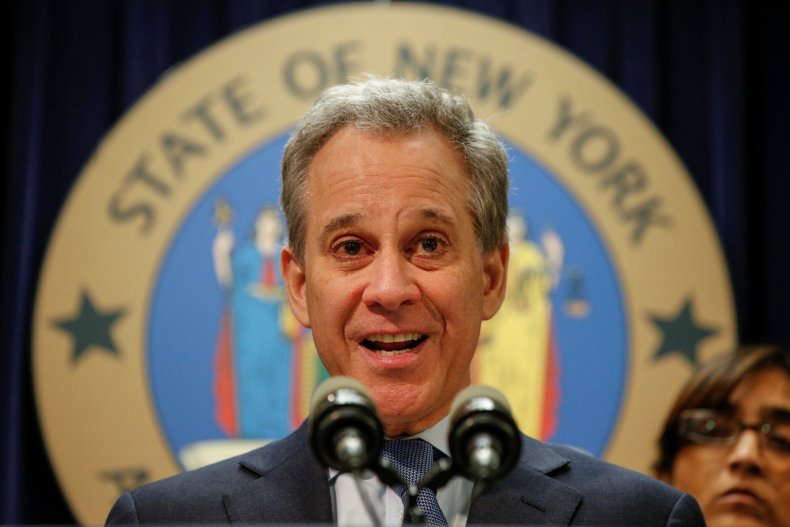 "His hypocrisy is epic," Manning Barish told The New Yorker. "He's fooled so many people."
Around four weeks after the pair became involved with one another, Manning Barish alleges Schneiderman hit her while they were alone in his bedroom, causing her to lose her balance and fall onto the bed.
"I got up to try to shove him back, or take a swing, and he pushed me back down. He then used his body weight to hold me down, and he began to choke me. The choking was very hard. It was really bad. I kicked. In every fibre, I felt I was being beaten by a man," she said, also claiming the then-attorney general accused her of scratching him and told her: "You know, hitting an officer of the law is a felony."
During the two years Manning Barish says the pair dated on and off, she claims Schneiderman was controlling and violent, also telling the publication he drank and took prescription tranquilizers.
It is a story not dissimilar to that of Selvaratnam, who accused Schneiderman of hitting and choking her, spitting in her face and criticizing and controlling her during the year they dated.
"Sometimes, he'd tell me to call him 'master,' and he'd slap me until I did," Sri Lankan born Selvaratnam said.
"He started calling me his 'brown slave' and demanding that I repeat that I was 'his property,'" she said, pushing back against the notion that what happened was "sexual play acting."
However, this appears to be how Schneiderman characterizes the accusations, telling the publication he had never engaged in non-consensual sex, adding that he had "engaged in role-playing and other consensual sexual activity."
Both Schneiderman and his ex-wife Jennifer Cunningham have denied the allegations, with Schneiderman stating he strongly contests the allegations and Cunningham, who divorced the former attorney general in 1996, stating the allegations did not match the man she knew, CNN reported.
"I've known Eric for nearly 35 years as a husband, father and friend," Cunningham said. "These allegations are completely inconsistent with the man I know, who has always been someone of the highest character, outstanding values and a loving father. I find it impossible to believe these allegations are true."