San Diego Comic Con 2018: Everything You Need To Know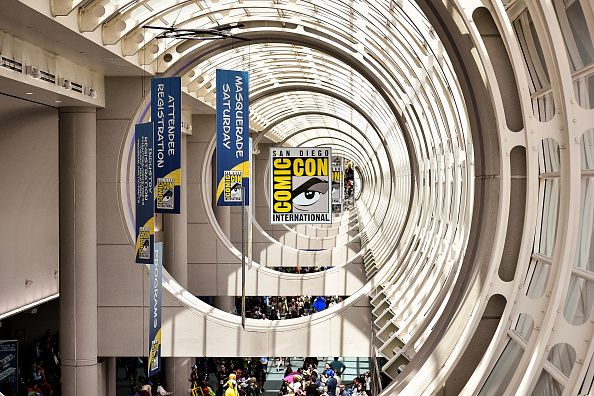 San Diego-Comic Con is starting on Thursday, attracting fans from all over the globe. There are some noticeable gaps this year: HBO and Lucasfilm will not be in attendance, so that means no sneak peaks of any upcoming Star Wars films and definitely no first-looks of the final season of Game of Thrones. Despite that, SDCC 2018 offers a wide array of choices for fans to get their fix.
It's true that Marvel will not be in attendance, but you'll still be seeing some sneak peaks of Sony Pictures' new animated film, Spider-Man: Into the Spider-Verse, first-looks at Marvel shows, Cloak & Dagger and Iron Fist. Netflix will be a tad quiet this year, as opposed to the Stranger Things 2 panel from 2017. The streaming service will give a first look at the upcoming series, Black Summer, and Matt Groening's new animated show, Disenchantment.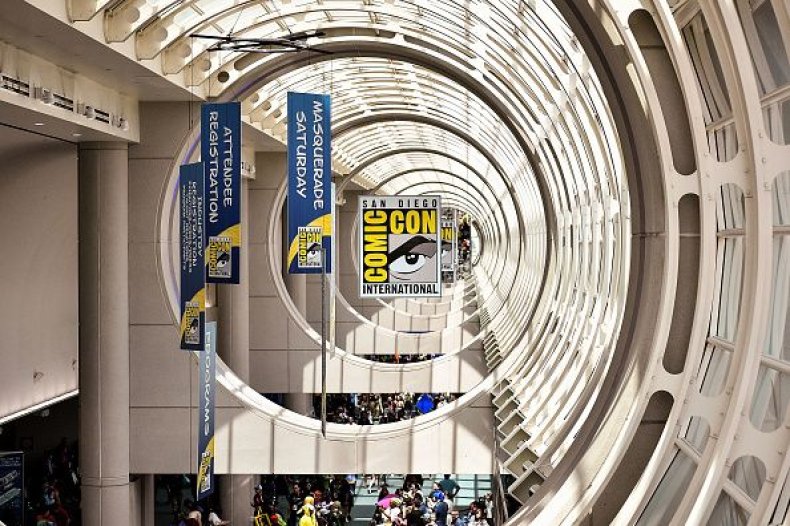 Comic Con will also host the premiere of Castle Rock, Hulu's new psychological-horror series from the brains of Stephen King and J. J. Abrams, followed by a panel discussion with stars, Sissy Spacek, Bill Skarsgard, Melanie Lynskey, and Jane Levy.
The Doctor Who panel will introduce the 13th Doctor, Jodie Whittaker, the first female Doctor. Joined by two of her co-stars, Tosin Cole and Mandip Gill, this will be the cast's first ever panel appearance ahead of a season premiere. The cast of AMC's The Walking Dead will discuss the newest season and offer a sneak peak of Season 9, set to debut in October on AMC.
On Friday, NBC's The Good Place will host a panel featuring the full cast, Kristen Bell and Ted Danson included. Nothing new to be revealed here, it seems, just a forkin' great conversation about what it means to be a good person. If you'd like more wholesome comedy, Bob's Burgers creator, Loren Bouchard, will break some news about the upcoming ninth season, joined by the full cast, never-before-seen footage, in a Q&A and panel discussion on Saturday.
Aaron Ehasz, head writer of Avatar: The Last Airbender, will reveal a new series, The Dragon Prince, and offer an inside look into this new fantasy tale, set to appear as a Netflix original in September.
There are also a few anniversaries to celebrate this year, starting with 2001: A Space Odyssey. On the 50th anniversary of one of the most iconic films in history, this panel will take a look back and celebrate Stanley Kubrick's Academy Award-winning achievement. The panelists include the stars of the film, Keir Dullea and Gary Lockwood, and an impressive array of scholars, who will discuss the landmark film at length. There will be a separate panel as well, to discuss the anniversaries of Planet of the Apes, Rosemary's Baby, and all the genre-bending films that came out of 1968.
Comic Con panels have become increasingly more political over the years, and 2018 is no different. This year will feature a summit of celebrities such as Amy Chu (writer, Wonder Woman), Joan Hilty (comics editor, Nickelodeon) and many others in a panel called "#MeToo to #Times Up: An Action Summit for Comics," to discuss under-representation, harassment, labor practices, and brainstorm how to make the world of comics a safer place for artists to thrive.