More than a dozen years ago, fans were lamenting HBO's abrupt cancellation of its TV western series Deadwood. But they may be rejoicing as Deadwood: The Movie premieres Friday on HBO.
The series, written by David Milch, aired just three seasons from 2004 to 2006 but garnered enough attention in that time to win multiple Emmy and Golden Globe awards. It explored the lives and politics of the citizens and outlaws of 19th-century Deadwood, an 1870s mining camp nestled in the Dakota Territory.
Lead actors Timothy Olyphant (as Sheriff Seth Bullock), Ian McShane (as Al Swerengen) and Molly Parker (as Alma Ellsworth) were poised to return for the movie, as were Paula Malcomson (as Trixie), William Sanderson (as E.B. Farnum), John Hawkes (as Sol Star) and Gerald McRaney (as George Hearst).
To recap: Most of the final season chronicled Hearst as he tried to secure the wealth of Alma, who quite literally struck gold in Season 1. Along his brutal pursuit, he ordered the murder of her husband, Whitney Ellsworth. In the aftermath of Whitney's death, Al slit an innocent girl's throat to protect Trixie and appease Hearst, who wanted Trixie dead for attempting to kill him (which she only attempted because he killed her friend, Whitney).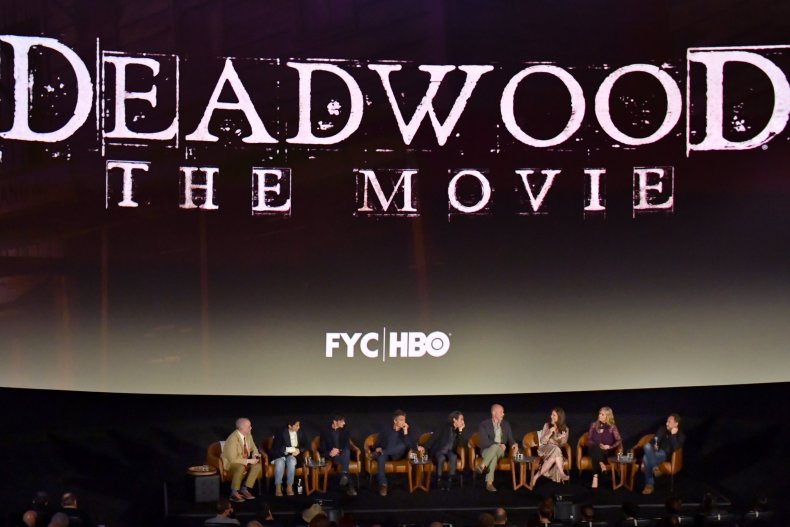 The closing scene shows Hearst riding out of the frontier town, satisfied in thinking Trixie is dead, and the camp lives on.
Multiple reports say the plot picks up ten years after the show's last episode—as South Dakota nears statehood—though the trailer seems to communicate that Hearst, now a senator in California, is still after Alma's gold claim.
The trailer shows a series of verbal face-offs between Hearst and the citizens of Deadwood as well as a conversation between Sol and Trixie in where he urges her to leave the camp. There are also fists thrown, guns fired, tears shed and coffins buried.
Those details, and reports of a new character played by Jade Pettyjohn, suggest that the film has a lot of storytelling ground to cover.
So, what might happen? Earlier this month, Ian McShane (Al) spoke in an interview with Vulture and described the state of Deadwood during the time that the film takes place.
"The town is no longer the same. There's some buildings now made of brick. And all the people are older," said McShane. "Some have regressed, some are stagnant, some have moved forward, some have changed into completely different people, which is as it would be in life."
He added that since the project is a two-hour movie, rather than a spin-off TV series, fans might feel like there's a lot of action packed into the film given the time limit, and like there's a greater sense of finality. "It's mainly a matter of length, brevity, and directness … You can't do as much of that Deadwood thing where people talk around and around, because time is of the essence," said McShane. "It tells a different kind of story than episodic television could."