Kim Davis Releases New Book on Being Met With 'Fist-Pounding Homosexuals' Over Same-Sex Marriage Licenses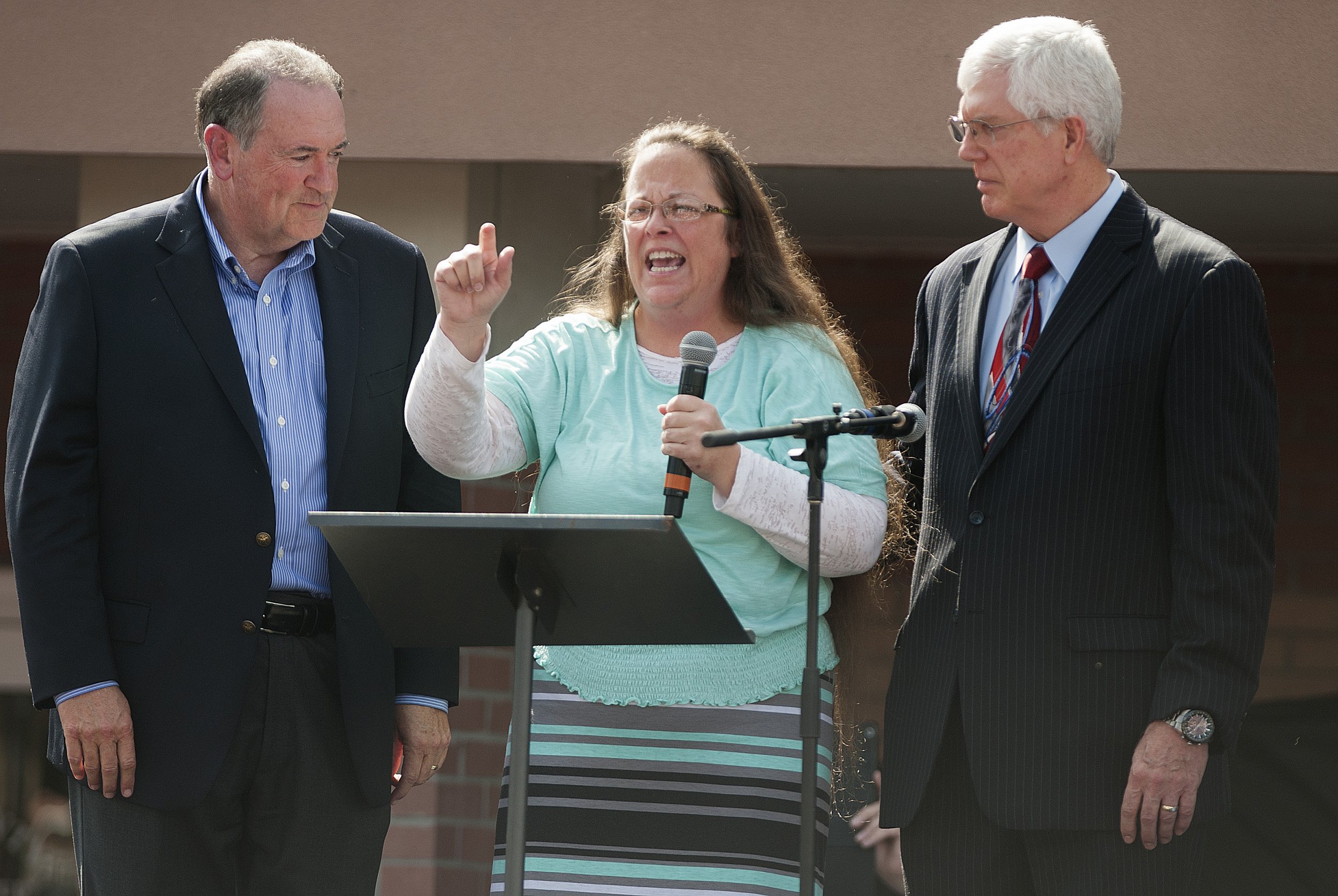 Kim Davis, the former Kentucky clerk who was jailed for blocking same-sex marriages, is set to release a book about her experiences.
The clerk for Rowan County, Kentucky, defied a U.S. federal court order to grant same-sex couples marriage licenses in 2015, sparking international headlines. Davis said at the time that issuing marriage licenses would violate her Christian beliefs.
She was jailed for five days for contempt of court, after ignoring a federal judge who ordered her to grant the licenses. The state of Kentucky later removed the county clerk's name from licenses in line with a request from Davis, The Advocate reported.
According to Kentucky.com, a description of Under God's Authority: The Kim Davis Story reads: "Kim chronicles her dramatic encounters with furious, fist-pounding, homosexual men and the hate mail that flooded her office."
"She tells how God transformed her life in 2011, why she almost retired in 2014, and how she knew—six months before the U.S. Supreme Court's disastrous 2015 same-sex 'marriage' opinion—she was headed for jail."
A description of the book by the Liberty Counsel, the Orlando-based legal organization and Christian book publisher that supported Davis in 2015, teased that it "goes behind the scenes to reveal how God gave this unlikely candidate a platform to defend marriage and religious freedom." Davis's story is one of "redemption and courage," it added.
Under God's Authority features a foreword by former Republican presidential candidate and former Arkansas governor Mike Huckabee. "It's a great read. But more than that, this remarkable story of what God did in Kim's life gives me hope for our nation," he said.
Kentucky Governor Matt Bevin commented: "When history called upon Kim, she was both ready and willing to respond. Will the same be said of you?"
The Liberty Counsel is selling the book on its website for $25. Proceeds will go to the organization.
Referring to a federal judge's ruling that Kentucky owes couples who sued Davis $225,000 in legal fees and court costs, Chris Hartman, the director of the LGBT advocacy group the Fairness Campaign, told Kentucky.com the book should have been called Kim Davis's Cost to Kentucky Taxpayers.
Newsweek requested comment from Liberty Counsel on Tuesday and did not immediately receive a response.