What the Experts Have Said About How Coronavirus Plus a Flu Season Could Play Out
As the novel coronavirus continues to infect people across the U.S., a number of experts have warned that Americans should be prepared for how the novel virus and a flu season could play out.
The novel coronavirus, which causes the respiratory disease COVID-19, has already infected over 6.8 million Americans and causing almost 200,000 deaths, prompting medical experts to urge Americans to get a flu vaccine in an effort to ease the stress weighed on hospitals across the country.
While speaking to NewsmaxTV, U.S. Surgeon General Jerome Adams said that "this is going to be our most important flu season of our lifetimes."
"It's critical that we not overwhelm our health care systems with flu on top of COVID," Adams said. "And it's also important for people to know that we're being screened for COVID symptoms when we go into many different places and if you come in with the flu, same symptoms, fever, cough, runny nose, you may be causing a place to shut down because you didn't get your flu shot."
He added that getting a flu shot is because "it's one thing we can do to help with COVID response."
Johns Hopkins University, which has been tracking the number of cases and deaths caused by the novel virus, also recently issued a press release, warning Americans that the U.S. will face another virus in the fall.
"As the United States and the rest of the globe tries to gain its footing with a pandemic that has already killed nearly a million people and sickened almost 30 million, it faces another virus this fall that could devastate our progress thus far: the seasonal flu," the release said. "That is, unless we take action now to minimize cases with effective, widespread vaccination."
Dr. Anthony Fauci, the nation's leading infectious disease expert, has made several different projections about how the novel coronavirus and a flu season could play out.
Earlier this month, while speaking to a panel of doctors from Harvard Medical School, he said that Americans "need to hunker down and get through this fall and winter, because it's not going to be easy."
On Friday, Fauci, spoke to WTOP, a Washington radio station, and suggested that the U.S. may not experience a "double whammy" with a combination of COVID-19 and the flu.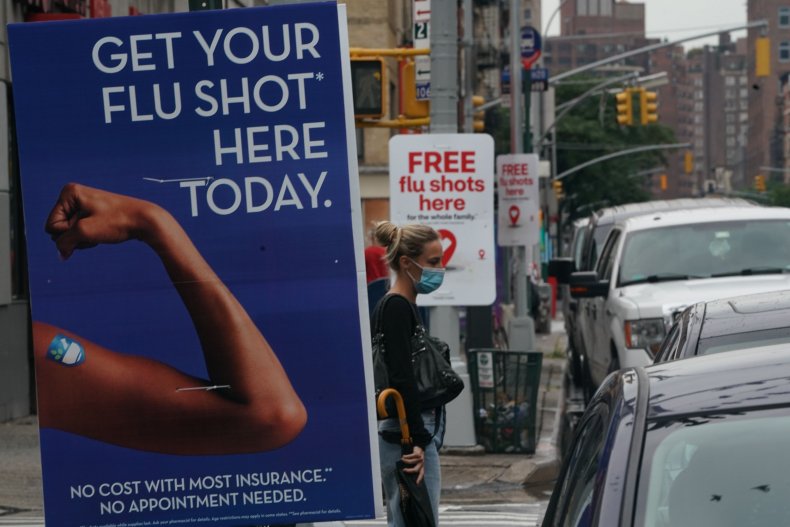 "It is entirely possible that, despite the fear that we were going to have a double whammy, namely flu season superimposed upon a continuation of COVID-19, that may not be the case," Fauci said.
Researchers at the Centers for Disease Control and Prevention (CDC) also recently published a report detailing decreased influenza activity during the COVID-19 pandemic.
According to the study, countries that have imposed and maintained extensive community mitigation measures, such as wearing face masks, social distancing and school closures, "might have little influenza circulation during the upcoming 2020-21 Northern Hemisphere influenza season."
"The use of community mitigation measures for the COVID-19 pandemic, plus influenza vaccination, are likely to be effective in reducing the incidence and impact of influenza, and some of these mitigation measures could have a role in preventing influenza in future seasons," the study said.
Newsweek reached out to the CDC for comment but did not receive a response in time for publication.