What Explains Turkey's Sudden Charm Offensive on Israel? | Opinion
After a decade of unadulterated hostility, over the past few weeks Turkey's Islamist president Recep Erdogan and his advisors have been waging a charm offensive on Israel. How are we to understand this sudden turn of events?
In the 1990s, aside from the U.S., Turkey was Israel's closest strategic ally. The alliance between the two countries was felt in everything from tourism to weapons sales, from business ties to joint training exercises. Following Erdogan's initial rise to power in 2002, things began gradually shifting. Fashioning himself a new Ottoman sultan on a mission to rebuild the lost Ottoman Empire, Erdogan began warming up to the Muslim Brotherhood, and particularly to its Palestinian branch—the Hamas terror organization.
Turkey led the line of governments that condemned Israel for killing Hamas's terror chief Ahmed Yassin in 2004. Ankara's support for Gaza continued to expand over the years until 2009, when Turkey openly supported Hamas against Israel in its 2009 mini-war. In 2009 and 2010, Turkish television broadcast two openly anti-Semitic drama series that depicted Israelis as baby killers, kidnappers and terrorists.
Also in 2010, Turkey began serving as Hamas's operational headquarters. That year, IHH, an al-Qaeda-associated non-governmental organization in Turkey organized a flotilla to Gaza in an effort to break Israel's maritime blockade of the terror-controlled territory. When Israeli naval commandos boarded the main ship—the Mavi Marmara—they were attacked by an organized force armed with iron bars, knives and guns. In the ensuing fight, nine of the Turkish attackers were killed. Seven Israeli soldiers were wounded.
What still remained of Israel's strategic alliance with Turkey disappeared after the Mavi Marmara incident. Weapons sales ended. Israeli tourism to Turkey dried up after Israeli tourists were harassed at Istanbul airport. Turkey intervened with NATO to keep Israel out of joint exercises.
Around the time that Erdogan upended Turkey's ties to Israel, Israel discovered large deposits of natural gas in its territorial waters in the Eastern Mediterranean. Its neighbors Cyprus, Greece and Egypt also discovered natural gas deposits. The four nations, which are all targets of Turkish hostility, drew together and over the past five years have developed a strategic alliance to jointly develop and market their gas. In September, they gave their new alliance a formal structure with the founding of the East Mediterranean Gas Forum. Also members are Italy and the Palestinian Authority. France is interested in becoming a member and the EU and the U.S. are official observers. Turkey is pointedly not a member and has not been invited to join.
The EMGF intends to invest 6 billion euros to develop a gas pipeline through Crete to deliver Israeli and Cypriot natural gas to Europe. This will bypass a pipeline that already exists in Turkey.
Turkey is going to great lengths to undermine the EMGF. It signed a deal last year with Libya's Tripoli-based government, which Turkey supports militarily against Libya's eastern-based government which is supported by Egypt, the UAE and Russia. The agreement set out exclusive maritime economic zones between Turkey and Libya that infringe on Egyptian, Greek and Cypriot claims. It also cuts Crete off from Cyprus, forcing the EMGF's proposed pipeline to traverse Turkish-claimed waters and threatening Egyptian gas transport as well.
Turkey has also used its navy to threaten EMGF members. From August until the end of November, Turkish naval ships patrolled the coast of Cyprus guarding a Turkish oil and gas exploration ship. The Turkish force harassed an Israeli ship involved in natural gas development work in Cyprus's exclusive maritime economic zone.
Turkey's aggressive actions against EU members Greece and Cyprus have angered Italy and France. Earlier this month the EU imposed limited economic sanctions on Turkey and will consider ratcheting up its economic retaliation with additional sanctions next March.
Also this month, the U.S. imposed sanctions on Turkey following operational tests of its Russian S-400 missile system over the summer. The incoming Biden administration, which has indicated that its position on Turkey is aligned with France's militant position, is expected to impose even harsher policies against Ankara.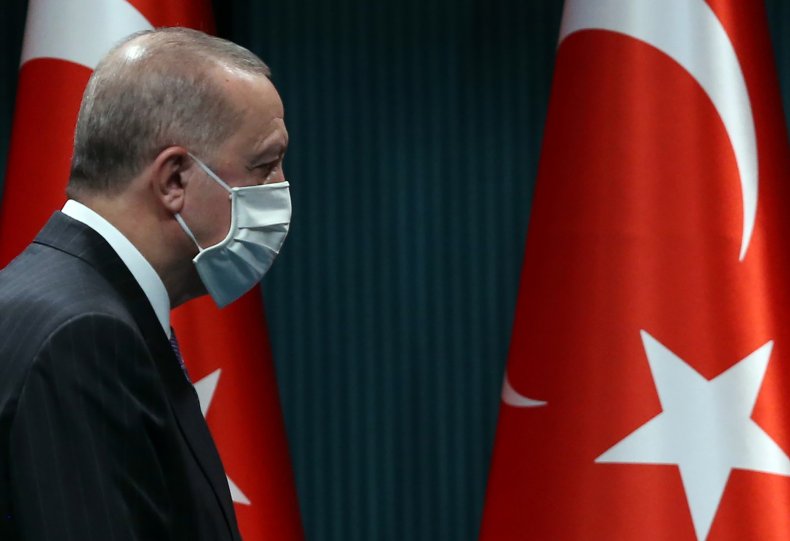 In the meantime, Turkey's economy is on the brink of collapse. Its lira has gone down 30 percent since the start of 2020. Tourism revenues are down 90 percent. In November Turkey's inflation rate was at a 15-month high at 14.03 percent. Its foreign currency reserves are down. Its foreign investments are down, and its prospects are bleak.
Saudi Arabia, the UAE and Morocco have all imposed informal trade boycotts against Ankara due to its close ties to the Muslim Brotherhood and Qatar, drying up significant export markets. The UAE has gone so far as barring entry of Turkish nationals to its territory.
Morocco's normalization of its relations with Israel under the Abraham Accords is a particular blow to Turkey. Morocco chairs the 56-member Organization of Islamic Cooperation's Jerusalem Committee. For the past decade, Erdogan has been pouring tens of millions of dollars every year into Jerusalem to assert Turkey as a dominant power in the city. At the opening session of the Turkish parliament in October, Erdogan declared that Jerusalem is a Turkish possession. In his words, "Jerusalem is our city." And now, Morocco's ties to Israel threaten to undo all of Turkey's efforts to insinuate itself into Israel's capital city.
This brings us to Erdogan's sudden interest in normalizing his government's relations with Israel. Since the beginning of December, Turkey has been filling the media with reports of "secret talks" between Turkish and Israeli officials regarding the prospect of normalizing ties. Turkey has offered to return its ambassador to Israel after downgrading its relations with Israel in protest of the U.S. embassy opening in Jerusalem in May 2018.
In an interview with Voice of America last week, Erdogan's foreign policy advisor Mesut Casin took things several steps further. Casin offered to restore military ties with Israel, including a restoration of Turkish purchases of Israeli military exports. More significantly, he offered to cooperate with Israel in the Eastern Mediterranean, including by shipping Israeli natural gas to Europe through Turkey's pipeline.
In other words, the Turks are offering to normalize ties with Israel with terms that will enrich Turkey, provide it with access to Israel's advanced military industries and undermine Israel's burgeoning strategic alliance with Greece, Cyprus and Egypt. As a reward for such generous outreach, Turkey hopes to win points with the incoming Biden administration.
Notably, while Turkey is flailing economically and shedding allies and trading partners at breakneck speed, Israel has become energy independent and is emerging as a major regional power. Although its economy has taken a significant hit from the coronavirus pandemic, foreign investment rose 20 percent in 2020 over 2019. Unemployment rates dropped from 20 to 14 percent between October and December, and as the world leader in coronavirus vaccinations, Israel is on line to be the first nation to fully reopen by late March.
Remarkably, even as Turkey casts its eye on Israel as a life raft in the storm Erdogan created for his country, the regime's hatred of Israel continues to bubble over. Erdogan's choice for Turkey's new ambassador to Israel, Ufuk Ulatas, has a history of Israel bashing, for instance. A few days before Casin set out Turkey's offer for normalizing its ties with Israel, a university in Istanbul hosted a virtual conference at which senior Islamists from the Islamic Jihad and the Muslim Brotherhood called for Israel's annihilation. And even in remarks last week when Erdogan expressed support for normalizing ties with Israel, he made no effort to hide his underlying hostility to the Jewish state. "The Palestinian policy is our red line," he said. "It is impossible for us to accept Israel's Palestine policies. Their merciless acts there are unacceptable."
Turkey is a powerful country and was a valuable ally for Israel. Its hostile turn under an ideologically driven Islamist leader was a great loss for Israel. But in the decade that Turkey has taken a power saw to its economy and its alliances, Israel has emerged as a military, economic and technological power with leadership roles in regional alliances.
Today, Israel has no profound interest in helping Turkey break out of the isolation it suffers due to its own aggressive behavior. And it has no interest in cutting a deal with Erdogan that will harm strategic ties with burgeoning allies that are also threatened by Turkey.
Erdogan has made Israel an offer that Jerusalem would be foolish to accept. And in all likelihood, beyond agreeing to return the Turkish ambassador to Israel (and the Israeli ambassador to Ankara), Israel is unlikely to do so.
Caroline B. Glick is a senior columnist at Israel Hayom and the author of The Israeli Solution: A One-State Plan for Peace in the Middle East, (Crown Forum, 2014). From 1994 to 1996, she served as a core member of Israel's negotiating team with the Palestine Liberation Organization.
The views expressed in this article are the writer's own.