This Is What Fashion Week Thinks Men Will Be Wearing in 2019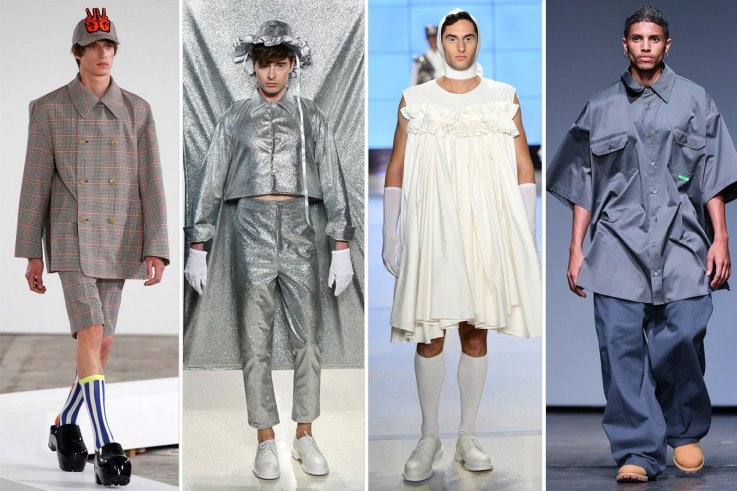 As the summer reaches its peak, perhaps you're growing tired of wearing the same old clothes. Last year's pile of washed-out denim and plaid in your wardrobe are starting to get dull.
Inspired by the latest pictures from Men's Fashion Week, you head to the mall. On your return, your partner eyes you uncertainly.
"Why," they ask, "are you dressed like a creepy Victorian ghost baby?"
This scenario is why no actual human man takes inspiration from Men's Fashion Week, in which trends for the coming season are showcased.
The latest round of shows took place in London and Milan in June, followed by Paris and New York in July, in which designers unveiled their Men's Spring/Summer 2019 collections. And boy, did they serve us some looks.
It's a given that the catwalks serve more as a creative fantasy for designers rather than a literal prediction of what will hit the high streets in the coming months—and sometimes that fantasy can be beautiful, if impractical.
The recent trends toward gender-neutral fashion means that make-up and dresses are now more commonly spotted than ever, and we're certainly not complaining—who could deny a man's right to feel a breeze through a sundress on a hot summer's day, while thousands of years of patriarchy slowly crumbles around him?
Yet some outfits that come down the catwalk are so bizarre it's hard not to laugh at them.
This year was certainly no exception. Over two short months, we saw not only Victorian ghost babies, armpit sweatbands, deranged schoolboys and men wearing literal sacks to name just a few.
And lucky you—we've picked out the very best of next season's looks. Enjoy, but please don't try this at home.