What Fauci Discussed With China in Emails
Dr. Anthony Fauci's inbox was flooded with correspondence from all corners of the world, including China, at the start of the coronavirus pandemic in 2020, according to excerpts of his emails published this week.
The White House's leading public health expert appears to maintain a cordial relationship with the director of the Chinese Center for Disease Control and Prevention, George Gao, to whom Fauci said last spring: "We will get through this together."
Through Freedom of Information Act lawsuits, The Washington Post and Buzzfeed respectively acquired over 850 pages and more than 3,200 pages of Fauci's emails, which spanned the duration of COVID-19's first wave between January and June 2020.
For many, the 80-year-old director of the National Institute of Allergy and Infectious Diseases became a voice of reason as the number of infections and deaths spiked in the chaotic early weeks and months.
The oftentimes frenetic press conferences he attended at the Donald Trump-led White House earned him both skeptics and sympathizers, one of whom appeared to be his longtime acquaintance Gao, who is a highly regarded virologist and immunologist in his own right.
After Gao was quoted in Science magazine saying it was a "big mistake" for the United States not to recommend mask-wearing—this advice later changed—the 59-year-old wrote to Fauci to apparently clear the air.
"Dear Tony," he began on March 28, 2020. "I know you are working extremely hard with a lot of pressure. Hope the US situation is getting better eventually."
"I saw the Science interview, how could I say such a word 'big mistake' about others? That was journalist's wording. Hope you understand," Gao said, explaining: "It was NOT a real interview but a QaA through social media for several days when [he] asked me what China has done and is working on."
"Lets work together to get the virus out of the earth," he concludes.
Fauci, who told The Post he was getting upwards of 1,000 emails per day, writes back the following evening: "George: Thanks for the note. I understand completely. No problem We will get through this together. Best regards, Tony."
On April 8, 2020, the day Wuhan lifted its 76-day lockdown and as life in China was returning to a semblance of normality, news of threats against Fauci's life seemed to reach Beijing.
"I saw some news (hope it is fake) that [you] are being attacked by some people," Gao wrote, asking after Fauci. "Hope you are well under such a irrational situation."
Fauci replied on April 11: "George, Thank you for your kind note. All is well despite some crazy people in this world. Warm regards, Tony."
The White House, which some suspected was butting heads with Fauci behind the scenes, would give the doctor a full-time security detail. Meanwhile, as former President Donald Trump began pointing the finger of blame at China, the correspondence showed Fauci endeavoring to remain respectful and friendly with the official in Beijing.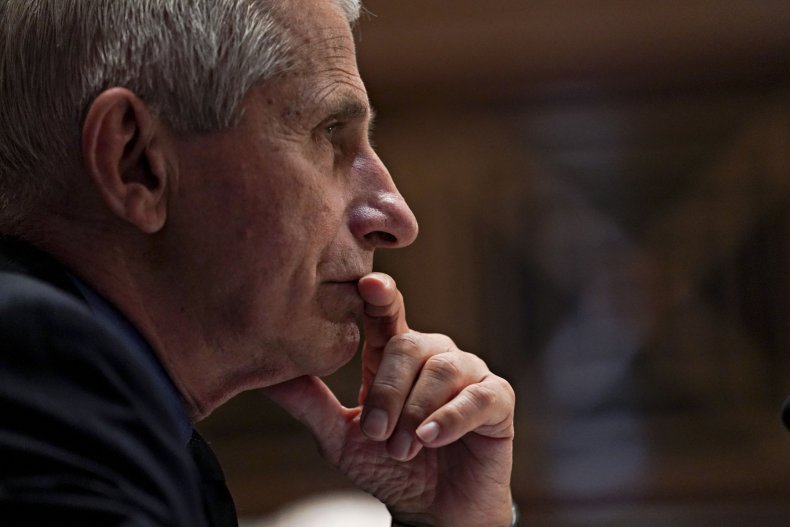 The thousands upon thousands of emails in Fauci's inbox came from public health experts, fans and civil servants.
He told The Post: "I was getting every single kind of question, mostly people who were a little bit confused about the mixed messages that were coming out of the White House and wanted to know what's the real scoop."
Some of the correspondence also touches on the controversial "lab leak" theory of the origins of COVID-19. Other parts are heavily redacted.
After January 20, 2021, even some in China celebrated his apparent relief at working under an administration led by President Joe Biden.
However, Beijing will be closely watching developments in the U.S. after Biden requested that the intelligence community investigate the origins of the coronavirus, including the possibility that it accidentally escaped from a laboratory in Wuhan.
In 2020, Fauci appeared more certain about the virus having natural origins. In May, he admitted he was "not convinced" about the theory and endorsed another investigation.