What Is a Firenado? Rare 'Fire Tornado' Burns Over 36,000 Acres in Northern California
A northern California fire still burning near the Nevada border on Monday triggered a rare tornado warning over the weekend.
The warning prompted the term "firenado"—referencing a seldom-seen combination of weather conditions wherein clouds swirling over a wildfire give rise to a subsequent tornado—quickly began to circulate in news reports and on social media.
Reno's National Weather Service (NWS) branch issued a warning detailing the potential for California's Loyalton Fire to prompt a resulting twister on Saturday morning. The Loyalton Fire, initially reported about an hour west of the Nevada city one day earlier, is among several blazes provoking mandatory evacuation orders across California. Fires sparked as several western U.S. states record particularly high temperatures in the midst of wildfire season.
"At 228 p.m. PDT, a pyrocumulonimbus from the Loyalton wildfire is capable of producing a fire included tornado and outflow of winds in excess of 60 mph," read the warning released by NWS Reno on Saturday, which specifically alerted residents of northern California's Lassen County to possible oncoming weather. Pyrocumulonimbus describes the weather environment characterized by merging smoke, fire and thunderstorm conditions, according to NASA.
"Extreme fire behavior with strong outflow winds capable of downing trees and starting new fires," the Saturday warning continued, calling the environment "extremely dangerous for firefighters."
Although the Loyalton Fire persisted for several days after, NWS Reno's warning regarding a possible tornado threat only remained in effect for a few hours.
"It was very very hot and the atmosphere was unstable," Shane Snyder, a meteorologist at NWS Reno, explained to Newsweek on Monday.
"Hotter air wants to rise, and then a fire, of course, is very hot," she said of the environment that led to the weekend's brief fire-tornado. "The heat of the fire combined with the conditions of the atmosphere allowed the air to rise extremely rapidly. In addition to that...the stronger winds higher up in the atmosphere allowed that fire tornado to begin turn and spin up for a short period of time."
An update from the National Wildfire Coordinating Group (NWCG) confirmed just 5 percent of the Loyalton Fire was contained by Monday morning. The agency's update placed its size at 36,295 acres, almost twice as large as officials reported the previous day. After burning through about 15,000 acres by Saturday evening, Sunday reports estimated the wildfire grew another 5,000 acres.
Residents living in the Loyalton Fire's surrounding area were ordered to evacuate on Sunday. The NWCG reported that one evacuation mandate, directed at individuals residing south of the region's Red Rock Road and north of Highway 70, was lifted by Monday morning. Truckee Meadows Fire and Rescue lifted additional evacuation orders for residents of the areas surrounding Cold Springs and Bordertown early Monday.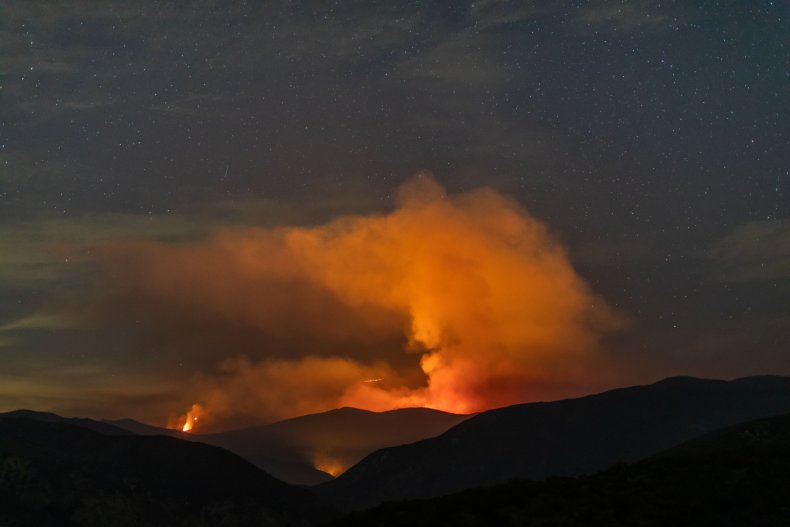 NWS Reno issued heat and thunderstorm advisories later Monday morning.
"Isolated to scattered showers and thunderstorms are expected through Tuesday afternoon," reads one advisory morning, shared to Twitter. "By Wednesday, storm coverage becomes more isolated south of US Highway 50. Make sure to have access to a safe shelter and consider a 'Plan B' before conditions become threatening."
Thunderstorms are expected to impact a large section of northern California on Monday. Multiple advisories from the National Weather Service warn residents of excessive winds and cloud-to-ground lightning.