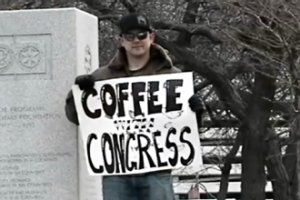 When Annabel Park imagined what it would be like to head a new national political movement, here is what she had in mind: a coming together of engaged, intelligent citizens who had tired of the angry rhetoric and accusations of the Tea Partiers; Americans of all political persuasions joining in a spirit of equanimity to discuss the nation's problems, and maybe even share a laugh. It was this beautiful vision that danced in Park's head on a recent Saturday as she made her way to Busboys and Poets, a cafe in Washington, D.C., for one of nearly 500 Coffee Party meetings taking place nationwide that day. She knew the house would be full—word had spread quickly on the group's swelling Facebook page. Park, a documentary filmmaker, was especially pleased that C-Span had arranged to broadcast the meeting.
But from the moment folks in the crowd stood up to speak their minds, Park knew these people had not come to sip cappuccinos and set an example of civility for an overheated nation. They were angry. They hated the Tea Party, and the Republican Party. They wanted to get even. One audience member said America was under the thumb of oligarchs and denounced "moneyed interests." A few people hissed when Sarah Palin's name was mentioned. Also on hand were the usual suspects drawn to the C-Span bat signal. A man representing Code Pink, the left-wing protest group, said that "racism was the basis for everything that's going on right now." He also seemed to have a real problem with "fear-based rhetoric" and Northrop Grumman.
Park, a 42-year-old Korean-American with a smile that can only be described as "kind," regularly tried to steer the talk back to the group's more centrist principles. But when someone asked how many people in the room were Republicans, all 80 hands remained down. "I like the civility idea, but I hate the Tea Party people," said attendee Karen Anderson. By the end of the event, some in the crowd had decided the movement, barely two months old at the time, needed a new leader. China Dickerson, a 26-year-old community organizer, said the Coffee Party wouldn't last "unless we get someone a little more powerful to head it." She wanted a rabble-rouser, "not someone that says we can all work together." Park seemed a little rattled after the meeting. "If they want to fire me, this may not be the group for them," she said later. "We don't want conflict and confrontation."
The question is whether Park or anyone else can hope to lead a successful movement based on civility instead of combat. There's a reason why pundits keep using the cliché that we're a deeply divided nation: there are intensely partisan minorities on the far right and the far left. Park admits she's an amateur in this overcharged arena, and she has made mistakes. Picking "Coffee Party" as the name for her movement may have been the first. Nor did her choice of venue for her Saturday gathering signal a bipartisan tone. Busboys and Poets is a hip lefty D.C. restaurant and bookstore, the kind that prominently displays books like Rules for Radicals, Pedagogy of the Oppressed, and Obamistan! Land Without Racism. A picture of Gandhi is on the menu.
But then, Park didn't set out to create a political movement in the first place. She was just exhausted by all-Tea-Party-all-the-time on the news. One night in January, she signed on to her Facebook page and ranted about "the false narrative that the tea party is the real America." Her friends picked up on the post and it led to the creation of the Coffee Party. Within days, thousands of people signed up on Facebook.
All of a sudden Park was a political leader—of what, she didn't quite know—and the target of right-wing fury. Conservative bloggers unearthed—scandal!—that she had once briefly worked for The New York Times and supported Sen. Jim Webb, a moderate Democrat from Virginia. One online commenter accused her of being a "Chinese agent." The notoriety didn't really hurt: the group now has more than 200,000 members, and every status update Park posts gets about a million views.
Park is trying to take it all with a sense of humor, though she admits the stress is starting to get to her. She clocks about five hours of sleep a night, and works without pay, putting airline tickets and hotels on her credit cards. "It's a grand experiment," she says. "Who would say no to this? It's a once-in-a-lifetime opportunity." She's planning a Coffee Party convention this August, somewhere in the Midwest (people are nicer there). "We're not going to be out there protesting," she says. She insists there may yet come a day when the two parties—Coffee and Tea—will set aside their differences and beat their placards into plowshares. "There's room for debate between the two platforms," she says. Beautiful visions can be difficult to shake.