As LSU quarterback Joe Burrow continues to impress, a fan who placed a bet for Burrow to win the Heisman Award at the beginning of the season has been offered a cash out option for a lower amount.
Matt Porter, the man who placed the bet, did so in June, before the start of college football season. With a $50 bet at 200 to 1 odds, Porter had the chance to take home $10,000, if Burrow wins the award.
Through eight weeks of college football, Burrow has been unstoppable while leading the Tigers to a 7-0 record and 2,484 passing yards, ranking second in the country. The QB is now among the favorites to win the Heisman, helping Porter's chances of winning his bet.
According to Ross Dellenger of Sports Illustrated, Porter was offered an early cash out option of $3,865.38 earlier this week.
The amount has since dropped to $3,500.
A cash out is a regular offer among sportsbooks, allowing a better to settle their bet for a pre-determined amount before betting ends. The amount offered is determined by how likely it is that the bet will win, meaning that the cash out could be more or less than the original bet.
Burrow and the LSU Tigers are set to face No. 9 ranked Auburn and the No. 1 ranked Alabama Crimson Tide over the next three weeks, making Porter's choice to take the money or keep his bet that much harder.
Auburn and Alabama are among two of the toughest defenses in college football, ranked No. 23 and No. 26, respectively. But Porter said he plans to stick with his original bet -- at least for now.
"What fun is gambling if you don't go along for the ride," he told Dellenger. "The original plan was I was going to hold it to 'Bama week to see what the offer was at the time. When I put that plan in place in my head, I didn't picture Joe as the frontrunner."
Waiting until LSU faces Alabama could be an issue as the Tigers have lost eight consecutive games to the Crimson Tide. In those eight contests, LSU has earned just four touchdowns, while Tiger QB's have thrown eight interceptions against the Tide. Additionally, LSU quarterbacks have been sacked a total of 29 times and have averaged just 154 yards against Alabama's defense.
Should LSU lose on November 9, Porter may see his cash-out option removed altogether.
According to Dellenger, Porter's first cash out option came after the Tigers 55-3 win over Georgia Southern with a sum of $1,100. It then increased to $1,500, $1,800 and now $3,500.
Porter is assuming that the game against Alabama will be Burrow's downfall, but he is planning to re-structure his plan a week in advance. Sports Illustrated reports that if the cash-out option approaches $6,000 ahead of LSU-Alabama, he will seriously consider it.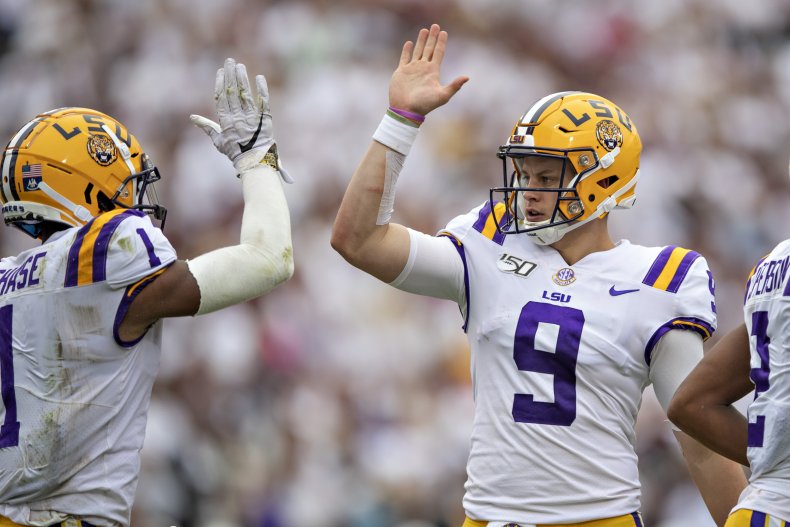 Uncommon Knowledge
Newsweek is committed to challenging conventional wisdom and finding connections in the search for common ground.
Newsweek is committed to challenging conventional wisdom and finding connections in the search for common ground.
About the writer
Matthew Impelli is a Newsweek staff writer based in New York. His focus is reporting social issues and crime. In January 2023, Matthew traveled to Moscow, Idaho where he reported on the quadruple murders and arrest of Bryan Kohberger. Matthew joined Newsweek in 2019 after graduating from Syracuse University. He also received his master's degree from St. John's University in 2021. You can get in touch with Matthew by emailing m.impelli@newsweek.com. Languages: English.