What Is a Ghost Gun? Lawmakers Across U.S. Pass Bans on Homemade Weapon
U.S. lawmakers across several cities and states are moving to ban the use of so-called 'ghost guns' in an effort to crack down on self-assembled, untraceable firearms.
On Tuesday, the Los Angeles City Council became the latest among major California cities, joining both San Francisco and San Diego, to ban the controversial weapons.
The new ordinance outlaws the possession, sale, purchase, receipt or transportation of firearms without serial numbers, as well as the parts used to make them, according to the Los Angeles Times. Violators could be fined up to $1,000 and receive up to six months in jail.
"These guns should have no place in Los Angeles and have already wreaked havoc on our streets," Councilman Paul Koretz said during a Tuesday vote. Additionally, in October, New York Governor Kathy Hochul signed the nation's toughest restrictions on ghost guns into law, essentially making the weapons illegal across the state.
"Gun violence is a public health and public safety crisis that must be dealt with aggressively," Hochul said in a statement. "Working with partners at all levels, my administration will continue to crack down on the distribution and possession of dangerous weapons and put an end to the gun violence epidemic."
What Are Ghost Guns?
A ghost gun is a type of DIY firearm that is sold as an unfinished kit, and therefore can be assembled at the home of any unlicensed buyer or even minor. These types of weapons do not contain serial numbers like traditional firearms, making them untraceable to law enforcement.
Ghose guns are typically sold online as "80 percent receivers," meaning that 80 percent of the gun is already assembled, leaving buyers to piece together the remaining 20 percent themselves, according to the New York Times.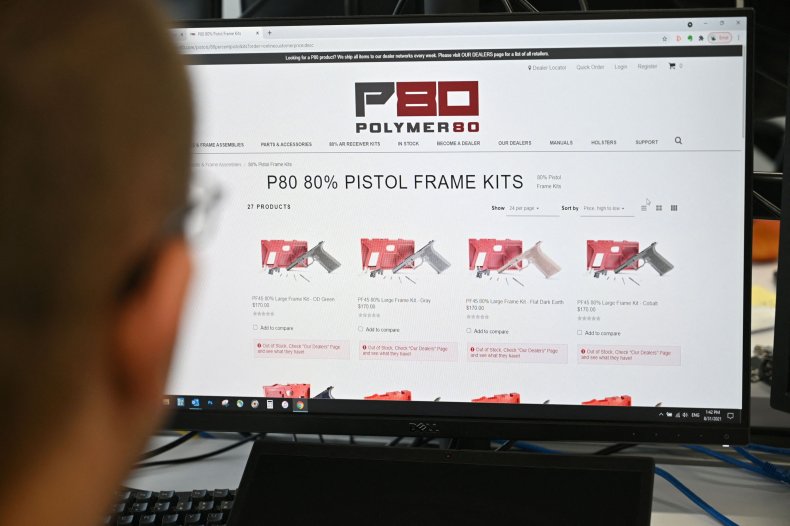 Because these weapons are sold as unfinished parts, ghost guns are not treated by the Bureau of Alcohol, Tobacco, Firearms and Explosives (ATF) as traditional firearms and are exempt from laws requiring background checks and waiting periods.
Experts have warned that ghost guns are particularly sought after by criminal organizations and right-wing extremists who want to easily access weapons that cannot be traced back to them, according to the Times. They have often been linked to shootings in states that have stricter gun regulations, like California.
Lawmakers have also argued that allowing ghost guns to be sold without regulation gives buyers—who may not otherwise be eligible to obtain a firearm—the opportunity to bypass U.S. gun safety laws.
Earlier this year, President Joe Biden targeted ghost guns in a plan to help curb violence and mass shootings across the U.S.
"We are experiencing a growing problem: criminals are buying kits containing nearly all of the components and directions for finishing a firearm within as little as 30 minutes and using these firearms to commit crimes," the White House said in a statement.
"When these firearms turn up at crime scenes, they often cannot be traced by law enforcement due to the lack of a serial number. The Justice Department will issue a proposed rule to help stop the proliferation of these firearms."
Ghost guns have become increasingly prevalent across the country, with the ATF seizing at least 10,000 of the weapons in 2019 alone, according to the Times. In September, a 25-year-old man allegedly used one of the homemade weapons to shoot four people during a fight at a New York City bar.