What Ghost Town? Watch this 'Rat' Drag A Slice of Pizza Up New York Subway Stairs
New York is not a ghost town, and here is definitive proof (or at least enough proof of everyday life carrying on amid the pandemic). A video of a man dressed up as a rat dragging a very large slice of pizza up the stairs of a subway platform emerged on social media on Tuesday.
In the 23-second-clip, the rat man (complete with a long tail resembling the rodent's) pulls the pizza up the stairs with his teeth (via the rat mask). As someone walks down the stairs to catch a train, they climb over the railing, minding their own business. No one bats an eye, it's just another day in the city, another rat grabbing dinner.
The video, shared to Twitter, has been viewed over 1.7 million times since this morning.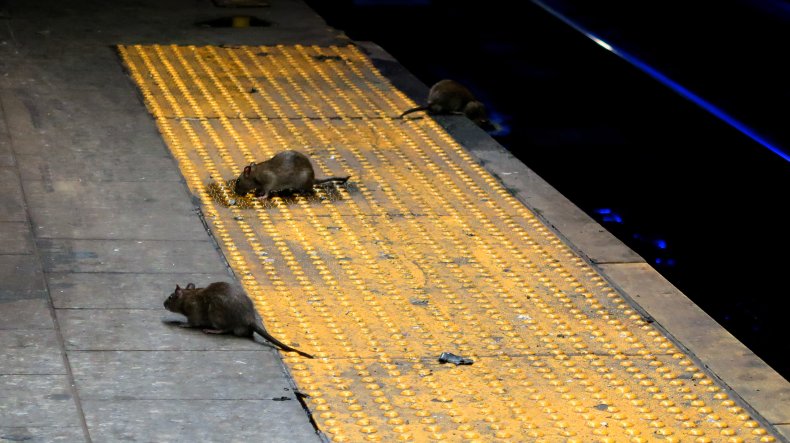 Many Twitter users noted how "New York" everyone's reactions were. "Everyone just casually strolling by is the best part. Only in NYC," one person said. "And the guy casually climbing over the banister because nothing will stop New Yorkers from getting where they are going," another added.
"Can we talk about how smooth that guy was with just going over the railing? As a Midwesterner...that would never happen here," a third noted. "Folks would straight up freeze, panic, or run away."
Basically, folks had really strong feelings about the one person who climbed the railing to make way for the pizza rat. "Having lived there...can confirm that 99% of New Yorkers would have done the same damn thing," someone insisted. "Just keep your head down and keep on moving."
Seeing rats on the subway platforms in New York is also a mundane experience for locals. "I've seen rats as big as raccoons on the platform and I just get out of its way and continue on my merry way," someone noted. "Just another NYC underground denizen that loses its horror or fear when you've already seen quite a few."
Someone joked that if this happened in Philadelphia, they'd declare the rat their mascot. "In Philly we'd make the rat our mascot," they said. Just don't tell Gritty.
One person interpreted the rat charade as a form of theater. "And here I thought New York theatre was shut down..." they said.
Overall, the burning question wasn't where the rat came from, or what exactly was happening. It was where it found that giant piece of pizza. "I've seen rats almost that size in NY that isn't a shock to anyone," someone said. "I'd want to know how much that slice cost and where did he get it."