What Gorbachev Thought of Putin
Vladimir Putin has paid tribute to Mikhail Gorbachev as a statesman who had "a huge impact on the course of world history," although the last Soviet leader was reportedly distraught at seeing his legacy undone by his Kremlin successor.
Putin's statement on Wednesday struck a tone of respect for someone whom the Russian president said had led his country during a period of "complex, dramatic changes."
But by the time Gorbachev died aged 91 at a Moscow hospital following a long illness, there was little common ground between the leaders.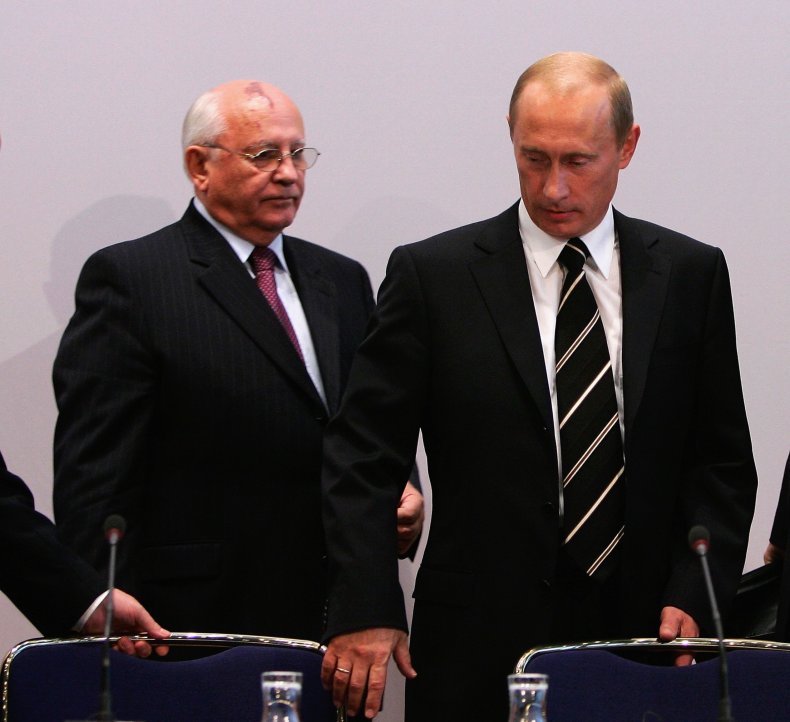 Those who knew no other Russian became familiar with the terms perestroika [restructuring] and glasnost [openness] as Gorbachev's policies to bring Moscow closer to the West included domestic reforms and the release of political prisoners.
Since his tenure as the only Soviet president ended on December 25, 1991, having led the USSR from March 1985 until August 1991, Gorbachev watched from the sidelines as Putin cracked down on the freedoms that he had sought for his country.
"Putin is undoing pretty much every single thing Gorbachev stood for in the eyes of both the West and certainly the more enlightened Russians," said Sergey Radchenko, a Cold War expert and professor at the Johns Hopkins School of Advanced International Studies.
"Russia today is resembling the Soviet Union in its worst years so there's more and more repression and the shutting of Russia off from the West," he told Newsweek, "All of those things Gorbachev worked hard to undo."
"It's a tragedy for Gorbachev to have survived so long to see so many of his accomplishments dismantled before his eyes," he said, "I can just imagine that Gorbachev died a very disillusioned man."
This chimes with an account by Gorbachev's friend, the Kremlin critic and journalist Alexey Venediktov, who kept in close contact with the former Soviet leader and said he had become despondent at the Russia he saw now.
"Gorbachev is upset," Venediktov told Forbes Russia in July, five months after Putin's full-scale invasion of Ukraine, which was followed by a clampdown on the media, authoritarian laws against dissent put in place and sanctions-driven isolation from the West.
"It was his life's work," Venediktov said, "All Gorbachev's reforms—to zero, to ashes, to smoke."
Gorbachev's Criticism of Putin
On November 30, 2007, during Putin's second term as president, Gorbachev wrote in The New York Times that he was concerned about "disturbing developments in inter-ethnic relations and the xenophobia and intolerance that the government does not always respond to promptly."
In his op-ed, he said that the authorities in his country were not doing enough to fight organized crime and to prevent the killings of journalists.
He said to solve these issues, "we must pursue a democratic path" and this required, "effective opposition, real elections, accountable government, and a greater role for Parliament and the judiciary."
The following year, Dmitry Medvedev took over as president in what was viewed as a stage-managed transfer of power to keep within the terms of the then constitution, before Putin resumed the head-of-state role in 2012.
In 2011, Gorbachev publicly accused Putin of "dragging the country into the past, when it is on fire with modernization." He even warned that the political mechanisms Russian authorities are creating aimed "to ensure they are not less creative managers than Stalin."
Meanwhile in 2016, Gorbachev wrote in Time that he believed Putin's decision to run for a third presidential term, which began in 2012, to be a "mistake" because a "renewal of the political establishment was essential."
As he called for greater democracy, Gorbachev wrote in the same piece that the rift between government and people can no longer be tolerated."
"I have criticized Putin for bumptiousness," he wrote, "I respect him as a political leader and a person, but I believe his current policies are an obstacle to progress."
Agreement on Crimea and China
The precursor of Putin's full-scale invasion of Ukraine was his seizure of Crimea in 2014 which Gorbachev defended in a stance that was criticized internationally.
Gorbachev said the peninsula was part of Ukraine "based on Soviet laws, which means party laws, without asking the people." He backed an independence referendum which in his view showed that "the people themselves have decided to correct that mistake."
Radchenko told Newsweek this may have been Gorbachev's "unsuccessful effort to somehow reinvent himself and perhaps make his legacy more acceptable to most Russians."
"His legacy would not have been as tarnished if he had condemned Putin outright."
Radchenko said that Gorbachev should have accepted that while Crimea may have been controlled by Moscow during the Cold War, the circumstances had changed and it was "time to forget about those quasi-imperialist designs."
"Especially that what Putin has in mind for Crimea is toxically nationalistic" he said, "Gorbachev never stood for these kind of ideas."
Radchenko also believed there was also an overlap on the leaders' views towards China, with Gorbachev overseeing a thaw in ties between Beijing and Moscow following a period of prolonged conflict. The Sino-Soviet Summit in May 1989 was the first meeting between a Soviet Communist leader and a Chinese Communist leader for 30 years. "Putin embraced that legacy of Gorbachev's," he said.
This year, two of the signatories of the 1991 Belovezh Accords which dissolved the Soviet Union, have died—Belarus' first head of state Stanislav Shushkevich on May 3 and the former Ukrainian president Leonid Kravchuk, who passed away a week later.
For Radchenko, Gorbachev's death marks the end of an era. "His death is symbolic, first and foremost for Russia because it shows the death of a dream of a different Russia.
"It shows that the aspirations that Gorbachev had about changing the world, about changing Russia's place within it, a Soviet place within it, have come to nothing," he said. "We are back to where we were even before Gorbachev—if not further back."