What Is a Government Shutdown and When Will It Start? Federal Employees Set to Face Christmas Without Pay
Only hours remain before a partial government shutdown could kick in at midnight if the House and Senate cannot come up with bills that satisfy President Donald Trump.
Most of the government has been funded through 2019—but the partial shutdown would affect the Department of Homeland Security, the Justice Department, the Interior Department, the State Department and the Department of Housing and Urban Development. That could mean hundreds of thousands of government workers—people from NASA, Customs and Border Protection, the National Park Service and the Coast Guard, among others—would be expected to work without pay or placed on furlough right before the holidays.
Trump has dug in his heels over $5 billion in funding for his long-promised wall along the U.S.-Mexico border. Late Wednesday night, the Senate passed a short-term spending bill that would fund the government through February 8 but included no funding for the border wall.
But then—amid an outcry of anger from his right-wing supporters, including Fox News and Rush Limbaugh—Trump told outgoing Speaker of the House Paul Ryan on Thursday that he would veto any spending bill that did not include funding for his wall.
Following that threat from Trump, the House—which, come January, will be controlled by Democrats—on passed an amended version of a Senate-passed stopgap spending bill that added nearly $6 billion for a border wall, a bill that will face a tough go in the Senate, where it can't pass without votes from Democrats, who have vowed to vote no.
(For the latest on the shutdown face-off read Newsweek's live updates here)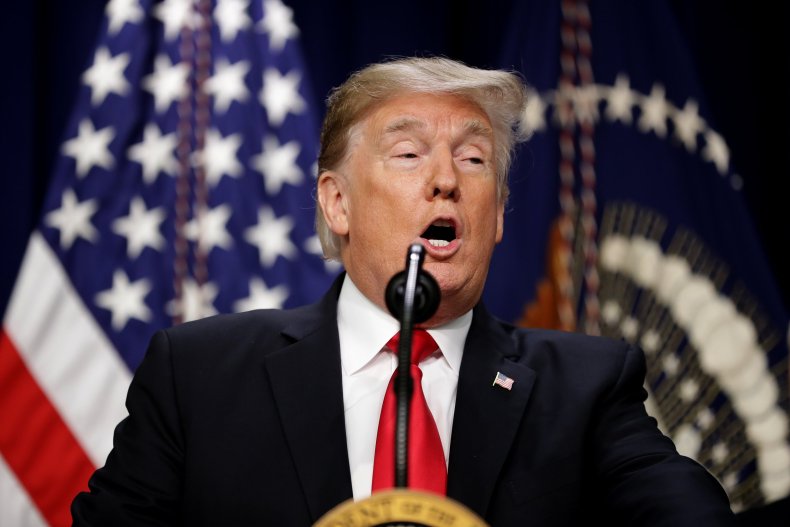 Trump has called for Senate Majority Leader Mitch McConnell to eliminate the filibuster, or use the "nuclear option," to push through a bill that allocates money for his wall.
"Mitch, use the Nuclear Option and get it done! Our Country is counting on you!" Trump tweeted on Friday.
Later Friday, Trump tweeted: "The Democrats now own the shutdown!"
Trump, who warned on Friday the shutdown could last a long time, sang a different tune a week ago: "I will take the mantle. I will be the one to shut it down," he said, adding that he would be "proud" to do it.