Governors from 21 states have ordered residents to stay at home so far amid the coronavirus pandemic as President Donald Trump signals a desire to reopen the country by mid-April.
"I would love to have the country opened up and just raring to go by Easter," Trump said Tuesday during a Fox News town hall at the White House. He later doubled-down on the idea, describing his April 12 target date as a "beautiful timeline."
As of Thursday, the number of confirmed cases in the U.S. has exceeded 68,000 and at least 994 deaths, according to the U.S. Centers for Disease Control and Prevention. The shutdowns, as expected, have taken an economic toll: Jobless claims surged to 3.3 million, data by the Department of Labor showed Thursday, and Congress was rushing to pass a record $2 trillion-package to bolster all sectors of the economy.
Governors, who have the authority to control their economies to protect public health, appeared to be willing to wait to reopen their states. Here's what they had to say.
"This is going to take longer than Easter to overcome," Vermont Governor Phil Scott said on Wednesday as he ordered residents to stay indoors. Vermont was one of three Republican-governed states to enact a stay-at-home advisory for residents after Trump publicly expressed his desire to reopen the economy by Easter. The others were Indiana and West Virginia.
Indiana Governor Eric Holcomb said he's committed to the state's stay-at-home order at least until April 7, despite Trump's signal that he wanted the state, along with other rural areas, to be reopened as soon as possible.
Republican Governor Mike DeWine, who issued a stay-at-home order for Ohio residents on March 23, said that "protecting people and protecting the economy is not mutually exclusive."
"In fact, one depends upon the other," he said. "The fact is we save our economy by first saving lives, and we have to do it in that order. When people are dying, when people don't feel safe, this economy is not coming back."
In Louisiana, which has the fastest coronavirus growth rate worldwide, Democratic Governor John Bel Edwards said it's hard to see a definitive end-date in sight. State leaders recently issued a stay-at-home order until April 13.
"Until we see the curve flattening and we can see daylight at the end of this tunnel," Edwards said. "It's hard for me to pick a date on the calendar and say, 'By this date, we believe we're going to be out on the other side.'"
Minnesota Governor Tim Walz, a Democrat, just extended his state's order for non-essential businesses to close. In a press call with reporters on Wednesday, the governor said Trump's desire to reopen the economy by Easter was setting "false expectations."
"There is no doubt, this will take some time," Walz said. "This will go beyond Easter, and it doesn't do us any good to pretend it's not."
Governor Kate Brown told OregonLive that while she didn't agree with what Trump said, his comments illustrate the tradeoff political leaders face as they try to control the COVID-19 outbreak. Brown has ordered Oregon residents to stay at home indefinitely.
"I am not interested in unnecessarily closing down businesses and taking jobs if we don't need to do that," she said. "The goal of my executive order was to balance those competing demands ... While I don't agree with what the president said and how he said it, I think that's what he was trying to say."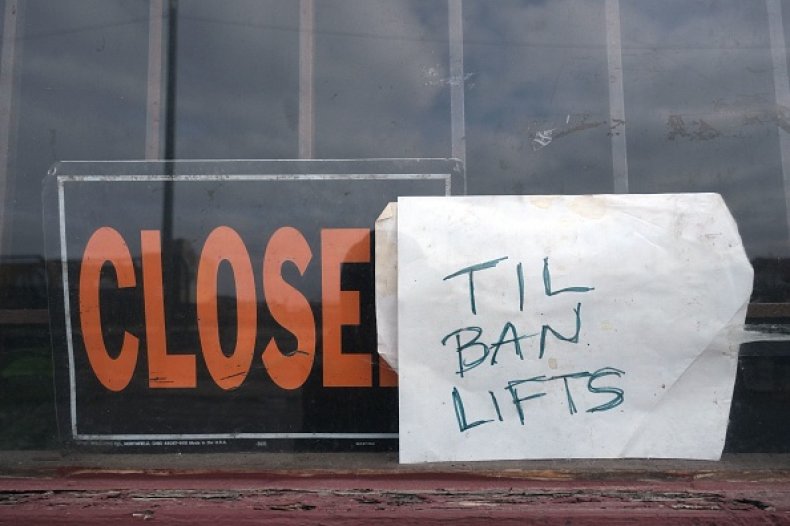 Trump also told reporters during a coronavirus task force press briefing earlier this week that schools around the country would reopen, though he admitted that it's ultimately up to the governors to "make those decisions."
"The governors of the various states will have a lot of leeway if we open up, and when we open up," the president said. "In many cases, they are open now. But the schools are going to be open."
But many state leaders from both sides of the aisle have noted that there is a strong possibility that public schools will remain closed for the rest of the academic year.
Kansas was the first state to end in-person classes through the end of the school year. Governor Laura Kelly, a Democrat, issued the decision back on March 17. State leaders in California and Ohio said they were considering following Kansas' lead.
Connecticut Governor Ned Lamont said earlier this week that schools are likely to be closed until the fall.
"I really think that's the likelihood," the Democratic governor said. "You just look at Italy and you look at Wuhan province, you see what the life cycle was there and you worry that if people get back too quickly that there'll be a second iteration of this virus. So April 20 is the minimum, probably the school year."