Everything That Happened as Alex Jones Faced Sandy Hook Parents in Court
Tensions boiled over during an extraordinary final day of testimony at Alex Jones's defamation damages trial in Austin, Texas, on Tuesday.
Jones was accused of lying under oath by the judge, used the court appearance to promote his supplements and was told to "shut your mouth" by an attorney after speaking with one of the Sandy Hook parents.
The Infowars host is fighting legal action from Neil Heslin and Scarlett Lewis, who lost their six-year-old son, Jesse, in the 2012 school shooting. Both spoke emotionally about the harassment they suffered after Jones spread the conspiracy theory that the attack was faked, with Heslin describing his experiences over the past few years as a "living hell."
Lewis and Heslin are seeking $150 million in damages at the Travis County Courthouse in Austin, Texas: $75 million for damaging their reputation and $75 million for emotional distress.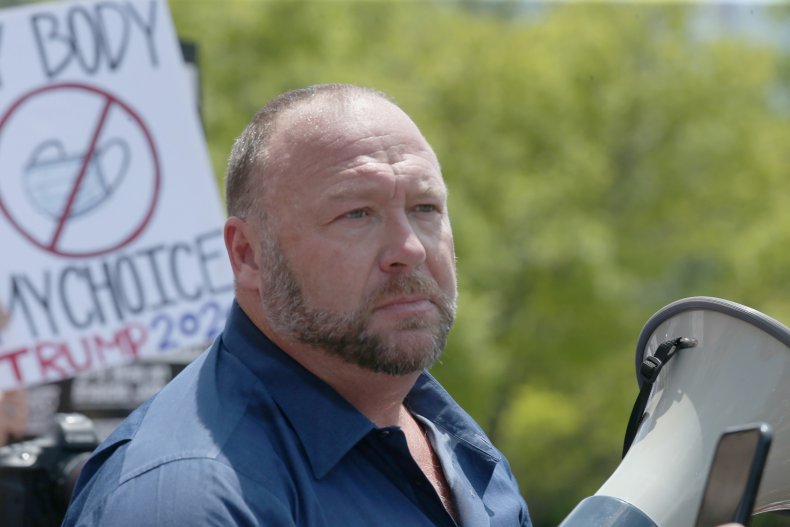 The court has already found Jones liable for defamation, as has another court in Connecticut in a similar case, and over the past couple of weeks has been determining what damages should be awarded.
Jones didn't attend Heslin's testimony in the morning, as he was hosting his Infowars show.
Holding back tears, Heslin said he's feared for his life as a result of Sandy Hook conspiracy theories, with strangers confronting him at home and in the street. Jones had accused the grieving families of the victims of being "crisis actors," people who pretend to be victims of a tragedy to sway public opinion.
He said both his home and car had been shot at, adding: "I can't even describe the last nine-and-a-half years, the living hell that I and others have had to endure because of the recklessness and negligence of Alex Jones."
Arriving after the hearing had started, Jones addressed reporters outside the courthouse where he accused Judge Maya Gamble of having "lied" and holding a "show trial."
Inside the court, Gamble admonished the Infowars founder, saying he had "violated" his oath to tell the truth "twice today." Specifically, she said Jones had wrongly told the jury he complied with pre-trial evidence gathering and incorrectly claimed to be bankrupt.
Lewis used part of her testimony to directly address Jones, who was sitting just yards away from her in the court. She said: "I am a mother first and foremost and I know you are a father. My son existed. I am not deep state...I know you know that. And yet, you're going to leave this courthouse and say it again on your show.
"It seems so incredible to me that we have to do this, that we have to implore you, to punish you, to get you to stop lying," she continued. "I am so glad this day is here. I'm actually relieved."
During his evidence, Jones claimed his show has "gotten more Christian" and is moving "more towards doing a more self-help, life experience-type show."
In response, Ron Filipkowski, an expert in far-right extremism, tweeted: "As a daily viewer of InfoWars, I can tell you this is complete fiction."
Addressing Jesse's parents, Jones said: "I never intentionally tried to hurt you. I never said your name until this came to court. The internet had questions, I had questions."
He also used his appearance to promote controversial health supplements sold on Infowars, claiming they are "the highest quality."
Despite initially calling the Sandy Hook massacre a "giant hoax" for the better part of a decade, Jones has since admitted the shooting did take place, though recently he described the timing of May's shooting at Robb Elementary School in Uvalde, Texas as "opportunistic."
On December 12, 2012, Adam Lanza shot and killed 20 children and six educators during the attack on the Sandy Hook Elementary School in Newtown, Connecticut. He died by suicide as first responders started to arrive at the scene.
Some of the tensest moments in Tuesday's hearing came right at the end when Jones spoke directly with Heslin. As the Sandy Hook father was led away by attorney Wes Ball, Jones asked: "So you can't feed him fake videos anymore?"
Ball replied "oh, shut your mouth!" after which Jones said: "Why don't you try and shut my mouth? You'll never succeed!"
Speaking to Newsweek, Ball said: "Words have meaning and lies have consequences. To that end, I hope the world watches Mr [Heslin] and Ms Lewis's testimony.
"Their bravery and courage were matched only by their words, which represent not only their own beliefs but the consciousness of our society.
"I wouldn't justify what Alex tried to do as a 'confrontation'. Doing so and addressing it as such plays directly into his hands.
"The fact that his ass is now sitting in a witness chair under oath is what matters. That and the hope that everyone else who does what he has done will have to endure the same fate."
Earlier in the trial, F. Andino Reynal, Jones' attorney, raised his middle finger to one of the attorneys representing the Sandy Hook massacre parents.
Newsweek reached out to Alex Jones, Scarlett Lewis and Neil Heslin for comment.
Update 8/3/22 9:10 EDT: This article was updated to add a comment by Ball.