What Happened to Baby River Nasino? Three-Month-Old in Philippines Dies After Being Separated From Mother
The outcry over the death of River Nasino, a 3-month-old baby girl from the Philippines, is spreading across social media after photographs and accounts of her burial circulated on Friday.
River is the daughter of Reina Mae Nasino, a 23-year-old human rights worker and political activist. Reina Mae was working for the urban poverty group Kadamay at the time of her arrest in November 2019.
Police officers arrested Reina Mae and two others after a regional trial court issued a slew of warrants in the Manila metro area last year. They were charged with illegal possession of firearms and explosives, a non-bailable offense in the Philippines, according to a letter written by the Integrated Bar of the Philippines. The IBP, the official organization of all Filipino lawyers, has raised several questions about River's death.
Reina Mae and the two others have denied the charges and allege that authorities planted ammunition during a crackdown against left-leaning activists, according to the BBC.
Reina Mae remains a detainee at the Manila City Jail Female Dormitory and did not find out she was pregnant until her medical examination, according to the BBC. Despite all this, the young woman "was quite excited to be a mother," her lawyer, Josalee Deinla, told the BBC.
Reina Mae gave birth to River on July 1, but they were forced to separate barely one month later, on August 13, despite River being frail and underweight, according to the BBC.
"She didn't want to give up her baby. She was actually pleading that the baby be allowed to stay longer," Deinla told the BBC.
Under Philippines law, a child born in custody can remain with the mother for only the first month of life. Some exceptions can be made, and campaigners pressed authorities to release Reina Mae, but to no avail.
People began petitioning for Reina Mae's release from jail on health and humanitarian grounds and because she was still breastfeeding, according to the IBP. Her lawyers put forth several appeals, with the woman's case going through several trial courts, the Supreme Court and a court of appeals, the IBP letter states.
"We would tie blue ribbons to the poles of the Supreme Court gates. They stood for River, the essence of life. We placed candles outside. But they didn't listen," Fides Lim told the BBC. Lim runs Kapatid, a support group of families and friends of political prisoners in the Philippines.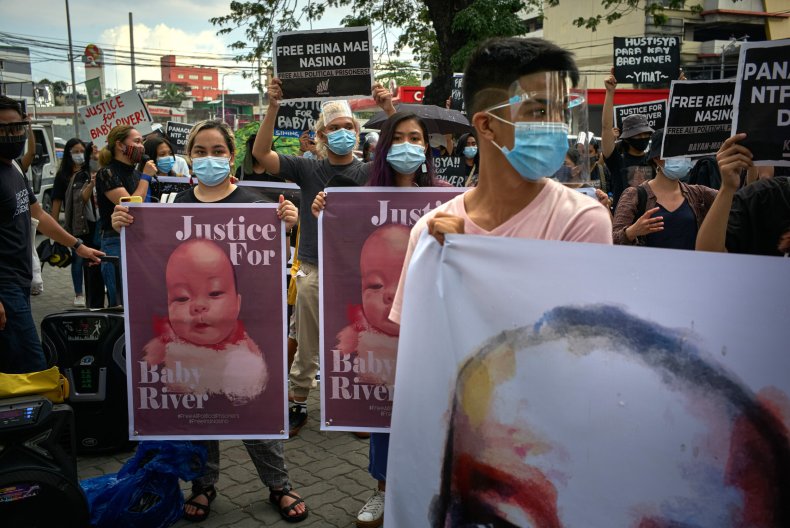 Reina Mae's mother was put in charge of caring for the baby during this time, but River's condition slowly worsened and she was hospitalized on September 24, according to the BBC. The baby died last week, at only 3 months old, after suffering acute respiratory distress syndrome, Interaksyon reported.
A judge granted Reina Mae two separate three-hour furloughs from jail to attend her daughter's burial proceedings, one on Wednesday and the other on Friday. Images from the funeral show Reina Mae dressed in full personal protective equipment and handcuffs. Police officers carrying high-powered firearms surrounded the young woman, according to Rappler.
"Despite many fully armed BJMP [Bureau of Jail Management and Penology] escorts, police and military personnel monitoring and accompanying Reina Mae, she remained hand-cuffed while at the wake," the IBP letter says.
There were 43 officers from different jail units present for Friday's ceremony, BJPM spokesperson Xavier Solda told Rappler.
Several Filipino officials have since expressed outrage over the circumstances surrounding the child's death, pointing to how indicted high-profile government officials are given favorable treatment compared with political prisoners like Reina Mae.
"There is no justifying this injustice and brutality perpetrated by the state against a mother and her dead 3-month-old child," the Gabriela Women's Party tweeted Friday. "We need to hold the state accountable to this culture of impunity which has plagued our society. Release Reina Nasino! Justice for baby River!"
The IBP echoed this sentiment, calling for better treatment of children in the eyes of the law.
"Let our concern, dismay, or rage and the tears that we may shed for Baby River Nasino fuel our collective determination and action to improve the justice system," the IBP wrote. "Let not our innocent children fall through the cracks. Babies have rights and we have duties to nurture them. Let our humanity rise above our personal comforts or the privileges of power."
Newsweek contacted the IBP for further comment on the case but did not hear back in time for publication.