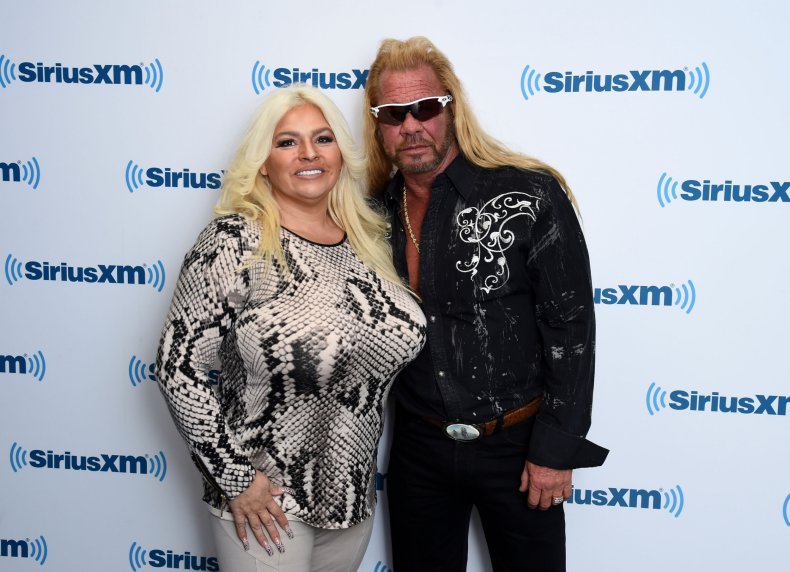 Reality TV star Beth Chapman, best known as wife of Duane "Dog the Bounty Hunter" Chapman, has been placed into a medically induced coma.
Duane Chapman tweeted, "Please say your prayers for Beth right now thank you love you" in the late hours of Saturday night.
The famous bounty hunter subsequently told Hawaii News Now that his 51-year-old wife, had been admitted to the intensive care unit at the Queen's Medical Center in Honolulu, Hawaii, where she was placed in a medically induced coma. Beth Chapman has been battling throat cancer since at least 2017.
A statement from the Chapman family offered their "sincere thanks to everyone for their prayers throughout Beth's battle with cancer," and asked "everyone to please pray for Beth."
Their daughter Bonnie Chapman tweeted a photo Saturday night of her father sweetly embracing her mother, captioned only with a pair of hearts. On Sunday, she followed that message up with a note saying she was on a flight home, presumably to be with her family.
A rep for the family told People magazine that Beth's situation is "quite serious."
Beth and Duane Chapman were pushed into the spotlight during their eight-season run on the hit A&E network reality show, Dog the Bounty Hunter, which chronicled the Chapman family's business of running down alleged criminals who had skipped out on their court obligations.
The show began airing on basic cable in 2004 and ran through 2012. While many of the bail-jumping targets featured on the show were relatively anonymous criminals, the Chapman family did also nab a number of high-profile runaways, including cosmetics heir and serial sex-offender Andrew Luster, who was captured by the Chapmans in 2003 while trying to hide in Puerto Vallarta, Mexico. Duane Chapman was actually also arrested by Mexican police over his allegedly unlawful capture of Luster. Beth Chapman's very public outcry over her husband's lack of bail in that matter ultimately led to Duane Chapman being released, though the legal wrangling continued for years.
Following the 2012 cancelation of Dog the Bounty Hunter, the Chapmans were featured in a new show, Dog and Beth: On the Hunt, which ran for three seasons on CMT.
In 2017, the couple returned briefly to A&E in a miniseries called Dog and Beth: Fight for their Lives, wherein the Chapmans first publicly revealed that Beth had been diagnosed with throat cancer.
TMZ noted today that the Chapmans had signed a deal earlier this year to star in a new show for WGN America, called Dog's Most Wanted. The new series has not yet begun to air, but the WGN website still lists it as "coming soon" and both Duane and Beth Chapman appear in trailers for the show.