What Happened to Colt and Larissa? 90 Day Fiancé Star Arrested After Instagram Drama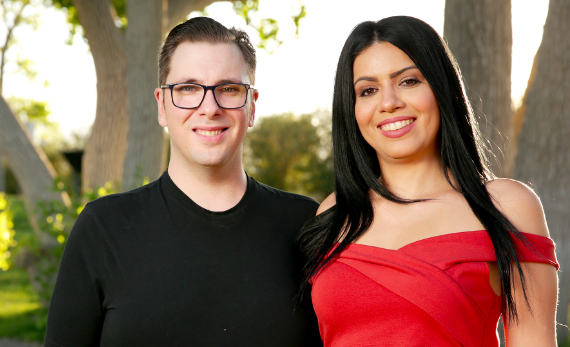 90 Day Fiancé star Larissa Christina was arrested for domestic battery after a fight between her and husband Colt Johnson was documented on Instagram Saturday. Larissa's bail has been set at $3,000.
Multiple sides of the story have been offered from Colt, Larissa and Colt's mother, Debbie, who the pair live with. The public fight began with Instagram videos shared by Larissa Saturday detailing her life with Colt and her decision not to "lie" anymore. Larissa shared a video of a shelf in the couple's home toppled over and claimed Colt had thrown it over in rage. At the time, Larissa said she was cleaning.
"He never did anything housey and he doesn't respect it --- people that work, people need to organize. Look at it," she said in the video, the camera facing the overturned shelf.
She also shared a series of Instagram story videos claiming Colt does not allow her to post their life on Instagram. Larissa noted women who message him, and the reality of her relationship with Colt, which she seemed distressed over. Emotionally, she said she cannot continue to lie.
Shortly after the videos were posted, Larissa's Instagram handle and bio changed to a cry for help. Her username now reads "helpmeimwithoutphone" and the bio reads "HELP ME, HIDE MY PHONE, HELP ME, HE WANTS TO CALL THE POLICE HELP ME." The caption also gives Larissa's phone number.
Colt explained he had disconnected Larissa's phone because she has anxiety and depression. The Instagram post, a black screen filled with text, is now deleted. "Larissa was arrested this afternoon," his post clarified. "She suffers from high anxiety and several depression. She overreacted to problems that do not exist."
Another slide noted Colt's decision to leave Larissa without a phone after her videos on Instagram. He mentioned her Instagram cry for help. "I proceeded to deactivate her phone to try to defuse the situation. This escalated issues and matters became worse. She felt this action was a threat towards her and tried to reach out for help. Now long after her cry was posted, the police came and knocked down the front door. They drew their guns at me and handcuffed me."
Colt also claimed the cops spoke with the family members and decided to arrest Larissa. He said he did not press charges. The post ended with a photo of a bouquet of flowers in a trash can.
It seems Instagram users calling for help may be the reason police showed up at all. Colt's mother, Debbie, also commented on the drama in an Instagram caption. "Larissa is fine. Thanks to some of her so called fans they called the police and she was arrested. My son was trying to help her and you thought better. Thank you for interfering when you don't understand the situation."