What Happened in Detroit? Republicans Protest Michigan Count
As the state of Michigan was called for Democratic nominee Joe Biden on Wednesday evening, the situation on the ground grew tense as Republican poll challengers shouted "stop the count" outside the TCF Center in Detroit.
Poll challengers and other demonstrators outside the building chanted "let us in" and "stop the count" while banging on the windows as they were blocked from entering the counting hall and the view inside the TCF Center was covered up by officials.
The Detroit Free Press reported that the issue was sparked when some poll challengers were not allowed into the counting area as limits had been reached. Republicans and Democrats are each legally allowed to have 134 challengers observe the counting process.
According to The Detroit News, issues flared when both parties had more than 200 challengers in the room, exceeding the limit. Republicans complained that the block on challengers entering the hall had allowed more Democrats to be present to observe the count.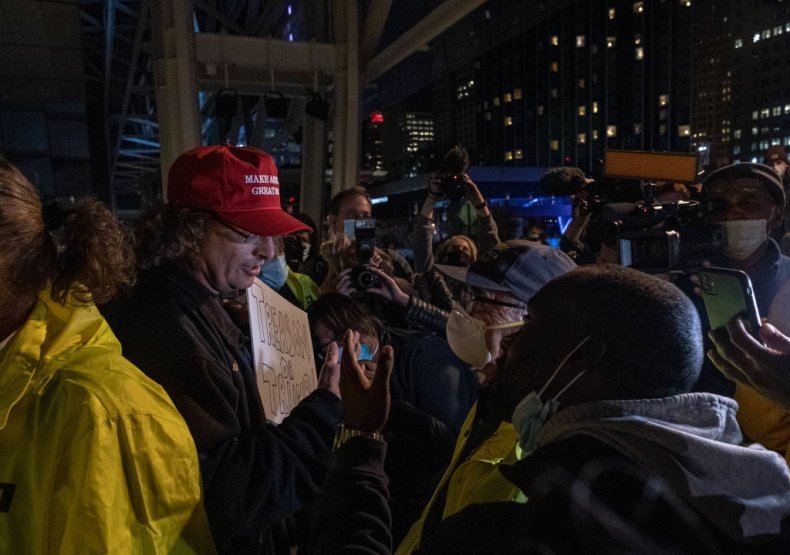 Police stood outside the entrance of the center to prevent further challengers from entering the building to observe the tallying of results in the key swing state.
Footage posted on Twitter by Washington Post photojournalist Salwan Georges showed a few dozen people gathered outside the hall, and a smaller portion of that number raising their fists and chanting "stop the count."
Another clip uploaded by Fox News correspondent Matt Finn showed an election worker covering over the windows of the TCF Center with what appeared to be large sheets of white paper. At least two people outside were holding cameras up to the window to see what was going on inside.
Newsweek has contacted the Michigan Department of State for further details and comment. This article will be updated with any response.
While the situation unfolded in Detroit, President Donald Trump's re-election campaign filed a lawsuit at the Michigan Court of Claims arguing that they had not been provided "meaningful access" to counting locations so they could observe the counting of ballots.
"We have filed suit today in the Michigan Court of Claims to halt counting until meaningful access has been granted," Trump campaign manager Bill Stepien said. "We also demand to review those ballots which were opened and counted while we did not have meaningful access."
Michigan Secretary of State Jocelyn Benson later dubbed the lawsuit "frivolous" and claimed that its complaints did not have merit.
"It's really an example of the type of misinformation designed to sow seeds of doubt among our voters about the integrity of our elections process, which I fully stand behind," she told CBS News.