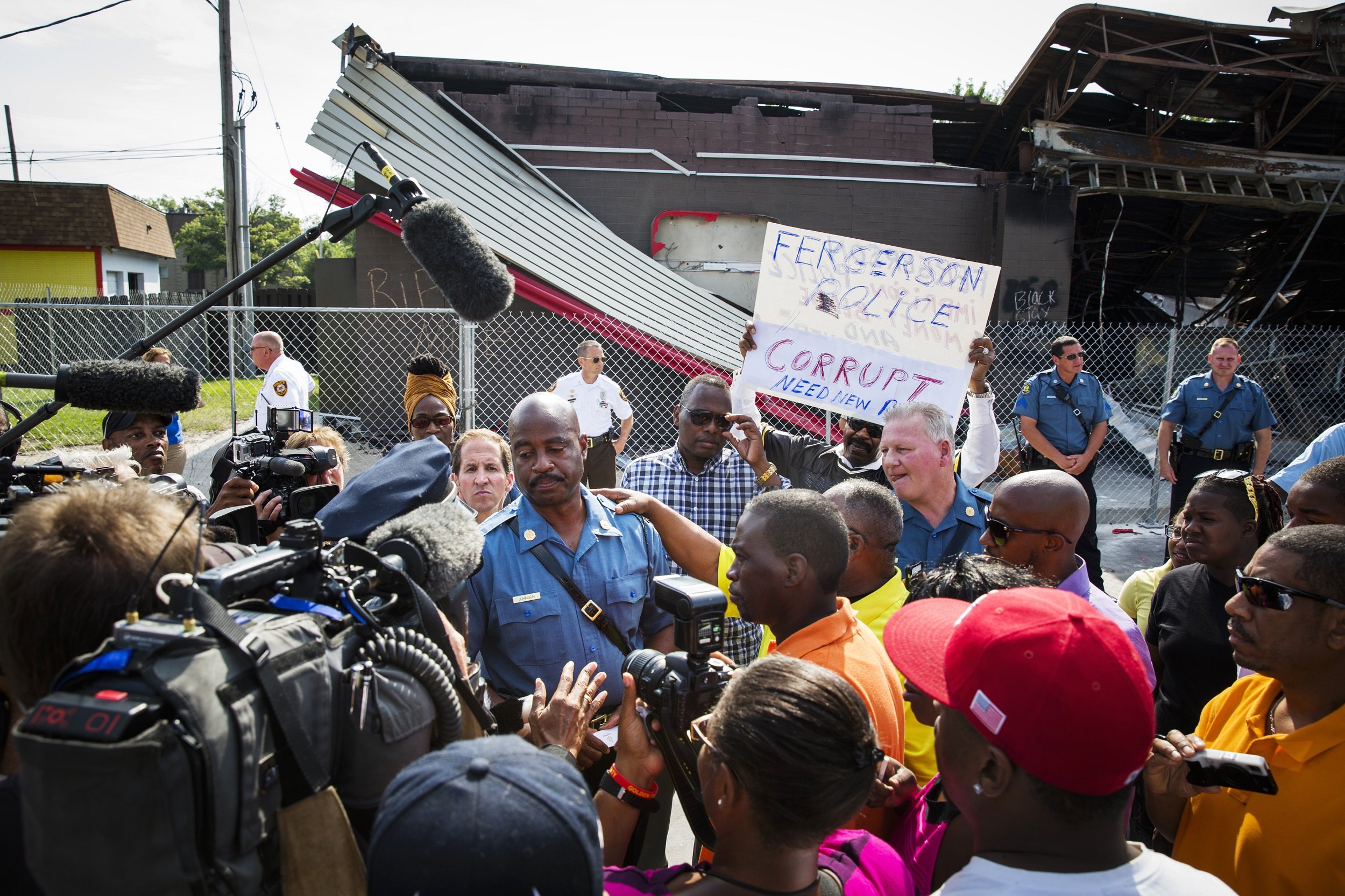 It has been a long, strange day in Ferguson, Missouri: for reporters covering the aftermath of the shooting of Michael Brown, for residents reeling from the loss of a member of their community. It has probably been longer and stranger still for those directly affected by Brown's death — his mother, Lesley McSpadden, his father, Michael Brown Sr., his friends.
It has also, surely, been a long and strange day for the Ferguson police officer who shot and killed Mike Brown on Saturday and whose name was finally released to the public today by Police Chief Thomas Jackson.
Death threats against the officer and his family, police said, kept them from releasing the officer's name to the press initially. But pressure to release the name mounted all week, and police finally succumbed, announcing Friday morning that Police Chief Jackson would hold a press conference to announce the name at around 8:30 a.m. ET. Reporters gathered beside the smoke-stained carcass of a convenience store burnt by rioters in nights previous. It was a potent reminder of the clashes between protesters and heavily-armed police that the city had endured for days before Missouri's governor, Jay Nixon, replaced Ferguson and St. Louis County police with Missouri State Highway Patrol officers led by Captain Ron Johnson. Johnson, a St. Louis native, has so far led a master-class in community policing. Gone are the heavily-armored vehicles favored by Ferguson and St. Louis County officers, gone are the riot gear and the weapons, replaced by equanimity and calm.
Jackson was late to his press conference. Rumors and speculation swirled on Twitter. Had Jackson cancelled the press conference? Some reporters thought so. Others said he was simply running behind schedule, or had been tied up talking to attorneys.
At approximately 8:45 a.m., Jackson arrived and told reporters that Darren Wilson, a 6-year police veteran, was the officer who shot Michael Brown. Ferguson police also handed out packets to the press which included stills from a video taken from a security camera in a convenience store in Ferguson. Those stills, police said, depicted Michael Brown robbing the store. Brown, they said, had been a suspect in the robbery when he was shot by officer Wilson. Chief Jackson said he would give reporters time to "digest" the information they had been given. He would hold another conference after lunch to answer their questions.
The community, largely quiescent since Cpt. Johnson's arrival Thursday night, erupted once more. The called the packet and the stills a smear campaign, designed to discredit Brown and make Wilson look like a cop just doing his job.
The media, meanwhile, went to work trying to discover everything it could about officer Wilson. Posts on Reddit found a sergeant with the St. Louis County police named Darren Wilson. Sgt. Wilson is an African-American and the President of the Ethical Society of Police. That Darren Wilson was not the Darren Wilson who shot Michael Brown, Newsweek learned.
Little information emerged about officer Wilson, but we had a name, at least.
As promised, Jackson reconvened with reporters after noon. Was Brown shot because he was a suspect in the robbery case, reporters asked. No, Jackson said. Another officer, not Wilson, had responded to the robbery case, he said. Wilson had been in the area, but had not been aware that Brown was a suspect. He had, in other words, no reason to suspect Brown of any wrongdoing when he approached him on West Florissant Avenue. Reporters were incredulous. Why did Wilson decide to shoot Brown multiple times, when Brown's only "crime," to Wilson's knowledge, had been standing in the street?
The press conference was cut short. An article in the St. Louis Post Dispatch says Jackson told them in an interview the officer saw cigars in Brown's hand and made the connection to the robbery. Reporters, and the community of Ferguson, are still looking for answers.