What Happened to George Zimmerman? 5 Weird Things He's Done Since Killing Trayvon Martin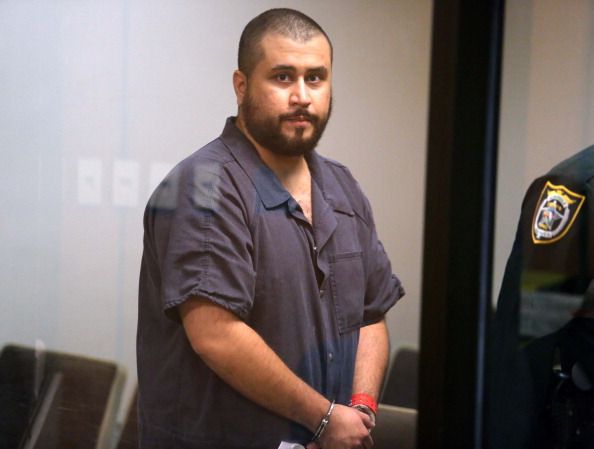 George Zimmerman became a household name five years ago after shooting and killing Trayvon Martin, an unarmed black teenager, on February 26, 2012, in Sanford, Florida. He didn't deny shooting Martin, but claimed he did so in self-defense. The following year, a jury found him not guilty of second-degree murder or manslaughter.
But the shooting and trial aren't the only reasons Zimmerman has made headlines in recent years. Now 34, he's become something of a notorious figure for his various antics and statements.
Related: A timeline of George Zimmerman's bizarre life after killing Trayvon Martin
Most recently, he went after Jay Z, who is working on a documentary series titled Rest in Power: The Trayvon Martin Story. Zimmerman accused executive producer Michael Gasparro and the production team of harassing his family.
"I know how to handle people who fuck with me. I have since February 2012," Zimmerman told the Blast in an interview. "Anyone who fucks with my parents will be fed to an alligator."
It's just the latest in a long line of odd things he has said and done since that February night he fatally shot Martin, 17. Zimmerman…
...sold a painting on eBay for $100,099.99.
The supposedly original painting—which depicted part of an American flag with the words "God, One Nation, With Liberty and Justice for All"—garnered 96 bids before the auction ended on December 21, 2013. The item description said, in part, "I found a creative way to express myself, my emotions and the symbols that represent my experiences. My art work allows me to reflect, providing a therapeutic outlet and allows me to remain indoors :-)"
In August 2015, Zimmerman painted a Confederate flag with the words "Our 2nd Protects Our 1st" after hearing about Andy Hallinan, a Florida gun shop owner who got sued after declaring he wouldn't sell guns to Muslims.
"The caption, 'the 2nd protects the first,' is a double entendre," Zimmerman said on the shop's website. "The first flag I painted on this canvas was an American Flag, but decided to repaint over it with the Confederate Flag when I heard Andy was getting sued by [the Council on American-Islamic Relations]. The 2nd flag I painted was the Battle Flag - which we need in America in order to protect the first." Zimmerman and Hallinan decided to sell prints and raffle off the original painting, sharing the proceeds.
...almost fought the rapper DMX in a celebrity boxing match.
Zimmerman agreed to do a match and set his sights on DMX, who in turn "promised to 'beat his ass,'" a spokesman told CNN. A match was scheduled for March 15, 2014, but promoter Damon Feldman canceled it about a month in advance.
"I'm sorry for anyone I hurt with this, but this was a very big opportunity," Feldman said in a tweet at the time. "Zimmerman was the wrong person to have in this," he told Rolling Stone. "I looked into the eyes of my son and daughter today and couldn't imagine someone killing them and getting off scot-free. It just really hurt. It was a tough decision because I could have made two million dollars here, but at least I have my dignity. I'm happy. Thank you."
...tried several times to sell the gun he used to shoot Martin.
In May 2016, Zimmerman tried to sell the Kel-Tec PF-9 9 mm handgun he used to shoot Martin on the website GunBroker.com, but that auction was apparently halted. The site said in a statement that "we want no part in the listing on our website or in any of the publicity it is receiving."
Two listings then cropped up on UnitedGunGroup.com. The first appeared to be drawing bids from fake buyers, who went by names such as "Racist McShootFace" and "Tamir Rice." A new auction began a few days later, and the bidding went up to $138,900, though it wasn't clear if the offer was legitimate.
"This is a piece of American history," Zimmerman reportedly wrote on the first auction page. "Many have expressed interest in owning and displaying the firearm including the Smithsonian Museum in Washington D.C.," a claim that the museum vehemently denied.
...railed on Obama for supposedly crying fake tears and trying to turn America into a dictatorship.
"He made an announcement, and when I saw it all I could think was crocodile tears," Zimmerman told TMZ on his way out from a shooting range to a parking lot in January 2016. "The man is a disgrace to the country, he's a disgrace to the armed forces. He stood there and pretended to cry and mentioned mass shootings and conveniently left out Fort Hood," he said.
"What a piece of garbage," Zimmerman added. "I watched enough to get sick over watching it. That's Obama. He's trying to abuse the executive privilege to turn American into a dictatorship again."
...allegedly threw a wine bottle at his girlfriend.
Zimmerman was arrested in January 2015 for aggravated assault and domestic violence with a weapon after he allegedly threw a wine bottle at a woman who, according to Zimmerman's attorney Don West, was his girlfriend. "Anyone who has been through what he has would have a rough time," West said.
Charges were not ultimately filed in this case after the victim recanted her statement. But it wasn't Zimmerman's first entanglement with law enforcement in the aftermath of the Martin shooting, or even the first related to domestic violence.
Zimmerman has been pulled over for speeding more than once and for having windows with too dark of a tint. Days after his ex-wife, Shellie Zimmerman, filed for divorce in September 2013, she called 911 and said, "He is in his car and he continually has his hand on his gun and he keeps saying, 'Step closer.' He is just threatening all of us."
Zimmerman allegedly punched her dad and threatened to kill the family.
Soon after, he was charged with felony aggravated assault, as well as domestic violence battery and criminal mischief, in November 2013 after allegedly breaking a table with a shotgun and pointing it at his girlfriend, Samantha Scheibe. But Scheibe later recanted her statement, and the charges were dropped.