What Happened to Kaylee Sawyer? Bend, Oregon, Murder Featured on 'Dateline'
Friday's episode of Dateline is slated to show the story of Kaylee Sawyer, the 23-year-old Bend, Oregon, woman who was murdered in 2016—but by whom? NBC's Keith Morrison explored the case, talking to Sawyer's family members.
"The sun descended toward the cascades, 18 hours after Kaylee Sawyer argued with her boyfriend and walked alone into the dark. But why didn't she come back? Why didn't she call anyone? She was a grown woman who was missing, but she had a right to be somewhere else. There was no evidence of foul play," Morrison narrated in a sneak-peek clip. "And then, 20 miles north of the Redmond Police Department, detective Sgt. Eric Beckwith noticed a newly admitted Bend police officer sitting calmly on a chair, as if waiting for something. Odd."
Some thought Cameron Riemhofe, Sawyer's boyfriend of two years, was involved in her death. But one of the reasons her family decided to participate in the Dateline episode was to correct the narrative. "In the beginning, you know, there was a lot of misinformation that had gone out: that Kaylee took off after this big fight with Cam. I think it's hurtful that that is always kind of the lead-in to what happened," Sawyer's mother, Juli VanCleave, told KDNB Friday. "And I saw my daughter so very happy, and I saw an amazing young man who loved my daughter. And there wasn't a single time that us, the family, ever questioned Cam's story."
VanCleave wants Sawyer to be remembered for being more than a girl who was murdered. "I want people to remember Kaylee. I don't want people to remember Kaylee as 'Kaylee Sawyer: the murder victim.' It was really important for me to keep her name out there in the community," she told the outlet.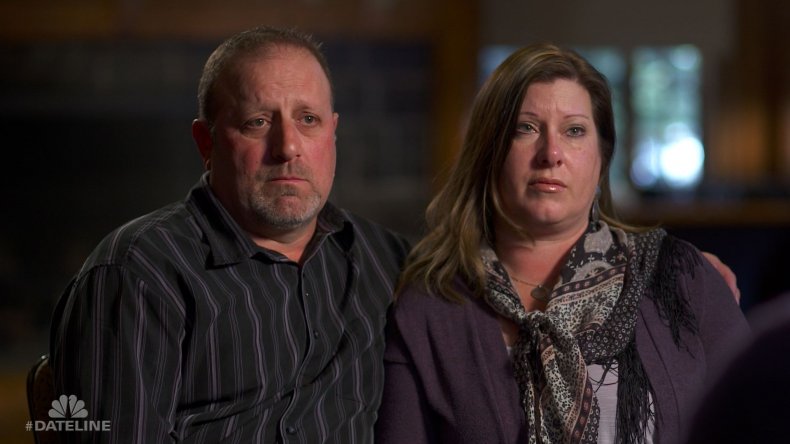 Edwin Lara, a security officer at a community college in Bend, pleaded guilty to aggravated murder in January 2018. He was sentenced to life in prison without the possibility of parole.
Edwin claimed he hit and killed Sawyer by accident, but investigators claimed Lara tried to sexually assault Sawyer before he killed her. The evidence showed she had defensive wounds on her body, revealing Sawyer fought for her life before Lara murdered her. By entering a guilty plea, he avoided the chance death penalty for the 2016 crime, KTVZ wrote.
Dateline: "Into the Night" airs Friday at 9 p.m. ET on NBC.