What Happened With Merrick Garland? What McConnell, Trump and Others Said and Did During Obama's Nomination
When President Donald Trump rushed to fill the late Justice Ruth Bader Ginsburg's Supreme Court seat, Democrats argued that the nomination should wait until after the election, pointing to Obama's nomination of Merrick Garland as a precedent.
After Antonin Scalia died in early 2016, President Barack Obama nominated Garland to the top court, but Senate Republicans, who controlled the chamber, blocked the nomination, saying that justices should not be nominated during an election year.
Ginsburg died on September 18, 47 days before Election Day. While many pointed to the precedent set by Scalia's death, which came 270 days before Election Day in 2016, multiple Republican senators reversed their stance on filling a Supreme Court seat in an election year.
Trump nominated Amy Coney Barrett on September 26 at a Rose Garden ceremony, which was later declared a superspreader event after a number of attendees tested positive for the coronavirus. Senate Republicans are moving quickly to confirm Barrett—a decision that has received widespread criticism, particularly with Congress' failure to reach a deal on new economic relief legislation.
With Barrett's confirmation hearings beginning on Monday, here's a look back at what Senate Majority Leader Mitch McConnell, Trump and others said about Garland in 2016.
Senate Majority Leader Mitch McConnell
Hours after Scalia's death on February 13, 2016, McConnell said, "Of course the American people should have a say in the court's direction. It is a president's constitutional right to nominate a Supreme Court justice, and it is the Senate's constitutional right to act as a check on the president and withhold its consent."
At the time, there was no recent precedent for such an action. Since 1985, no Democratic president had made an appointment to the court while Republicans controlled the Senate.
Citing the so-called Biden rule, McConnell argued that Democrats had considered a similar move in 1992 when Joe Biden, who was the chairman of the Senate Judiciary Committee, contemplated urging President George H.W. Bush to withhold Supreme Court nominations until the end of the "political season."
In August 2016, McConnell boasted about his decision, saying, "One of my proudest moments was when I looked Barack Obama in the eye and I said, 'Mr. President, you will not fill the Supreme Court vacancy.'"
After Ginsburg's death, McConnell vowed that whoever Trump selected as her replacement would receive a vote on the Senate floor.
Senator Lindsey Graham
Shortly after Scalia's death, Graham said, "I want you to use my words against me. If there's a Republican president in 2016 and a vacancy occurs in the last year of the first term, you can say Lindsey Graham said, 'Let's let the next president, whoever it might be, make that nomination.' And you could use my words against me, and you'd be absolutely right."
In 2016, Graham was a member on the Senate Judiciary Committee. He and the 10 other Republican members signed a letter to McConnell said they had no intention of holding hearings for any nominee from Obama.
"The American people are presented with an exceedingly rare opportunity to decide, in a very real and concrete way, the direction the Court will take over the next generation. We believe The People should have this opportunity," the letter read.
In 2018, Graham reiterated his commitment to not confirming a Supreme Court nominee during an election year. In an interview with The Atlantic's Jeffrey Goldberg, the South Carolina senator said, "If an opening comes in the last year of President Trump's term and the primary process has started, we'll wait till the next election."
Still, the senator has been one of the key figures pushing to confirm a Supreme Court nominee before the November 3 election. Graham, who is facing re-election this year, has been berated by protesters outside his Capitol Hill home, who have chanted the senator's own "use my words against me" quote, after he promised to immediately confirm Trump's nominee.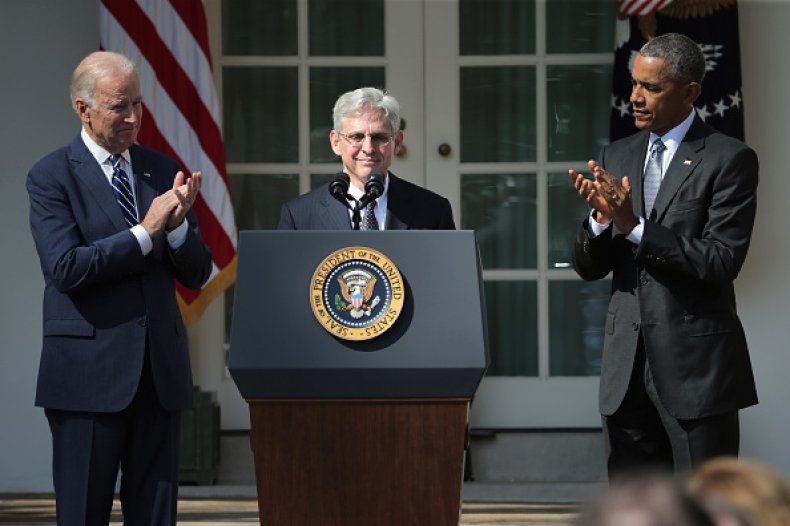 President Donald Trump
Before Obama had formally nominated Garland, Trump rejected such a move.
He told CNN on March 16, "I think the next president should make the pick, and I think they shouldn't go forward, and I believe I'm pretty much in line with what the Republicans are saying."
NPR reported that before Ginsburg died, she told her granddaughter Clara Spera, "My most fervent wish is that I will not be replaced until a new president is installed."
However, the day after her death, Trump said he would be nominating a candidate within the week. Eight days after Ginsburg's death, the president officially named Barrett as his choice.
Former Vice President Joe Biden
In 2016, Biden spoke out against Republicans who were using his 1992 comments as a way to justify blocking Obama's nomination, calling the Biden rule "frankly ridiculous."
"They completely ignore the fact that, at the time, I was speaking of the dangers of nominating an extreme candidate without proper Senate consultation," he said at the time. "They completely neglected to quote my unequivocal bottom line, so let me set the record straight, as they say. I said, and I quote, 'If the president consults and cooperates with the Senate or moderates his selections, then his nominees may enjoy my support, as did Justice Kennedy and Justice Souter.'"
Biden told Georgetown University law students that during his time on the Senate Judiciary Committee, "every nominee was greeted by committee members, every nominee got a committee hearing, every nominee got out of the committee, even if they didn't have sufficient votes to pass within the committee."
On the day of Ginsburg's death, Biden released a statement saying, "The voters should pick a President, and that President should select a successor to Justice Ginsburg."
"This was the position that the Republican Senate took in 2016, when there were nearly nine months before the election. That is the position the United States Senate must take now, when the election is less than two months away," the statement read. "We are talking about the Constitution and the Supreme Court. That institution should not be subject to politics."
Senate Minority Leader Chuck Schumer
Schumer, who was not the Senate minority leader in 2016, joined his Democrat colleagues in supporting the nomination of Garland, calling him the "ideal candidate" to fill Scalia's seat because of his moderate views.
He argued that if Republican senators agreed to meet Garland, they would change their minds and want to confirm him to the Supreme Court.
However, Republicans weren't the only ones to flip-flop on confirming Supreme Court nominees during an election year. After Ginsburg's death, Schumer supported delaying the nomination, tweeting, "The American people should have a voice in the selection of their next Supreme Court Justice. Therefore, this vacancy should not be filled until we have a new president."
Senator Mike Lee
Lee, who sits on the Judiciary Committee with Graham, said in 2016 that "any meeting with any nominee put forward by President Obama would only be a waste of the Senate's time. The court has very ably dealt with temporary absences in the past and will do so again now."
After Ginsburg's death, the senator reflected on his remarks from four years ago, saying, "In 2016, President Obama nominated a replacement for Justice Scalia, and my Senate colleagues and I gave our advice and consent on the nominee, consistent with the Constitution, by rejecting him."
Lee continued, "This year, President Trump will nominate a replacement for Justice Ginsburg, and, consistent with the Constitution, we will again give our advice and consent. If we like the nominee, we will confirm her. If we don't, we won't. It's that simple."
Lee attended Barrett's nomination ceremony at the Rose Garden. Days later, he tested positive for the coronavirus.
Senator Thom Tillis
The day after Scalia died, Tillis said that "the process of filling the Supreme Court vacancy would be best left to the next president." He was one of the Republican members of the Judiciary Committee who signed the letter in support of delaying the nomination. At the time, his spokesperson said that the senator was "following the Joe Biden rule."
However, after meeting with Barrett days before her nomination, Tillis said, "Judge Barrett is exactly the kind of fair-minded and impartial justice North Carolinians expect and deserve to have on the Supreme Court. I look forward to getting her confirmed."
Tillis has also tested positive for the coronavirus after attending the Rose Garden ceremony.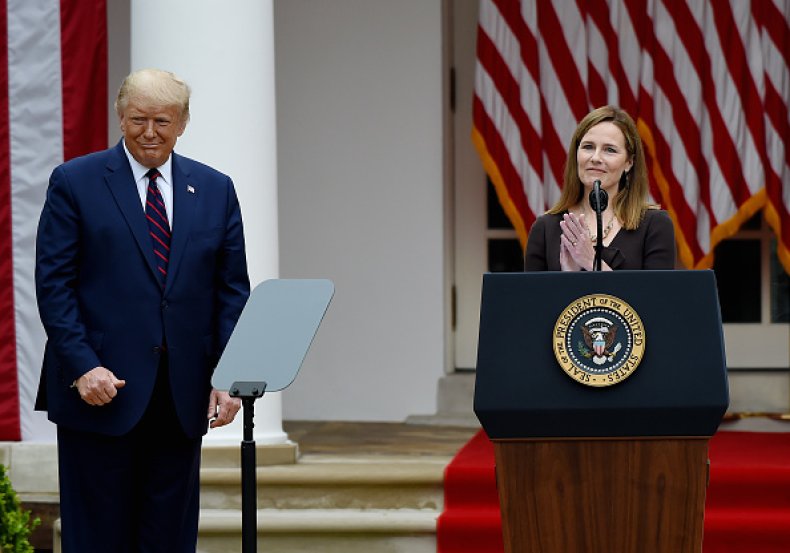 Senator Bernie Sanders
Sanders issued a statement a month after Scalia's death saying that there should be a vote on the Senate floor for Garland's nomination.
"My Republican colleagues have called Judge Garland a 'consensus nominee' and said that there is 'no question' he could be confirmed. Refusing to hold hearings on the president's nominee would be unprecedented," Sanders wrote.
"President Obama has done his job. It's time for Republicans to do theirs. I call on Senator Grassley to hold confirmation hearings immediately and for Leader McConnell to bring the nomination to floor of the Senate if Judge Garland is approved by the Judiciary Committee," Sanders said
This year, Sanders said that Senate Republicans know what "the right thing to do is," in a statement following Ginsburg's death. "We should let voters decide. Period."
The senator also criticized McConnell for going against Ginsburg's final words, tweeting, "Unfortunately, Sen. McConnell has decided to go against Justice Ginsburg's dying wishes and is cementing a shameful legacy of brazen hypocrisy."
Senator Elizabeth Warren
In 2016, Warren argued that leaving a seat vacant on the Supreme Court was a way to maintain "naked politics."
"It has no legal foundation. It has no principled foundation," she said during a Democratic Steering and Outreach Committee meeting in April of that year.
"Republicans in the United States Senate should just do their job. They need to put their oath of office ahead of their party politics," Warren added.
She told Rachel Maddow after Ginsburg's death that the GOP "tilted the Supreme Court." By allowing Trump to place a third judge on the court, the Republicans "want to tilt it further so that it doesn't reflect the values of the majority of Americans."
Senator Ted Cruz
Cruz issued a statement in March 2016, saying, "I proudly stand with my Republican colleagues in our shared belief—our advice and consent—that we should not vote on any nominee until the next president is sworn into office."
"The People will decide. I commend Mitch McConnell and Chuck Grassley for holding the line and ensuring that We the People get to exercise our authority to decide the direction of the Supreme Court and the Bill of Rights," he continued.
However, Cruz is now pushing to confirm a Trump nominee to the court. He argued that "the reason we need a fully functioning court is to have nine justices who can resolve any dispute and ensure that the law and Constitution are followed." He told NPR that a bench with eight justices "lacks the constitutional authority to decide anything."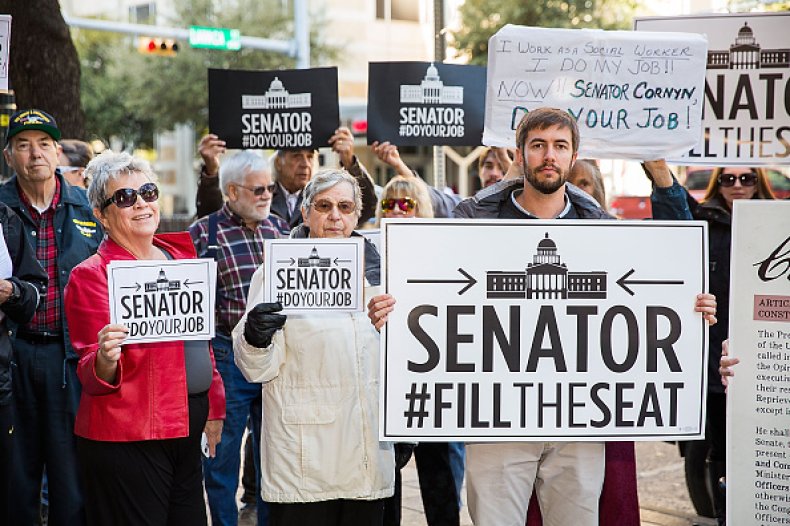 Senator Tim Kaine
Kaine, who ran for vice president with Hillary Clinton in 2016, said that Garland had received support from both sides of the aisle, "which should leave Republicans in the Senate no excuse for obstructing his confirmation process."
"Justice demands that the Senate provide advice and consent for any Supreme Court nominee. I commend President Obama for fulfilling his constitutional duty. It's time for the Senate to do the same," Kaine said in a statement on March 16, 2016.
Less than a month later, he gave a floor speech advocating hearings on Garland's nomination.
"If United States senators don't respect the institutions of our government, why would anyone else respect them?" Kaine asked the Senate on April 5, 2016.
"I deeply, deeply fear that the actions we are embarking on, in connection with the Supreme Court nomination, are expressing a profound disrespect for the Article 3 branch, the courts; a profound disrespect for the Article 2 branch of the presidency; and frankly a profound disrespect for our own history, traditions and job descriptions in this Article 1 branch of the legislature," he added.
In a statement following Ginsburg's death, Kaine said that "the Senate should wait until after the next inauguration before considering a nominee to fill this vacancy." He added that he "will do everything he can to ensure that this Supreme Court seat is not filled until then."
Senator Ron Johnson
"What we're saying is: Let the American people have a voice," Johnson told reporters in May 2016. "We're six months before an election. They're going to decide the direction of the country. Let them decide the direction of the court through their votes."
Days later, the Republican senator issued a statement after a meeting Garland, which he described as cordial.
"My advice to President Obama and the rest of my Senate colleagues has not changed," he wrote on May 10. "Let the American people have a voice in the composition of the Supreme Court. Instead of a lame duck president and Senate nominating and confirming, a new president and Senate—elected by the people only a few months from now—should make that important decision. I can't think of a fairer or more democratic process."
Johnson has since changed his stance but argues that Barrett's nomination is different because "we don't have divided government. That makes all the difference in the world," he told the Milwaukee Journal Sentinel.