What Happened to Michelle Carter? Fatal Texts Explored In HBO's New True Crime Movie 'I Love You, Now Die'
Michelle Carter's text messages to boyfriend Conrad Roy literally speak for themselves in the first trailer for HBO's I Love You, Now Die: The Commonwealth Vs. Michelle Carter. The true crime documentary aims to take viewers inside the story and legal case sparked by the texts, which convinced Roy to kill himself.
The case of Carter is peculiar. After her boyfriend killed himself, could she be guilty of murder? Carter's texts encouraged Roy to take his life when he expressed he was living in pain and sadness in 2014. He was 18 at the time, and Carter was 17. Instead of sending support, Carter responded to Roy's expression of pain with a concerning message: "I think it's time to do it now then," she wrote.
A full write up of the texts the day Roy died are available online via Boston 25 News. "You can't think about it You just have to do it? You said you were gonna do it like I don't get why you arent," Carter wrote to Roy around 4 a.m. Before 10 a.m., she gave details about how he should die. "You're ready and prepared," Carter wrote. "All you have to do is turn the generator on and you bee free and happy. No more pushing it off, no more waiting."
Carter and Roy had exchanged messages about his want to kill himself before the day he died, and had even planned how he would do it. Roy died by suffocation from carbon monoxide intake in his car. Carter was on the phone with him at the time. Under the unusual circumstances of a second party involved in Roy's suicide, Carter was taken to trial and found guilty of involuntary manslaughter in 2017. The charge carries a prison sentence of five years.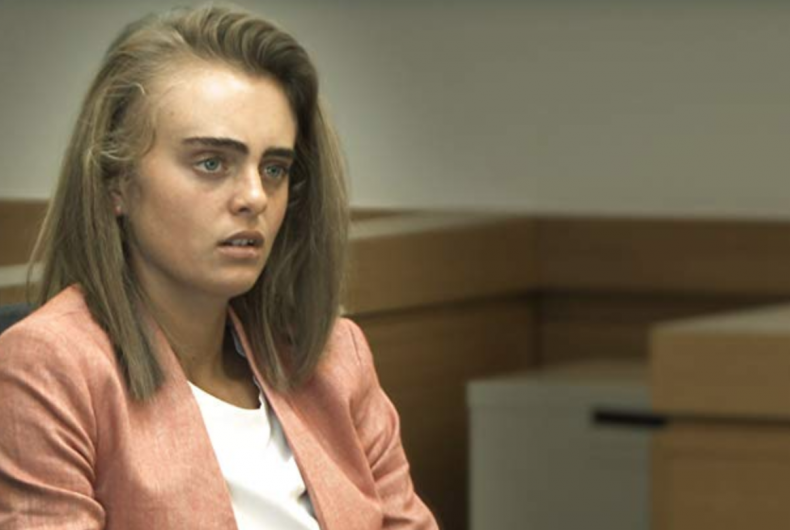 Carter immediately appealed her case and was allowed to stay out of prison for the duration of the appeal. It was only in February a judge ordered her to begin serving her sentence.
After Roy died, Carter sent over 80 text messages to his phone, according to The Boston Globe. They ranged from questioning if his death was a joke, to long write-ups about how she was wrong to encourage him at all.
"I read this thing online about trying to agree with the person and that would make them change their mind because they see how stupid they're being. But it didn't work for you and I did it for too long," she wrote in one. "You probably thought I was okay with it and You talked about being in heaven and being my angel and at the time I went along with it because i knew you weren't gonna do anything. But you f****** did it and I'm so sorry I didn't save you."
The prosecution claimed the texts were sent to cover Carter's involvement. Her defense argued her psychiatric medication made her "involuntarily intoxicated" to a point of participating in unruly behavior.
I Love You, Now Die will look inside the legalities of Carter's case, as well as her relationship with Roy before and after his death. It will premiere at SXSW on Saturday, but will not immediately be available to the public.
If you have thoughts of suicide, confidential help is available for free at the National Suicide Prevention Lifeline. Call 1-800-273-8255. The line is available 24 hours, every day.