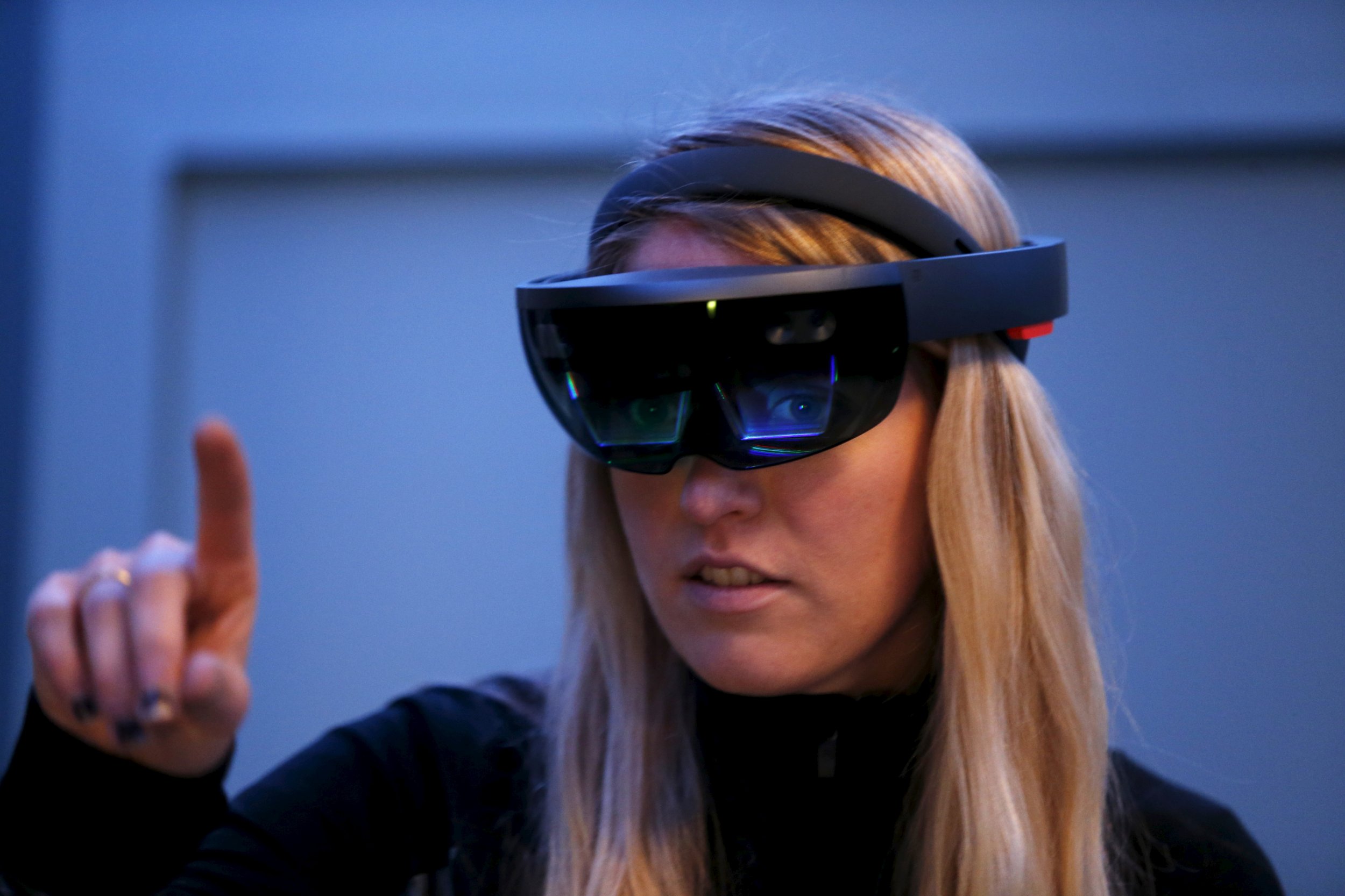 Throughout last year, Microsoft displayed its HoloLens augmented reality (AR) headset by playing video games on it, from Minecraft to a shooting game called RoboRaid. But at the E3 game convention last week, HoloLens was nowhere to be found. Multiple AR developers tell Newsweek the reason why HoloLens vanished is that Microsoft has shifted its attention from developing a consumer-focused product to a more enterprise-friendly product.
That pivot came unannounced to the general public. In 2015, Microsoft grabbed headlines for its Minecraft demo that showed a player using the headset to play the game on a tabletop. Through HoloLens, gamers would see a digital world blended with the real world surrounding them. As The Guardian wrote at the time, "the future of gaming is right in front of your eyes."
This year at E3, Microsoft made it clear its future is a console dubbed Project Scorpio, which will support "high-fidelity" virtual reality games. HoloLens didn't even come up during a segment on Minecraft; instead, Oculus was presented as the new way to play the game.
Three months before this year's E3, at its Build developer conference in March, Microsoft announced it will be accepting $3,000 preorders for HoloLens development kits in hopes of giving HoloLens to third-party developers to create new products with its technology. Microsoft added three games to its development kit, but nearly all outside HoloLens developments have focused on enterprise projects, whether it be medical education (the company is working with Case Western University) or space exploration (in partnership with NASA).
Most developers believe that Microsoft has given up on games for the HoloLens, at least for the short-term future, according to Sébastien Motte, founder of a Seattle-based AR app startup called Loook.
As the former head of Xbox first-party business development who left in 2013, Motte no longer works for Microsoft. But he and Loook constantly work with the HoloLens technology, offering prototypes of AR apps and application development services for businesses that want to get involved. Motte did not disclose what projects Loook is working on or partners he is working with.
"The HoloLens is focused on enterprise now," Motte says. "It's not ready yet to be a consumer product. It will eventually be a consumer product but not now." It is unclear when this so-called pivot—as Motte calls it—happened. Motte says that it was "a natural transition."
In a statement to Newsweek, Microsoft echoed Motte's point about its enterprise-focused rollout. "We haven't addressed consumer timing, but HoloLens has been a multiyear journey, and the first version will focus on developers and enterprise scenarios," a Microsoft spokesperson tells Newsweek.
Like Loook, Studio 216 is another AR studio that works with businesses in using HoloLens. Studio 216 partnered with the architectural firm Skanska to build a holographic model of a new Seattle high-rise to interested clients. "In the context of a sale center, being able to connect with a human being on a personal level really helps close deals and gives emotional closeness to the project," says Studio 216 co-founder Boaz Ashkenazy.
In regards to his relationship with Microsoft, he says it has been "very enterprise-focused."
Much like Studio 216's partnerships with architectural firms and real estate agencies, Microsoft said it was partnering with other corporations, such as Volvo, Autodesk, Aecom and Lowe's to explore possible uses for HoloLens.
Motte believes the pivot happened because the HoloLens technology was taking too long to reach consumer friendliness. Collaboration with enterprises will buy Microsoft more time and allow more experimentation. "It's not ready for consumer prime time," Motte says, estimating it will "take a few years" to hit shelves.