What Happened on Peter Weber's 'Bachelor' Premiere?: Live Recap
The Bachelorette alum "Pilot" Peter Weber will be our head hunk on this season of The Bachelor, having placed third in the 15th season, and this year the runway's clogged with ladies who want to make him their very own.
Chief among them: Hannah Brown—Pete's ex, The Bachelor and The Bachelorette alum and a two-time loser at the reality love game. Brown, who came in 7th during her first season on The Bachelor as a competitor for Colton Underwood's heart, also watched her engagement to her The Bachelorette pick, Jed Wyatt, fall apart months after their season wrapped when it was revealed that Wyatt had a girlfriend back home.
In the period between her spin as The Bachelorette and returning as a contestant for The Bachelor, Hannah competed on Dancing With the Stars over the fall and early winter months and ended up winning the show's 28th season with her partner, Alan Bersten.
Pete almost made it to the top two of her season. Could there still be enough love there to make a connection?
According to an interview with People Magazine, Weber described himself as "very, very surprised" by the selection of Brown for his season.
"Even though it didn't work out with us on The Bachelorette, that relationship still meant a lot to us," he continued. "You are going to see just how much it meant to us when you see the episode. All of the emotions resurfaced. They're just real emotions that come out between two people that at one point cared about each other a lot."
But what about the other ladies? Not to give too much away, but three of the women are flight attendants. Talk about matches made in the sky.
But there are a grand variety of ladies putting themselves out there this season. Who will be the next Bachelorette? Which will win Pete's heart?
Will someone bring up Pete's windmill encounter? Will he find true love with someone who isn't Hannah? Or does she still yank the strings of his heart the hardest? Will fans' brackets for the show end up being more complicated than their March Madness ones? And what will Chris Harrison wear? Tune in tonight to find out!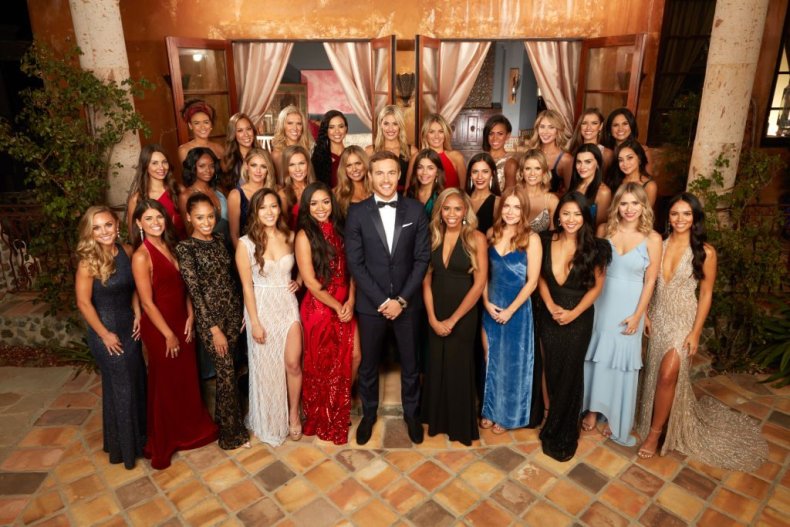 8:08 p.m.: Majestic vistas and a dramatic music greet us. In the high desert, the final rose ceremony is taking place, where Pete is having emotions as Chris Harrison informs him of some secret one of the finalists has. What secret? We're obviously not yet going to be privy to it.
What we are going to be privy to? A montage! New beginnings are promised, hot kisses are dished out, and drama and four-letter words are flung among our bachelorettes before we cut to Pete, dramatically pausing to let the wind blow through his hair before climbing into a single-seater plane and jetting off to Bachelor-land.
He says he's "taking a leap of faith" by opening his heart again to love. "I'm going to go find my wife."
Cue Pete flashing back to his relationship with Hannah on The Bachelorette, which did not turn out well for him. "No one makes me feel the way Hannah made me feel," he says.
Cue Pete crying in the back of a van as he's taken away and Hannah moves on to her final two.
Pete and his parents dish about Hannah and the situation. Pete says he wants what they have, and then muses upon his Cuban roots as his mom cooks and everyone dances in the kitchen.
Cut to Harrison asking him what kind of girl he wants. "I want a girl, without a doubt, who is your best friend." Someone with a "kind sweet heart." Pete declares himself "excited" as Harrison drives him to the Bachelor mansion.
"I'm in the captain's chair now," Harrison says, as he strolls through an airport and takes selfies with fans.
8:20 p.m.: "I'm The Bachelor now! That's insane!" says Pete, as he suits up.
We now meet our first Bachelorette—esthetician Lexa, who says she "doesn't take it lightly" that people let her wax their bodies.
"Waxing is a lot like love," she says. "You have to bear it all."
Knoxville, Tennessee model Hannah Ann is a faith-filled small town southern girl whose dad already talks about Pete as if he knows him.
Syracuse weightlifter-slash-real estate agent Tammy can kick a man's butt with ease and is a strong, independent world traveler.
Then there's Victoria P., a caring nurse whose tough background involved a drug-addicted mom. Her mom's now sober and she's quite proud of her.
Attorney Kelley works with her family at a firm, and has at least three overprotective older brothers. She met Pete once before, briefly.
Madison, a state championship basketball player at Auburn University, likes a challenge and has four championship rings on her fingers for every victory she's claimed on the court.
Maurissa is a patient care coordinator for a pair of plastic surgeons. Maurissa struggled with body image issues after dealing with pageant life, but has confidently reclaimed her self-esteem.
8:35 p.m.: "I have so much to offer," Pete says as he climbs into his limbo for his delivery to the Bachelor mansion.
In the back of the limo, the gown-clad ladies are already tippling and sprinkling each other with champagne.
Arriving, Pete straightens his cuffs and shakes hands with Harrison. "You look sharp," observes Harrison of Pete, who also observes Pete's obvious nerves.
"Tonight, I hopefully meet the girl of my dreams," says Pete. He describes his time with Hannah as a "beautiful journey" that he wishes had turned out differently.
When Harrison asks Pete if it's behind him, he says it is.
First up is Alayah, who gives Pete a letter written by her grandmother Rose. It turns out that their grandmothers have the same first name.
Then there's Sydney, from Alabama, who describes herself as a small-town girl. "Not every girl from Alabama makes bad decisions," she says (guess where Hannah's from?).
Then there's Hannah Ann. "I hope there's room for another Hannah in your heart," she says, and hopes that they will have fun.
"Now I'm in trouble, oh boy," remarks Pete.
"I'm in love!" Hannah Ann sings.
Sarah is next. "I think my stomach might actually leave my body from all the butterflies I have!" she says.
Then there's Lauren, a California marketing exec who describes the situation as "very scary," but she's leapt ahead.
"That's a power suit right there. Wow, she is gorgeous," remarks Pete.
Victoria P. has Pete do a "happy dance" with her as she performs with her niece whenever she's nervous.
Mykenna, a fashion blogger, looks his tux up and down before declaring him good.
Maurissa holds Pete to a pinkie promise that they'll be true to one another.
Kelsey says that Hannah made a mistake letting him go.
Eunice, a flight attendant, comes in angel wings. "I figured I would just wing it," she says.
Jade, too, is a flight attendant, as is Megan—both of whose intros play out over Eunice's hopes that she's offering something unique to the scene.
"Apparently everyone and their mother is a flight attendant, but I'm not worried," monologues Eunice after.
Madison arrives in a paper plane outfit. "I landed my plane, now all I have to do is land your heart."
"They told me there was a large package in front of the mansion," says Tammy.
Shiann gives him a barf bag for the "nauseating conversations" he is likely undergoing.
Two air traffic controllers guide in Courtney, who peddles to the front door on a children's rocket scooter. "That's the way to my heart right there," Pete said.
Then a man drags a baggage rack to the front door, and one of the bags begins to rattle as a woman within asks to be let out.
8:48 p.m.: "I would suffocate if I was in a suitcase," observes one of the girls, as Pete helps Kiarra out of the suitcase.
"It's like are you a copilot or are you baggage?" asks one of the girls as she observes the situation.
"That's like some David Copperfield s**t," says Harrison to Pete.
The next contestant drives up in a "sexy" red car—that's Lexi.
"My paper airplane is in pretty close competition with her red corvette," says Madison.
Deandra comes dressed as a windmill—a reference to the time Pete and Hannah had sex "four times" in a windmill fantasy suite on The Bachelorette.
"Four times?!" yells Payton as she arrives.
Jasmine tells him "I hear you did it four times in a windmill."
Kylie completed the triptych when she comes to the mansion with a raft of condoms in her hand.
Katrina says that he will fall in love with her, "hairless... pussy... cat."
Victoria F. says she has a "very dry sense of humor, and that's about the only thing."
Jenna comes with a cow—Ashley P., her emotional support cow, which she leaves with Pete. Pete pets the cow. Jenna later reveals that this was a joke.
"There's a pony out there!" two of the girls drunkenly proclaim of the cow.
Savannah brings a blindfold—which allows her to sneak some smooches. "If he's looking for someone to come out guns blazing, pew pew," she says.
Pete does indeed remember Kelley. She admitted she didn't want to do this, but auditioned after bumping into Pete in a hotel lobby when they were both there for other events, taking it as a sign from God.
"I hope that she comes back," Pete says giddily as she walks away.
Lexa nervously meets Pete next.
Then "Avonlea—just like heavenly." followed by Natasha. The women are getting louder, rowdier and drunker in the mansion.
And cue the entrée of Hannah, as the other women scream.
8:59 p.m.: As the other women continue to howl, Hannah Brown appears and she and Pete talk. The other women stress out hard. "Is this legal?" one asks.
Hannah and Pete begin to awkwardly talk it out as the other women angst about her appearance.
"It's almost a slap in the face to us," says Mykenna.
"When I heard you were going to be the Bachelor, I had mixed emotions," Hannah said. "I want you to find that person, so I brought these back for you," she says, handing him his wing pin, which he'd given her previously. Then they hug over tears.
Pete enters the mansion as the women flock about, handing him booze.
"I know some of you may have seen Hannah. She stopped by and uh, I fell in love with her, I truly did," he says, as he explains Hannah brought the wings back to him. He says her doing that has given him hope he will find love with one of them.
Unwinding, Pete reads Grandma Rose's letter with Alayah, who admits it was embarrassing but he thinks the letter is sweet.
"I've been single for four years," reveals Maurissa, who thinks Pete will find with her what he found with Hannah.
Madison and Pete wreck her airplane costume trying to fly it, and they bond over Pete's vulnerability.
Chris Harrison enters and then brings in the First Impression Rose.
Tammy calls the presence of the rose "daunting." Suddenly it's very on for all of the women.
9:12 p.m.: As Pete spends a little time with each of the women, he reflects that they're all sweet—and again says that he's filled with hope.
Hannah Ann in particular bonds with Pete—their traditional values seem to mesh. Not so much Tammy and Pete, who flirt with handcuffs and mock strip searches, which leads to a kiss. Tammy observes he likes bold girls, and the other girls express their envy, especially Natasha.
"I'm actually an open book, but it takes time," she says. Mid-conversation, Mykenna begins to throw paper airplanes at Pete to get his attention.
"That is my man. I'm going to get him," Mykenna observes.
"It is night one, and honey, there are some cats and some rats! I'd like to consider myself a cat," says Natasha. She promptly interrupts Mykenna and Pete's moment with Madison's plane, because, as she says, "payback is a bitch."
Natasha later impatiently watches Mykenna and Pete make out.
The women gossip about the kisses Pete has given freely to others.
"I literally haven't even gotten a chance to talk to him yet," says Shiann.
"I'm not here to sit on the couch and drink wine," says Hannah Ann. Deandra is bitter about her interruption.
"Why would you touch when you've double-touched?" she asks.
Shiann and Pete finally have a moment—which Hannah Ann interrupts.
She says she wants to "end it with a kiss" and he kisses her.
"I don't understand," one of the women observes as they watch. This marks the third time she's interrupted him with another woman.
Shiann finally interrupts Hannah Ann and tells her to back off. Hannah Ann is not receptive. Silence ensues.
Shiann worries she's gotten in Hannah Ann's face and she says she hasn't.
"I'm trying not to get caught up in the drama," said Hannah Ann. She wants him and she's going after him.
9:25 p.m.: The women gossip about who will end up with the First Impression Rose.
Kelsey worried she won't nail any time alone with Pete, and takes to using the loudspeaker as he has moments with Avonlea, Jasmine, and Lauren. Eventually Kelsey interrupts Pete's moment with Victoria F.
Victoria F. pouts and cries over this.
Pete bounces between women, but has a nice moment with Kelley, with whom he has great sparks.
"It's making my heart beat a little bit faster," he says.
Pete then takes up the First Impression Rose, and the women fume as he presents it to Hannah Ann.
Mykenna weeps about losing out on the First Impression Rose, and suddenly the first rose ceremony of the season is upon us.
9:37 p.m.: As Pete faces down the women, he thanks them for showing up. "Each ceremony will bring me closer to my forever love, and I'm just going to follow my heart. I think my wife's in here."
Victoria P., Madison, Kelley, Lexi, Savannah, Lauren, Tammy, Alayah, Jasmine, Sydney, Natasha, Mykenna, Deandra, Sarah, Lexa, Kelsey, Payton, Kiarra, Courtney, Shiann, and Victoria F. all receive roses, sending Eunice, Megan, Jenna, Jade, Maurissa, Avonlea and Katrina home.
"I would probably bawl my eyes out," Eunice says at the idea of not receiving a rose, as she watches the other women receive roses.
"It sucks. I thought there was something there, but I guess not," said Maurissa.
9:50 p.m.: Pete washes his plane shirtless and gets wet while discussing how excited he is. "This might be my first real date with my wife!" he enthuses.
Mykenna says she's ready to start her journey with Pete.
Chris Harrison dumps the first date card on the table and says he will "hopefully" see them at the first rose ceremony.
Hannah Ann, Kelly, Deandra, Tammy, Courtney, Shiann, Victoria P., Jasmine, and Victoria F. are sent off on the first date with Pete—which begins with Pete buzzing the house in his plane.
Tammy declares that she wants to "lick Pete up and down."
He introduces the women to Katie Cook, the first female Blue Angels pilot, and Ashley Johnson—who flies with the marines. The women are going to learn how to fly a plane.
"It's important for me to find a girl who craves adventure as much as I do," he said.
The first challenge is a series of math problems. They do ... passably.
A bunch of vaguely filthy-sounding aviation terms are introduced, before the girls are strapped one by one into a gyroscope.
Victoria P. is traumatized by the prospect of going into the scope—she vomited once on the spinning teacups at Disneyland, and fears puking in front of a boy.
10:00 p.m.: Victoria P. manages to make it through the ride without throwing up in front of him, and Pete admits she felt bad for her.
She does, unfortunately, throw up afterward. Pete comes to the rescue with hugs and a bottle of water. "I've never had anyone care for me that way," she says.
The women, their training complete, are required to run an obstacle course.The winner will go on a sunset tour by plane with Pete.
"I got a need... a need for Peter! Whoo! I'm his Maverick!" says Hannah Ann.
As the women flop and fall on the course (and we have cameras in the port-a-potties eventually watching them change), the top two are Tammy and Kelley.
Tammy accuses Kelley of cheating for her victory—and she did, as she did not follow the course outlined for her. The women cry and pout about this as Kelley and Pete take off.
10:13 p.m.: Kelley waxes that she and Pete picked up where they left off as they fly through the sunset.
Meanwhile, at the Four Seasons, the other women gossip in evening gowns about Kelley's chicanery while drinking. When she returns they are not happy with her.
Tammy accuses Kelley of cheating to her face. "I didn't know the rules would be extremely strict," says Kelley. No one is buying that excuse.
"I was impressed with you all," Pete said, entering the room to toast them.
"I don't think that I am the girls' favorite right now," observes Kelley, who feels like she has a "bunch of targets" on her back.
It turns out this was the hotel that Kelley and Pete met at, but that doesn't stop Victoria P. and Pete from bonding over her vomiting. As they make out, Victoria P. says in a voiceover that he's "making her excited."
The women are reunited at the mansion, and are still arguing over time with him.
A note arrives for Madison. "I want to show you what forever looks like," it says, which means she's going on a one-on-one, upsetting Savannah, who starts crying because he won't "give her time to show him who she is."
Pete and Shiann talk about how she cried after the race didn't go her way. Kelley interrupts, and Shiann gets upset that she's stealing her time.
Kelley and Pete reenact their meeting as they giggle and flirt.
"You cheated to get your time, and now you want more time?" observes Jasmine.
Kelley gets her rose, and the other women fume.
"The rest of us didn't even have a chance," laments Shiann. "It's just not there."
10:24 p.m.: Pete invites Madison to a vow-renewal ceremony for his parents, which he leads. Pete was ordained for the situation.
Pete's dad and mom cry as they get emotional over their happy marriage. Tears all around.
"This is the best date," Madison observes, as she bonds with his parents and catches the bouquet.
10:37 p.m.: "I feel like I've known you my whole life. In a weird way, it felt like home," Madison tells Pete when they go back to the mansion post-wedding.
"I want you to trust me too," Madison says. "And trust your heart. I want you to be with the person who's the best fit for you."
After that, she and Pete kiss, after which he calls her "incredible."
He then delivers her a rose as they continue to make out.
Pete then announces he has a surprise for Madison: the band Tenille Arts, who sing as they slow dance.
"This is the most amazing night with the most beautiful girl," Pete said. "I don't think the night could get any better. This is a fairytale."
Cue Pete's family entering to share a dance with them.
"This first date blew every expectation, dream, out of the water," says Madison.
The rest of the girls sigh and drink and complain that Madison and Pete probably got married.
Lauren, Sydney, Payton, Natasha, Alexa, Kelsey Mykenna, Alayah and Savannah are all then called for the next mass date.
10:49 p.m.: The women arrive at the Avalon Theater. Pete admits he's nervous, and has no idea what the activity ahead of him will be, as it was planned by his "good friend."
The women are then led into the empty, darkened theater, where a windmill is spinning and Hannah is standing onstage in a sparkly dress.
"She just seems to just... always be here!" Sydney observes.
Hannah then tells a story about a "guy she once dated." She tells the windmill story and speaks about having sex with him "four f**kin' times."
Natasha is done with Hannah at this point.
"The more confident you are about your sexuality, the more confident you'll be in your relationship." Hannah announces that the women will have to share a story about their sex lives in front of a live audience.
It's Hannah's birthday and she's very emotional watching him hang around these other women. She runs off and cries backstage, he comforts him.
"How was your first night in the mansion?" he asked.
"Terrible," she said.
As Hannah smears her mascara, she says she "doesn't know what the f**k she was doing" letting him go and it's "really f**ked up."
We get one more shot of the windmill before going to commercial.
11:00 p.m.: "I don't know, Peter. I question what I should've done, and I question a lot," Hannah says, still weeping. "There was still something there when I saw you," she says.
"I'm just being very honest with you, watching that episode happen live—I don't want to be someone's third option," Pete says. Then he confesses he learned she moved 20 minutes from him. but she never bothered to make contact. "I thought that I was—not confused but I don't know," he said.
"I don't know what I'm doing," he says. Then he offers Hannah a position at the house.
"Maybe but, oh my gosh," Hannah says, getting up and walking away.
"Do you regret sending me home at all?" he asked.
"No, Peter, I question it all the time," Hannah said.
"I had zero doubt," Pete said.
"I had no doubts that you were going to be... it was you and Jed," she said.
"You never told me that," he said.
"Yes I did," she said. "I broke everybody's heart, and my own through this experience."
Pete then recalled watching the episode at home with his family. She accuses him of not reaching out to her.
"I thought you wanted to be the Bachelor," she said.
Pete says that he's confused and not "100 percent where he thought he was."
"I can't help how my heart feels. I look at her and I don't want to stop looking at her," Pete says.
And while he's caught in that quandary, we get a "to be continued."
Over the credits, Ashley P. and Pete and Chris Harrison bond over terrible cow jokes.