What Happened to Trading on Coinbase? Cryptocurrency Platform Temporarily Disabled
Coinbase, a popular app for trading cryptocurrencies, experienced technical problems on Friday, forcing the platform to temporarily disable trading.
"Due to a technical issue, we are experiencing degraded service where some trades may not be able to be completed. Our team is working to quickly restore service back to normal, and we'll send another update soon. Thank you for your patience," the Coinbase Support account on Twitter said on Friday.
Newsweek was directed to the tweet from Coinbase Support after reaching out to the platform for comment.
Shortly after the tweet, which was posted at 12:21 p.m. ET, the Coinbase Support website said, "Trading is 100% back up. All services are healthy except portfolio balances which is currently in degraded state."
In another update, at 12:33 p.m., the support website wrote, "All services are back up. We are currently monitoring our systems."
Before the updates on Friday afternoon, the support website said at 11:52 a.m. that "we are continuing to investigate a technical issue that caused us to disable trading and working hard to get the service back to normal."
Later, at 12:05 p.m., the support site said, "Trading is currently in degraded state and not completely disabled. We are still investigating & monitoring to get this service back up soon."
Many Twitter users posted screenshots of the Coinbase app, showing that they were unable to invest on the platform.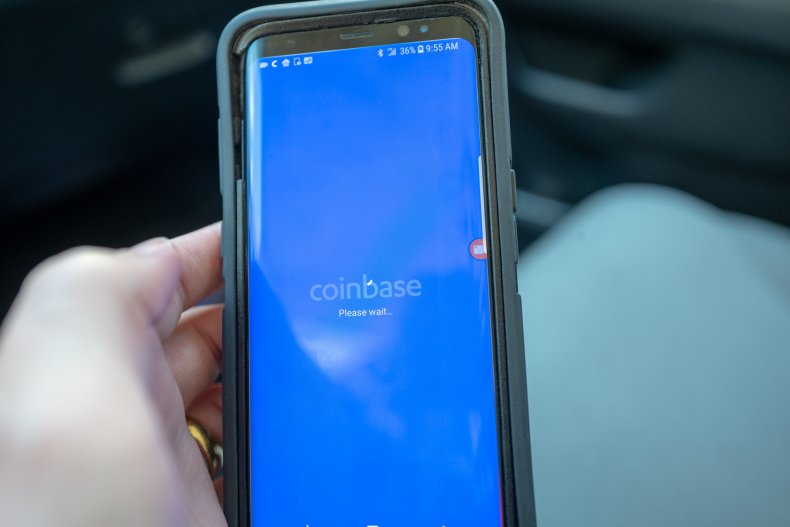 Twitter user Ryan Broderick wrote, "The GameStop effect has completely upended the crypto market now. There's a big Twitter-led $btc [bitcoin] pump happening today and Coinbase — basically the Robinhood for entry-level crypto trading — has frozen USD purchases. Just tested it myself."
Broderick's tweet included a screenshot showing an update from the platform that said, "USD purchases are temporarily disabled."
Twitter user Ben Sparango shared a similar screenshot on Twitter, writing, "Okay now @coinbase is blocking USD purchases? Multiple reports from friends saying they cant buy either."
The technical difficulties at Coinbase come just a day after a stock-buying frenzy caused by users of a Reddit thread, R/WallStreetBets, who challenged hedge fund investors that were betting on a drop in GameStop's stock through a method called short selling.
The surge in share price for GameStop's stock, along with several other stocks, prompted the stock-trading app Robinhood to halt buying options for users.
Besides its decision to halt stock purchases for companies such as GameStop, AMC, BlackBerry and Nokia, Robinhood said it was temporarily restricting cryptocurrency trading.
"Due to extraordinary market conditions, we've temporarily turned off Instant buying power for crypto," a Robinhood spokesperson told CNBC. "Customers can still use settled funds to buy crypto. We'll keep monitoring market conditions and communicating with our customers."
The announcement by Robinhood came shortly after several cryptocurrencies, such as bitcoin and dogecoin, a cryptocurrency based on a meme, surged on Friday.