'Kill Bill' Star Uma Thurman Declares #MeToo, Says Weinstein Doesn't Even Deserve A Bullet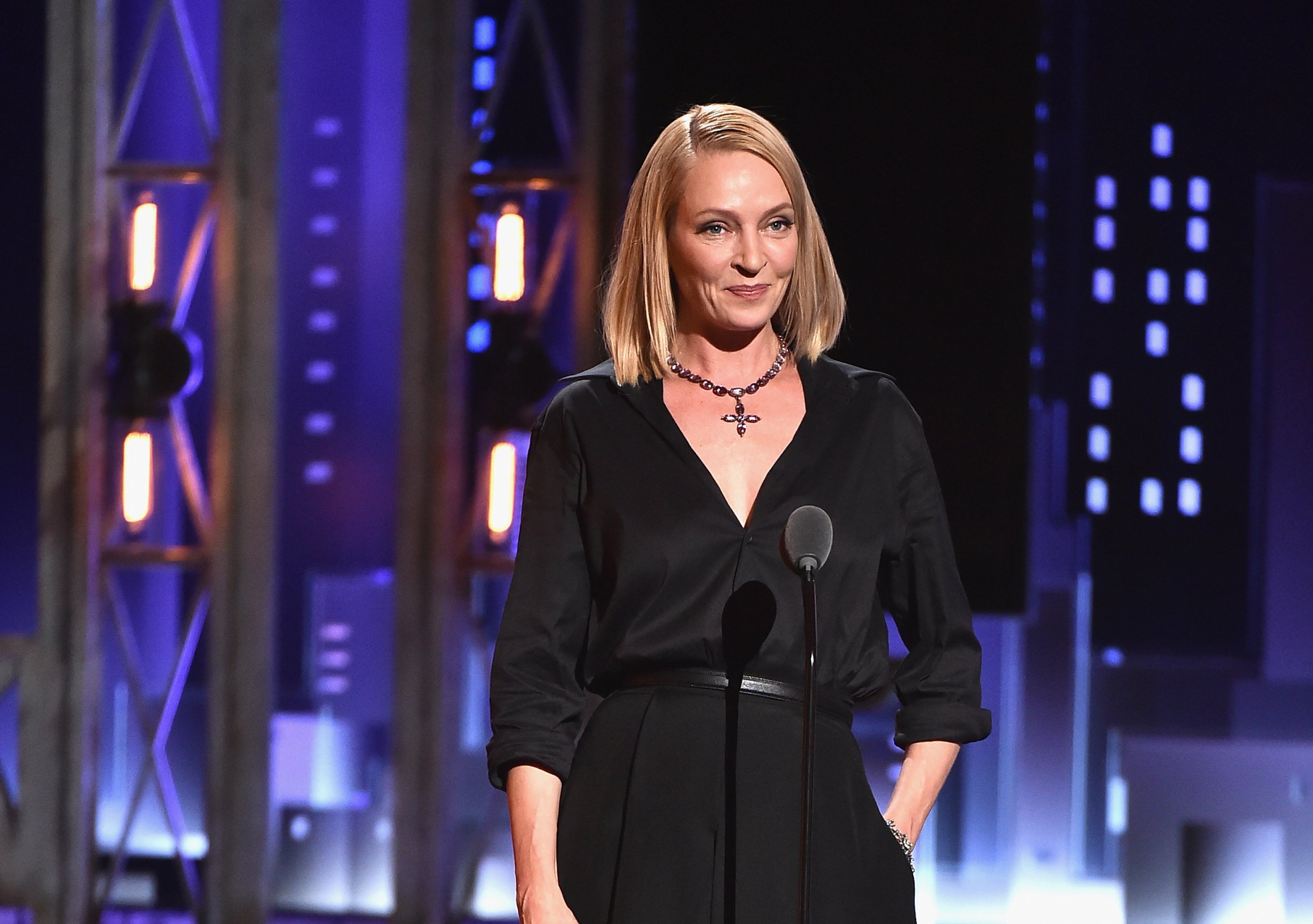 Uma Thurman is going full Kill Bill on Harvey Weinstein.
The actor shared a powerful message on Thanksgiving Thursday, revealing that she, too, has been a victim of sexual harassment and called out Hollywood producer Weinstein, who was one of the people behind her hit film Pulp Fiction and the Kill Bill movies.
Thurman shared a screenshot of her vengeful Kill Bill character The Bride and captioned it: "I am grateful today, to be alive, for all those I love, and for all those who have the courage to stand up for others.
"I said I was angry recently, and I have a few reasons, #metoo, in case you couldn't tell by the look on my face."
The #MeToo hashtag has been used by victims of sexual harassment on Twitter in the last several weeks to speak openly about their experiences and call for the accountability of alleged culprits.
The actor, 47, hinted that a more detailed disclosure was to come, concluding her message with a particularly withering remark to Weinstein. "I feel it's important to take your time, be fair, be exact, so... Happy Thanksgiving Everyone! (Except you Harvey, and all your wicked conspirators - I'm glad it's going slowly - you don't deserve a bullet.)"
"Stay tuned," Thurman added.
The actor has most recently responded to the dozens of rape and sexual assault accusations against Weinstein in a brisk red carpet interview ahead of the premiere of her Broadway play, The Parisian Woman, in mid-October. A seething Thurman told Access Hollywood she has been "waiting to feel less angry" before coming forward with her own story about sexual harassment.
Among Weinstein's nearly 90 accusers are actors Rose McGowan, Gwyneth Paltrow and Angelina Jolie. Paltrow liked Thurman's post Thursday and commented with a fist bump emoji. It's not clear if Thurman is implying that she, too, was the victim of sexual abuse by the producer. Representatives for the actor did not immediately return Newsweek's request for comment.
Weinstein was instrumental in some of Thurman's biggest movie collaborations with Quentin Tarantino. The producer distributed Tarantino's first directorial effort, Reservoir Dogs, and later Pulp Fiction and Kill Bill.
After numerous women came forward with allegations of abuse by Weinstein in October, Tarantino admitted that he "knew enough to do more than I did."
Tarantino told The New York Times he was aware that Weinstein had inappropriately touched his then-girlfriend, the actor Mira Sorvino, in 1995, a story she recounted to The New Yorker in October.
However, the filmmaker said he had heard other stories about Weinstein's alleged predatory behavior but did not consider them too seriously. "I chalked it up to a '50s-'60s era image of a boss chasing a secretary around the desk. As if that's O.K. That's the egg on my face right now."