What Happened To 'My 600-Lb. Life' Subject Liz Evans? Lymphedema Growths Leave Her in 'Excruciating' Pain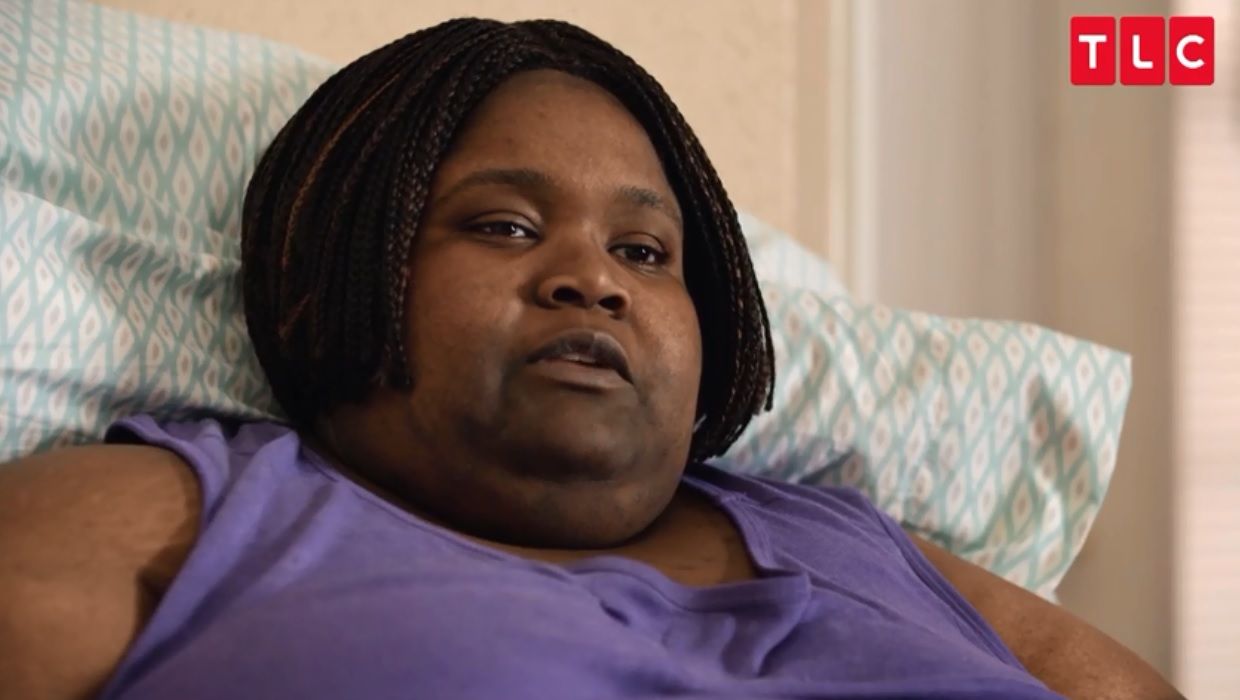 On Wednesday's episode of TLC's My 600-Lb. Life, Liz Evans cannot walk because she suffers from lymphedema, which leaves her in "excruciating" pain. The condition causes legs and arms to swell and cannot be cured, though treatment can help.
"It's been really hard on me," Evans said in an exclusive clip from Wednesday's episode, obtained by People magazine. "They've been doing exercises with me, but I haven't been able to stand just yet. I have been able to start to sit up, and get to the end of the bed, which I feel is good progress, because that's more than I've been able to do in a long time. But I know I need to stand to get my lymphedema surgery, so I'm trying every time to do it."
"It's just so hard, because physical therapy is excruciating," she added.
As much as she wants to get out of bed, she can't. "It's like your legs are awakening the muscles, and coming back alive because I've been laid up so long," she said. "And I just have so much weight on my body still. And the masses on my legs start to hang down and pull, making it even more painful."
But the 35-year-old wasn't ready to accept defeat. "It's discouraging that I haven't been able to do it yet," she said. "But I know I have to, so I'm going to keep trying until I do. Trust me, I'm going to try to get it."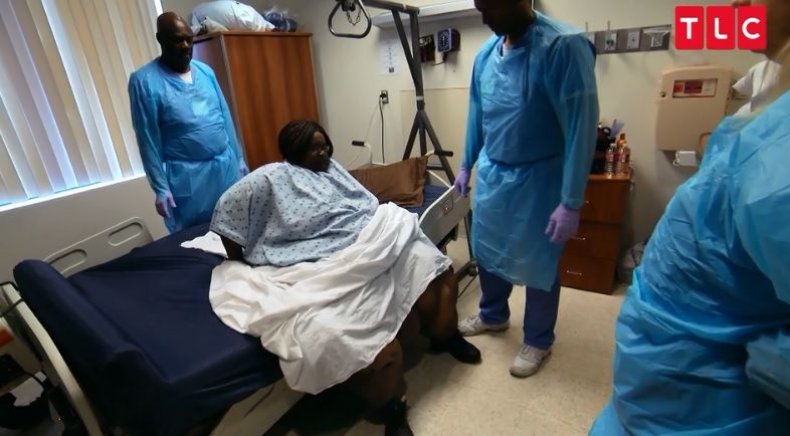 Evans had a typical childhood until she was 6 years old. At that point, she was molested by a family friend and was too afraid to tell anyone. When she was 9, her parents split after her father became addicted to drugs. "Her father stole all of their belongings, leaving Liz and her mother with nothing," TLC wrote in a press release.
"After that, my life was never the same. I was about 10 then, and that's when I remember taking all that pain and starting to run to food," Evans told the TLC cameras.
The following year, she had corrective surgeries on her leg. Evans was born with one leg shorter than the other. "While I was recovering from each of these surgeries, I had to stay in bed all day, so that's when I started to really gain weight. And by the time I turned 13, I was over 250 pounds," she said to Life & Style.
At 24, she weighed more than 400 pounds. "That's when I started developing lymphedema on my legs. That started making it even harder to get around. And that's when my weight spiraled out of control," she said.
More than a decade later, Evans was confined to her bed. "I have to find someone to help me stop this and to change, or my worst fears are about to happen," she said.
My 600-Lb. Life airs Wednesdays at 8 p.m. ET on TLC.